Here's How Drake Celebrated the Toronto Raptors' First NBA Title
Drake has celebrated the Toronto Raptors' NBA title win like he's a player on the team.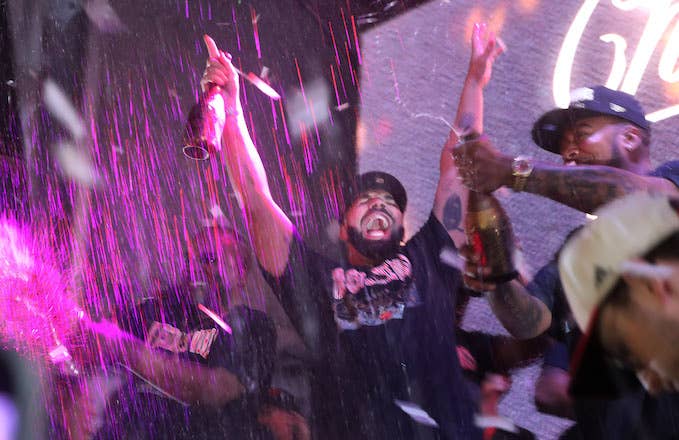 Getty
Image via Getty/Steve Russell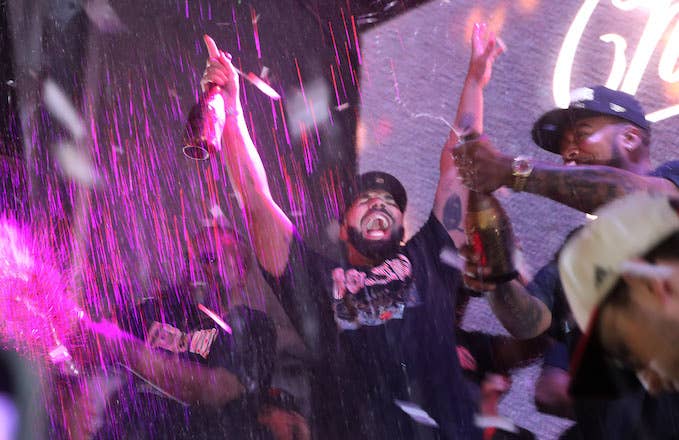 Drake became the unofficial spokesperson for Toronto and all of Canada during the NBA Finals. Now that the Raptors won their first title, the rapper has no intention of ending the celebration.
Still, both Drake and Steph Curry have taken the win in stride. After Thursday night's game, the two hopped on a Facetime call, where Steph congratulated Drake: "Enjoy man, that's big time for you. You, the whole city, the whole everybody. Y'all deserve it man. Congrats."
Drake—who was already outfitted in an official championship hat—sent his love to Kevin Durant, who's suffering from a ruptured Achilles, and Klay Thompson, who tore his ACL during Game 6.
Drake continued his celebration by giving a post-game interview, where he almost felt like one of the players from the team. "This is poetic," he said, continuing, "We did this. We did this off of heart, we did this off of love. We willed this into existence, we manifested this.... It's beautiful. Look at my brothers up there celebrating."
"You see what my hat says?" he asked. "Champions. Let's go."
He also went on Instagram Live high off the thrill of victory. Watch the clips below.
Drake's commemorating the win by releasing two new songs, "Omerta" and "Money In The Grave" featuring Rick Ross, to celebrate
Toronto is the first and only Canadian team to win the NBA title, beating the Golden State Warriors 114-110 in Game 6.