The Making of Lil Peep's Posthumous Album
Lil Peep's family, friends, and creative partners worked tirelessly to execute his posthumous 'Come Over When You're Sober, Pt. 2' album.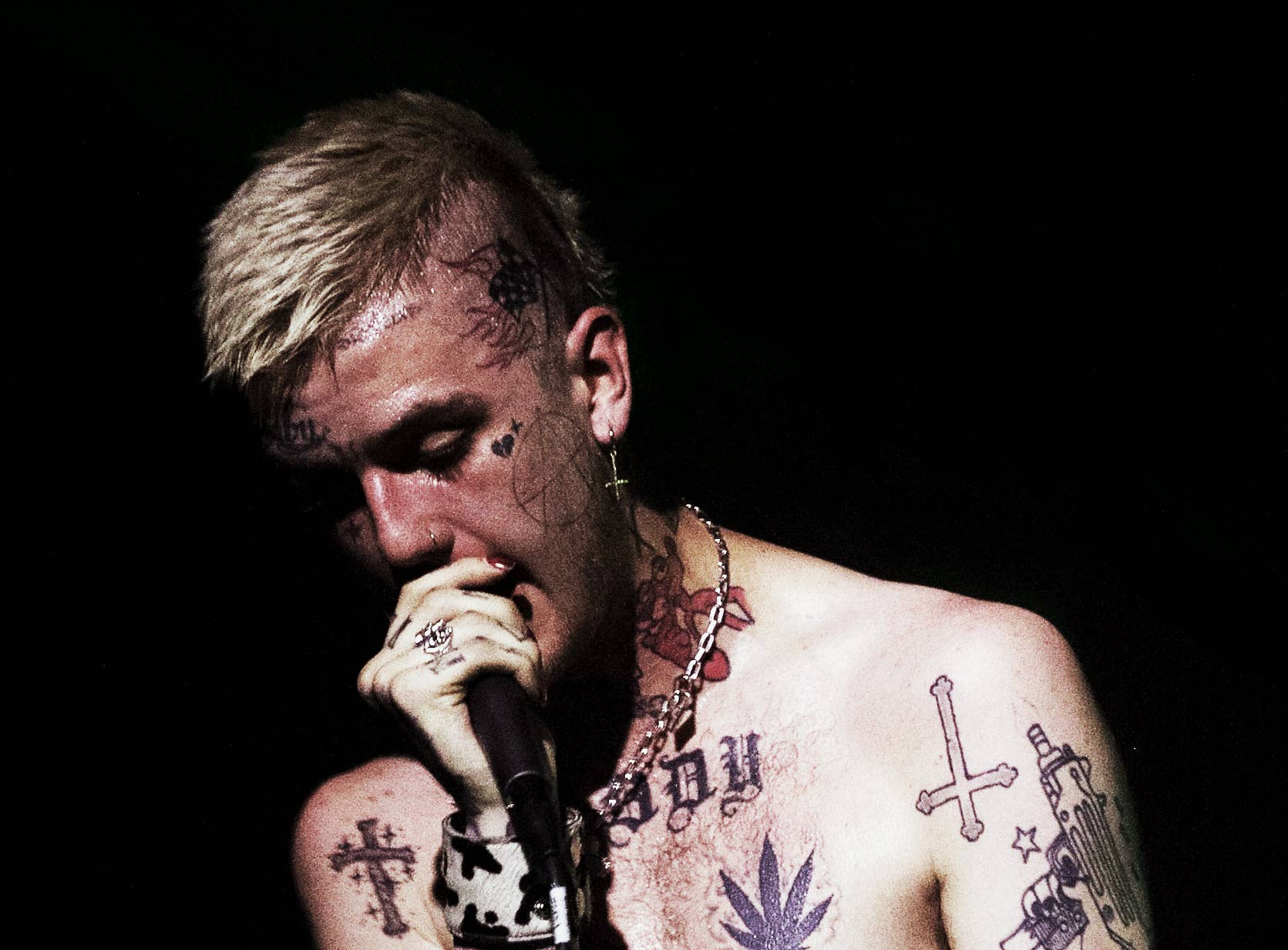 Getty
Image via Getty/Johnny Nunez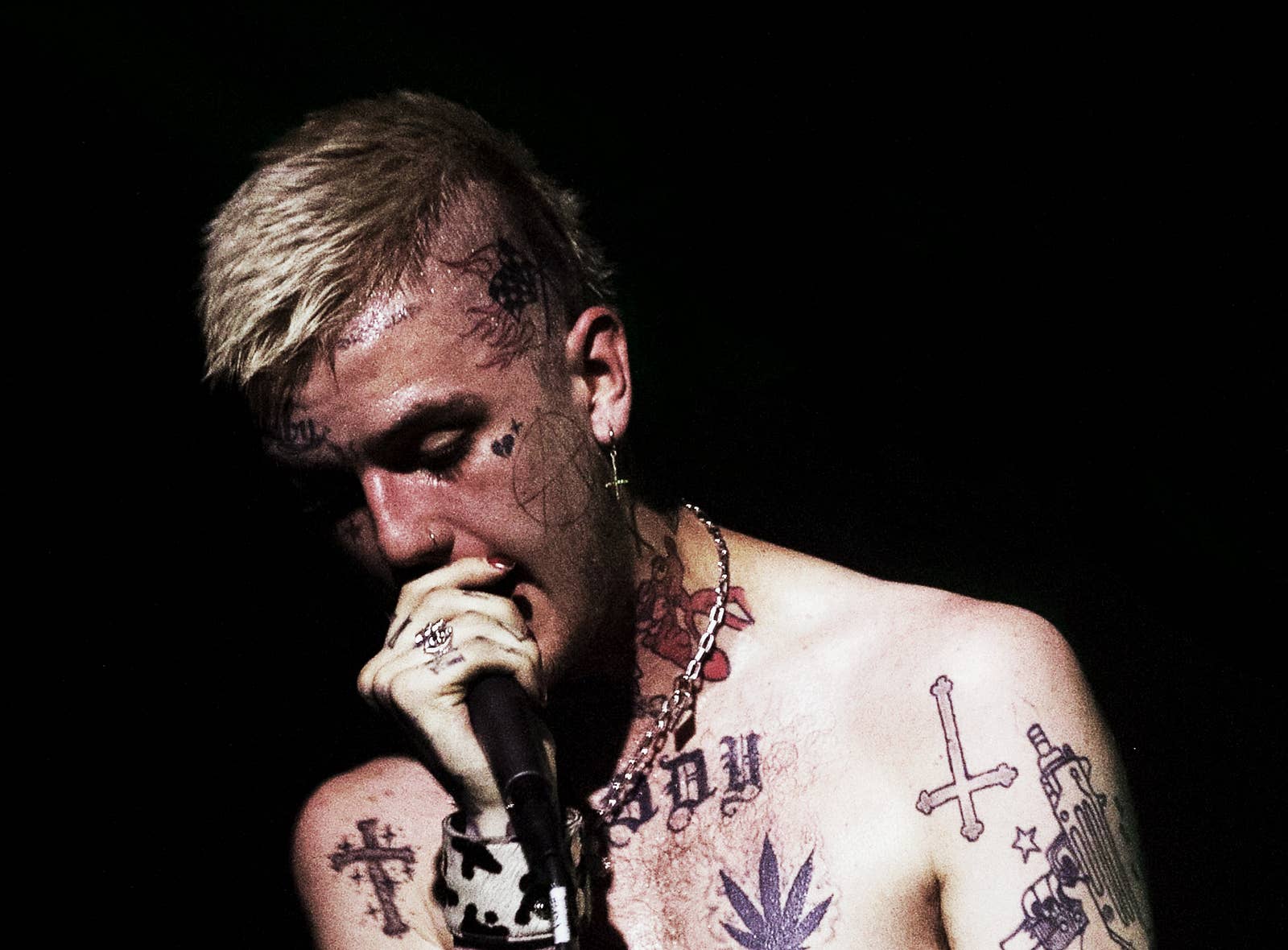 "The last conversation that I had with Peep was on his tour bus, and we were talking about Pt. 2," remembers Lil Peep's close friend and producer Dylan "Smokeasac" Mullen.
Come Over When You're Sober Pt. 2, the sequel to Lil Peep's acclaimed debut album, arrives one year after the artist's death last November. The team behind the record—Peep's right-hand man Smokeasac, frequent collaborator George Astasio, business partner Sarah Stennett, and mother Liza Womack—assembled the project as a labor of love. For the past year, one goal brought them together: executing the vision Peep had in mind for the album before he passed.
For Smokeasac, working on Pt. 2 was a deeply personal, grueling process. Peep, born Gustav Elijah Åhr, was the first artist who ever purchased the producer's beats back in 2014, and the two were side by side as they went from sleeping on the floor of an Airbnb to touring the world. Recalling an excruciating grieving period that followed news of his friend's death, Smoke says, "For the first three months, I didn't even look at my laptop or make music or anything. But I knew that I was going to get around to it."
The task of finishing the project was a tremendous challenge for Astasio, as well. He was first introduced to Peep by Stennett, his wife, who worked with Peep under her company First Access Entertainment. Astasio is a veteran songwriter and producer with credits for Zayn Malik, Britney Spears, and Iggy Azalea, and he had grown extremely close with Smokeasac and Peep during their time recording together in London. When Smoke reached out about Pt. 2, he immediately threw himself into completing the record.
"I've never had to do a project like this, and it's the one out of all the shit that I've done that stands out in my career. It's the most important work," Astasio says. "I felt like it was my duty to drop everything, which I did, and spend up until a month ago [working on this]. Every day I was trying to get it right, and going back to it."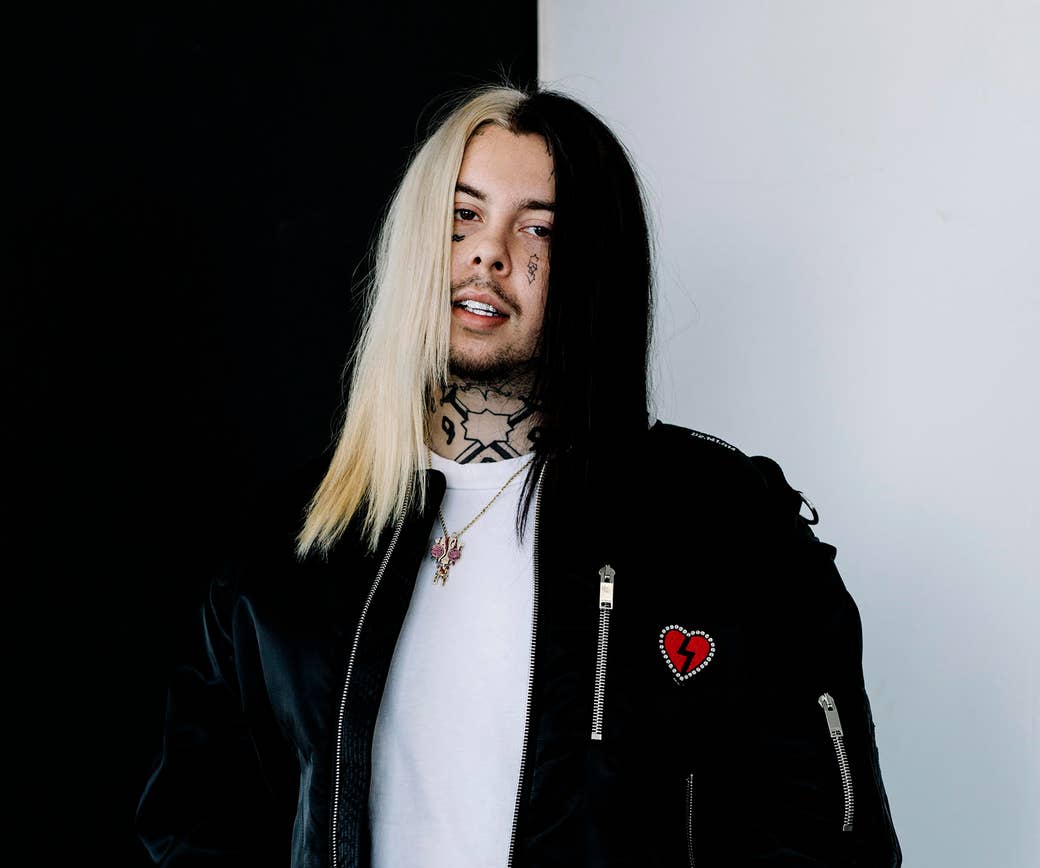 Smokeasac first announced the record on December 7, just a few weeks after Peep's tragic passing. Initially, Come Over When You're Sober was meant to be a single project, so the vocals were complete, but his collaborators needed to assemble the material. When Smoke tweeted about the record, he was still finding the strength to begin work on it.
"I just felt obligated to let the fans know that there was more to come—that it wasn't just, like, 'Oh, there's no more music.' I wanted there to be hope. From the second it happened, a million things were going through my mind and one of them was obviously, 'All right, I have to make sure I do my best to keep his legacy going,'" Smokeasac says. "And at the time when I had announced about it, I wasn't ready to finish it, but I wanted the fans to know it existed."
The process began in earnest when Peep's laptop was sent to Womack, who backed it up at an Apple store and delivered the contents to Smokeasac and Astasio. For years, Peep had been in the habit of recording songs himself in GarageBand, and frequently tracked vocals in his apartment. So on Pt. 1, Astasio was forced to work with all the vocals—harmonies, ad-libs, and topline—combined on one track. But now, he had unprecedented access and the time to mix Pt. 2 properly. So Astasio got to work and took the recordings to the small town of Northleach, England, where Peep had shot one of his most iconic music videos.
"I would get goosebumps, and I literally felt like he was standing behind my back watching me do this." - Smokeasac
"As soon as I got that laptop, I drove off into the country to the place where we did that video for 'Benz Truck' with the church. I went back to a little shed in the back and had a drink of something and stayed up all night listening to it as if I was riding with him," Astasio recalls. "Finally, for the first time, I had his vocal [stems]. That was the gold, because for Pt. 1 I had to work with all his vocals all together. For the first time, I could separate them and tidy them up, because the guy was very guerilla with his approach."
Over the course of nearly a year, Smoke and Astasio, who were working on the project in Los Angeles and London respectively, stayed in constant communication. Astasio's guitar expertise and Smoke's knack for melodic, trap-tinged instrumentals brought the two together on a musical level, but their bond grew much deeper than the album itself. "If I had to work with another producer, somebody that didn't know Peep, I would have probably lost my mind," admits Smokeasac. "I would have actually gone crazy, but George was there to support me."
Smokeasac says he also felt the support of Peep throughout the process. "There were days where I was in the studio by myself working on these productions," he remembers. "I had an a capella and I was in the studio working on a song for 10 hours a day. I'd hear his vocals over and over. In a weird way I felt like he was there for me. He was there with me the whole time I was doing the production." Smoke continues, "Even to this day I feel his energy around me. It was so intense around the time when I was making the music. I would get goosebumps, and I literally felt like he was standing behind my back watching me do this. It was just a crazy process of me wanting to be motivated slash being depressed and missing my best friend."
Both Astasio and Smokeasac point out that the songs on Pt. 2 were recorded at the same time as all the music on Pt. 1. Remembering impromptu 5 a.m. recording sessions in Peep's apartment, Smoke tells stories about Peep writing full songs on his phone's notes app in less than 10 minutes. "He wrote his songs fast," Smoke says. "It was interesting to me how he could write the progression from the hook to the verse to the pre-chorus, all this stuff. And he had it all in his head. Then he would layer his vocals himself. So he would do a hook, then he would layer the hook 12 times, and that's what gave him this super wide sound. No one taught him anything. It was just his idea. He mixed himself on GarageBand."
Since the songs were already recorded, Astasio and Smoke's main task was to clean up the production and flesh the album out in a way that Peep would have wanted. Recalling his final conversation about the album with Peep before he passed, Smoke says, "I was like, 'You're done, vocal-wise. You're done. I just have to make the production—take it from demo form and turn it into album form.'"
In June, Smoke played Peep's mother, Liza Womack, a handful of tracks that were close to completion. At the time, Womack was in Los Angeles, meeting with Columbia Records during the early stages of figuring out the release plan for COWYS Pt. 2.
"One of the evenings, Dylan and iLoveMakonnen came, and the three of us sat and listened. Dylan played 'Sex With My Ex,' he played 'Runaway,' 'Broken Smile,' and 'Cry Alone,'" Womack says, recalling that both she and Makonnen were instantly taken with "Runaway." "They were pretty much finished. That was how Dylan wanted it to be. He said, 'I want to show you these when I feel proud of them, and they're basically done. I don't want to share them with you until I feel proud of it and finished with it.'"
Peep's music always dealt with issues like drug abuse and death with striking frankness, and Pt. 2 continues with those themes. "I don't wanna die alone right now / I just did a line of blow right now," he sings on the hook of the album's first single, "Cry Alone." But Astasio says there was never any thought to omit certain lyrics or alter the material in light of Peep's death. Instead, they sought to present a pure and intact record that felt true to the artist's vision.
Womack approached the process in a similar manner. "My work was to support Dylan in the background and say, 'Stick up for what you believe is right, I support you, I know you know what Gus and you were working on, and I want you to continue that work and not let anybody tell you otherwise,'" she says. "It was really a background, sort of mom role. Like I would have done with Gus."
Womack was also involved in the album's artwork and videos. Co-directing the visual for Pt. 2's second single, "Runaway," Womack gathered some of her son's old illustrations and used them to tell a story in which a wayward Peep winds up in London after leaving Los Angeles. It concludes with Peep arriving at the gate of a castle—an allusion to both his Castles EP with Lil Tracy and to one of the artist's idyllic dreams: bringing all of his friends together under one roof to live and create together.
As the record was nearing completion, Peep's team had to figure out the best way to release it. So they partnered with Columbia, a decision that Womack and Stennett discussed extensively.
"The most important thing was giving the fate of the album to Smoke and George, and also giving space and allowing the right decisions to be made," says Stennett. "I didn't feel there was a sense of urgency at all. I always knew it would come out and I always felt very confident that they were going to do an amazing job. I felt very confident that Liza's thoroughness, her intellect, and her approach would ensure that it was done in the right way."
Womack put her faith in Stennett, an industry veteran who founded First Access in 2015 and also works with artists like Makonnen, Smokepurpp, and Madison Beer. "Sarah told me she felt they would handle Gus' music the right way. I trusted her," Womack says. "I'm very pleased that it doesn't have features on it, that it is what it is."
"I would cry and cry listening to the music, because I'm like, 'It sounds exactly the way it was going to, but [Peep] Is not here to hear it.'" - Smokeasac
Smokeasac expresses a similar gratitude to Stennett and Astasio for their presence and guidance. "I felt almost like they were my second family, and Peep said the same thing," Smokeasac says. "Peep was like, 'Sarah is like my second mom and George is like my second dad.'"
As Womack notes, the key to making a posthumous record feel true to the artist's intentions is not just assembling the right people, but also having the willingness to stop everything and put in the time necessary to approach everything with care. Womack gathered pictures and videos of Peep from his close friends and poured over them to help create the visuals. Stennett worked to make sure that the deal would allow Smokeasac and Astasio to create the record they felt Peep would have wanted to make, and the two producers spent countless hours refining it.
Womack, a Red Hot Chili Peppers fan, likens the evolution of Peep's sound to the band's growth from Mother's Milk, their fourth album to Stadium Arcadium, their ninth. She says Peep had been spending time listening to the latter record—a sprawling, kaleidoscopic double album that blends the band's funky origins with their later, more melodic work.
Come Over When You're Sober Pt. 2's third single, "Life Is Beautiful," is a favorite of Womack's and was originally released in 2015, before being remastered by Smokeasac and Astasio. "IDGAF" is a perfect addendum to Pt. 1, intoxicating in its embrace of drugs and lust, but sobering in how frank Peep is while addressing the pain that led to those pursuits. Then there are tracks like "Sex With My Ex," which prove how his gift for melody was continuing to sharpen without compromising the subject matter that touched a raw nerve in his fans. The vocals are warmer and brighter than much of his previous work, invoking images of stadium crowds chanting hooks back at Peep.
"He probably would have liked Pt. 2 to be radically different [than his earlier work], because he was changing so much," says Astasio, referencing how artists like Bob Dylan and Radiohead constantly subverted expectations and pushed musical boundaries.
During her speech at a Come Over When You're Sober Pt. 2 listening session in New York, Womack said that this album will "serve as the model for the way we handle the problem of the posthumous release of the work of the young artists who have left no explicit directions about what to do with their work." The blend of emotions that helped produce this LP are undeniably raw—Astasio needed to leave the listening in New York to gather himself.
"It was really tough because as it was going by, it was so bittersweet," Smoke says, remembering the experience of hearing the music as he worked in his studio. "It would sound so good that I would be like, 'I need to take a week break.' I would cry and cry listening to the music, because I'm like, 'It sounds exactly the way it was going to, but [Peep] is not here to hear it.'"
Come Over When You're Sober Pt. 2 is the rare posthumous album that doesn't feel like a rehashing of what the artist did well, but a true step forward and a glimpse into what would have been. There's more music on the horizon, but Pt. 2 will likely be held up as a paragon—a record that showcases the impact an artist had on his loved ones and his fans, as well as his blindingly bright future.
"He just connected so much with that void that people have, and it really cuts right through. I remember when we finished, I got all the tracks lined up and put them on a playlist and went for a long drive," says Astasio. "It felt good; it tells a story. The album feels complete. You don't hear much of that, a beginning and an end."
"I just want the fans to know that this is something that Peep would have wanted," Smokeasac adds. "He really, really, really wanted people to hear this. It was what gave him excitement in life. This is what made him happy. I know he's watching over and this is going to help him be at rest, in my opinion. It's the most important project I'll ever be a part of in my lifetime."