The Power of Kendrick Lamar's Pulitzer Prize
Kendrick's win signifies hip-hop's undeniable influence on—and innovation within—American music.
Getty
Image via Gareth Cattermole/Getty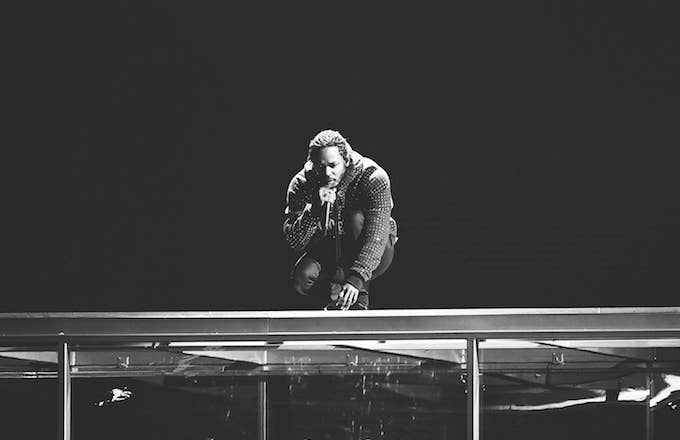 On Monday—just months after losing the Grammy for both record and album of the year—Kendrick Lamar became the first rapper to win the Pulitzer Prize. This historic win for Lamar's third album Damn was met with shock and awe from both fans and Kendrick himself. The Grammy awards are the most coveted honor in music; the Pulitzer Prize seems even less attainable and more prestigious than the prize given out on Music's Biggest Night™. And following Lamar's three consecutive losses for the Grammys' Album of the Year award, it appeared that hip-hop—the most popular genre in the world—would continue to be denied the most esteemed accolades, despite one of its brightest star's best efforts.
But Lamar's pioneering Pulitzer Prize win is a sign that hip-hop can no longer be ignored. More importantly, it writes into history hip-hop's undeniable influence on—and innovation within—American music. In fact, that influence is what ultimately sparked the debate that led to Lamar's win yesterday.
During an interview with Billboard, Pulitzer Prize administrator Dana Canedy detailed the process for selecting Lamar, whose win marks the first of any non-classical or jazz artist. Canedy confessed that the Pulitzer Prize jury didn't first consider any hip-hop albums, but instead, were considering a musical composition that was influenced by hip-hop. According to Canedy, the consideration caused one jury member to pose a question obvious to some: "Well if we're considering a piece of music that has hip-hop influences, why aren't we considering hip-hop?"
If influence alone determined laurels, hip-hop would likely be the most decorated genre in American music. In 2015, British researchers found that rap had more auditory influence on pop music than the Beatles, and designated hip-hop the "single greatest revolution in the U.S. pop charts." Rather than basing results on popularity, the study broke down musical elements of songs, and identified patterns inherent to hip-hop. What they ultimately determined is reflected in the Pulitzer board's decision: hip-hop has changed music forever. It's about time that it be recognized for that.
This comes as no surprise to long-time hip-hop fans, who know that hip-hop was born from innovation. From the time DJ Kool Herc began using two turntables to extend instrumental breaks—and MCs began rhyming over his beats—music was forever changed. And nearly 50 years later, that innovation has led to new landmark hip-hop like Kendrick's Damn, which according to the Pulitzer board, is characterized by its "vernacular authenticity and rhythmic dynamism that offers affecting vignettes capturing the complexity of modern African-American life."
And Lamar's rhythmic dynamism is certainly unmatched. Following To Pimp a Butterfly's experimentation with jazz and funk music, Damn strikes a balance between clamoring drums and soothing synths. And as we've seen on his previous albums, Lamar's greatest instrument is his voice. Aiding his complex storytelling, Lamar seamlessly shifts between his music's characters by constantly modulating his vocals—from flat drones to sharp wails to triumphant flows, exploding onto tracks in a way only possible in rap music.
The power of Lamar's Pulitzer Prize is that it represents a long-overdue recognition of hip-hop, seldom celebrated by music's most coveted awards. It's a first step, in many ways a small one, but it means something. That power is best summed up by Lamar himself in a 2015 interview with the New York Times. When asked "Is there one award you want to win above all?" Lamar responded, "Ultimately, for the hip-hop community, I would love for us to win them all. Because we deserve that. Period."