Exclusive: Famous Dex Drops ASAP Rocky Collab "Pick It Up" and Talks Debut Album
Famous Dex releases his new collab with ASAP Rocky and shares what fans can expect from his debut album, 'Dex Meets Dexter.'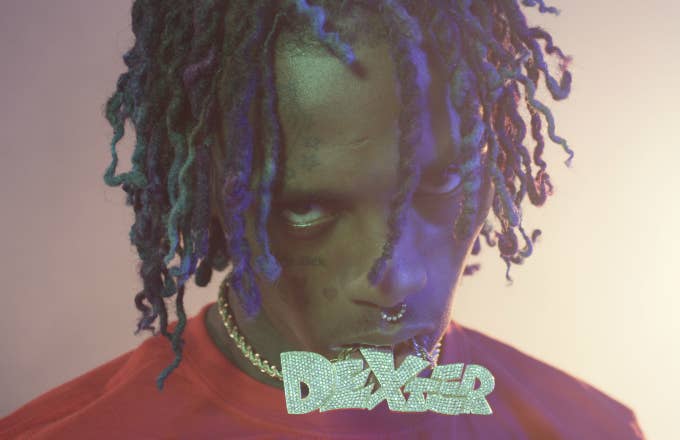 Publicist
Image via 300 Entertainment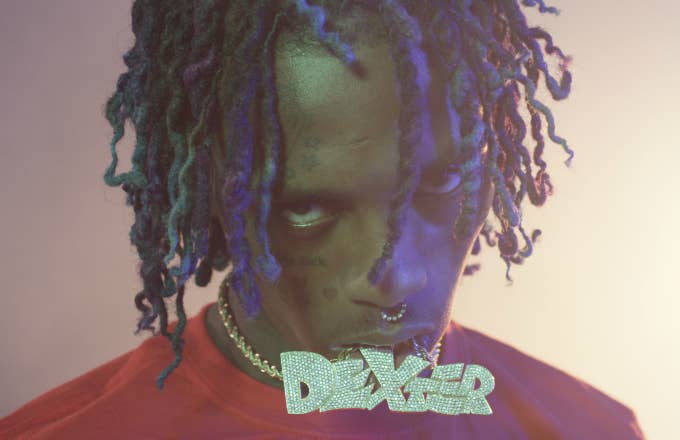 Famous Dex's flamboyant personality stands out on every song he's made. Rich the Kid's protégé has vowed to bring a Wu-Tang Clan style of energy back into hip-hop, and that shines on viral tracks like "Drip From My Walk" and "2 Times." Dex's work ethic is similar to Rich's in that they both release music at an alarming rate. Together with burgeoning Brooklyn rapper Jay Critch, they dropped Rich Forever 3 over the summer, a teaser for their respective solo releases coming soon.
As Rich has established himself as hip-hop's social butterfly—collaborating with the likes of Kendrick Lamar, Partynextdoor, and Justin Bieber—​Dexter is building up his rep as a new wave artist who can make music with just about anybody. Today, Complex is premiering his new single "Pick It Up" featuring ASAP Rocky, which shows off his chemistry with the ASAP Mob leader.
The song has a bit of a knock to it, and contains a familiar hip-hop sample: Marilyn McCoo and Billy Davis Jr.'s "Nothing Can Stop Me." Dex and Rocky ride FKi's beat with a hurried flow, delivering some boastful lines underscored by Dex's signature ad-libs, arguably some of the best in the game today. The track gives us an exciting taste of his highly-anticipated album, Dex Meets Dexter.
Check out the song below, as well as our conversation with Dex on "Pick It Up," working with the ASAP Mob, and what we can expect from his album. 
Tell us about "Pick It Up."​
"Pick It Up" was something very different for me. Especially getting ASAP [Rocky] on the record is a big, big look for me. It was kind of different. I did it, and it took time. I'm more of a freestyle rapper, and more of a new wave. I'm not like a Jay Z writer or a Nas, so I just go in there and do my thing. I go off energy.
Zeke and Wayne [Famous Dex's managers] could tell you, I didn't want the song. They kept coming to me. I'm like, "I don't like it." I think where I recorded it at, it just sounded bullshit. I'm like, "I don't like this song, I don't want it." They played it again. Guess who is on there? ASAP Rocky. I freaked the fuck out. Oh hell nah. It sounded 10 times better and everything. It was a great, great look, and it's a great, great record. It's a great look for me and my fans. I feel like this record right here will show the world and everybody that I accomplished something. It's hard to get a track with ASAP Rocky. 
You think this song will catch on? One of your older songs, "2 Times," has already gone viral.
Exactly, trendy songs. One thing about me, I know how to control my fans, I know how to fuck with them, I know what to do. So, I tease them. When I first got the song from Rocky, I played it on [Instagram] Live. And they were like, "What the fuck?" I brought it back like three times. I brought ASAP Rocky's verse back, I didn't let the whole verse play out because they try to take the shit off or whatever. But I let them know it's ASAP Rocky and then I played them the fire part. And they like, "Oh my God!" I hit 'em with a little clip on the 'Gram, and they like, "This song clip is fire!" Everybody that I'm close to like Ugly God, Yachty, and Rich, they were texting me like, "Yo bro, that fucking song with Rocky? That's going to be the one." 
Who produced the record?
Fki, they were there in the studio with us. I watched them make the beat. You know, this whole new wave shit, I'm part of the new generation. When I did that song, I had producers in the studio with me making the beat and I never had that in my life. I kind of knew this song was going to be big because I never had been in the studio with two producers making beats for me, I just always get them from somebody's email, I just go knock them out. I'm like, "Damn, this is going to be big." And timing; as I begin to grow, I've figured out timing is the key of everything. 
You've actually worked with other ASAP guys too. You're on Ferg's project. You did the "Mattress" remix and you were on "Coach Cartier." When did that happen?
That happened in the winter time. That was one of the dopest moments of my life, too. Speaking of Ferg, I think I was the only artist this year that had two songs on his album. We all know Dexter is new to this game compared to these big artists. For me, to have two songs on his album just made me know that I'm accomplishing a lot of stuff. I was just so happy, man, and it was just a blessing. Dex got two songs on ASAP Ferg's album. Not one, but two. He got his own song and then he got the fucking "Mattress" remix with him, Ferg, Rocky, Carti, and Rich. it was unbelievable for me. Just coming from where I come from.
You think Rocky wanted to fuck with you after you worked with Ferg?
To be honest, Rocky has been wanting to fuck with me. Rocky been wanting to fuck with me when me and Rich dropped "Goyard Pt. 2." He wanted to shoot and direct our videos. Rocky been wanting to fuck with me. If you ain't busy, you broke. I understand that. And he busy as fuck. I could never get a session with him until that time [ASAP] Bari called me and Rich. Like, "Yo, Ferg and them here. Come to the session. Pull up." Cool. I never met Ferg. I was so happy to see Rocky and Ferg because they were so cool. You wouldn't have thought they were rappers. They were like brothers. We became a family.
So you're titling your album Dex Meets Dexter. Can you explain who Dex is and who Dexter is?
Dex is that sauce guy. Dex is that [sings] "Pop a pill now I'm high/Pop a pill now I'm high." And Dexter is [raps fast] "Bitch I came back from the grave/Follow my wave/Whipping bitches like a slave/Oh yeah! Dexter!" That crazy guy. Wiz Khalifa is my favorite artist and Taylor Allderdice is one of my favorite albums. I say, "I want to do an album like that." He actually did that album, he had a damn near whole interview throughout his album. Somebody was talking to him. His skits was talking about his songs. After the song goes off, he'd be talking about his songs. It's so crazy.
The album, I'm going to give you a little clue. I'm going to have skits going through it, it's going to be fire, man. I've been working on it for a year now. I haven't dropped a project in like a year. I've been working, working, working, working, man. I've been focused, focused, focused. I want to give my fans what they've been waiting on. It's fire.