Lil Yachty has revealed the cover art, tracklist, and release date for his new album Teenage Emotions. Yachty shared the news with his "true fans" on Twitter Thursday. The album, featuring collaborations with YG and Migos, will be released May 26.
"[Teenage Emotions] caters to a teenager's everyday lifestyle—heartbreak, happiness, that vibe when you waking up in the morning getting dressed and you just wanna dance," Yachty said in a statement to Complex Thursday.
Here's a better look at the album's pizza-friendly back cover: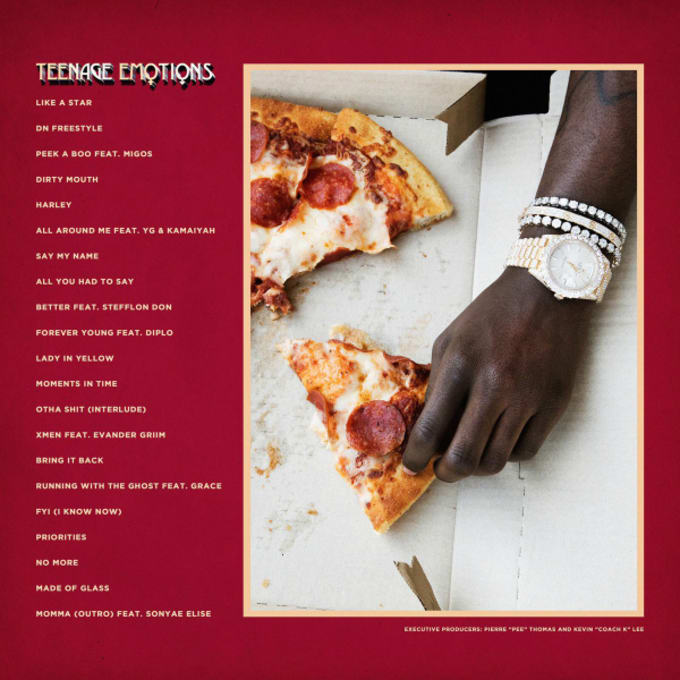 Last week, Yachty released "Harley" and the Migos-featuring "Peek a Boo." Though the initial rumor surrounding both tracks was that neither were meant as official singles, the tracklist released today confirms that both tracks will indeed appear on Teenage Emotions.
Yachty hit Instagram Live shortly after the announcement to get his fans caught up on all he has planned for 2017. "This shit is only for my real fans," he said of Teenage Emotions. "It's not for no charts, no awards." Yachty also said he's planning on releasing "at least one more" project this year and teased that fans should expect more tour dates to be announced soon. Responding to a fan question during the livestream, Yachty revealed he sent a verse to XXXTentacion but was unaware of the mystery song's status.
Speaking of cover art, here's why it's more important than ever.