Is Drake's new project here yet?
Antsy fans have waited and wondered when it will drop for weeks, even months. Now, we know exactly when it's coming—we think. The hip-hop star posted, and then quickly deleted, a message on Instagram in Swedish Friday night that implies the "playlist of all original music" will finally be here on Saturday.
Drake is currently in Sweden on the Boy Meets World Tour, so of course he posted a message in Swedish.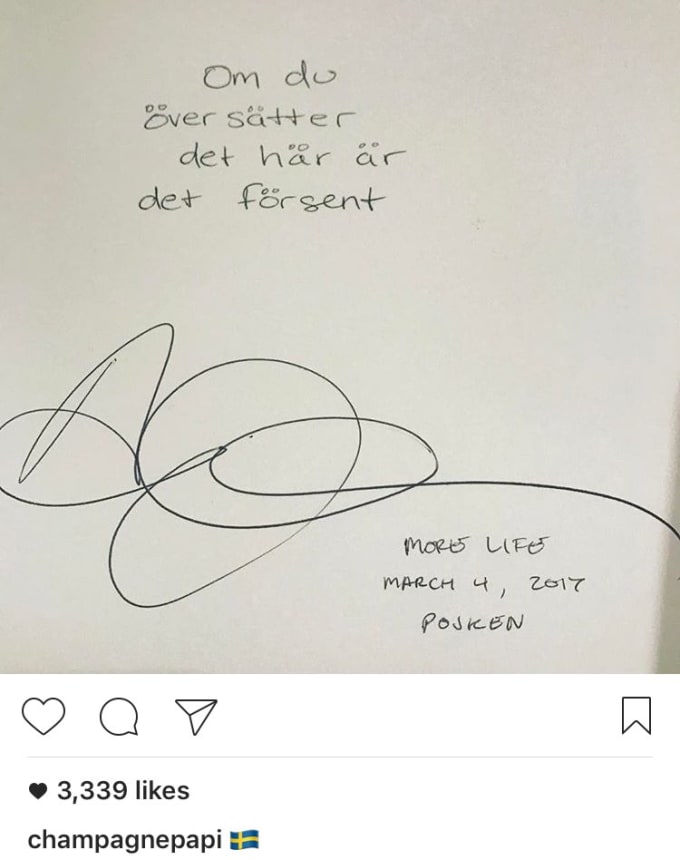 "Om du över sätter det här är det försent," says a hand-written note with what appears to be Aubrey's signature.
The translation? "If you're reading/translating this, it's too late." The note is, of course, a reference to his 2015 project If You're Reading This It's Too Late, a similarly ambiguous project/album, which yielded hits such as "Know Yourself" and "6 God."
The key, however, is what lies beneath Drake's signature—the words "More Life" and the expected delivery date, March 4.
Drake deleted the post shortly after it went up. This is 2017, and surely he knew having it up even for a minute would give plenty of fans and news sites time to screengrab the post.
Drake's Instagram bio is currently simply, "MORE LIFE."
Many originally expected the project to drop late last year, but—akin to several other recent big-name hip-hop releases—Drake has taken his time.