Kendrick Lamar and Beyoncé to Headline Coachella 2017
Kendrick Lamar and Beyoncé are among the many performers set for Coachella 2017. Check out the full lineup.
Getty
Image via Getty/Paras Griffin/BET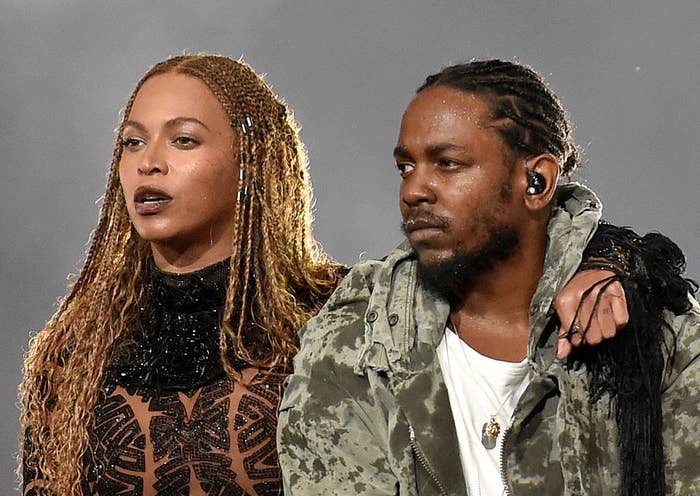 After some speculation, it's official: Kendrick Lamar and Beyoncé will headline Coachella 2017. Both acts are coming off a huge 2016. Kendrick dropped Untitled Unmastered and got in some notable guest verses, and Beyoncé's accolades piled up so much it would be hard to recount them all here. The two of them are also up for a combined 11 Grammy nominations, nine of them being for Beyoncé. We told you she wasn't playing.
The third headliner for the two-weekend event will be Radiohead, who released their album A Moon Shaped Pool in 2016.
As always, Coachella will go down in April (the weekends of April 14-16 and 21-23 to be exact) in Indio, California, and the lineup of K.Dot, Bey, and Radiohead will certainly boost the interest level for attendance, not to mention a spike for ticket resellers. Get it how you live. The three headliners this year are also a step up from 2016, if we're being honest. No shots, Calvin Harris, LCD Soundsystem, and Guns N' Roses.
Other performers at this year's Coachella include Travis Scott, Lil Uzi Vert, Future, and Schoolboy Q, as well as DJ Khaled, who hinted at possibly performing in Indio. Gucci Mane (!) is also locked in. Don't be surprised if he rocks new material that comes out between now and April.
DJ Snake, Madeon, Porter Robinson, Marshmello, Kaytranada, and more will rep the electronic music scene while Kehlani, the xx, Mac Miller, Tory Lanez, and Lorde will also be in attendance. Oh yeah, and Hans Zimmer. The Hans Zimmer.
Peep the full lineup below and check out more info on Coachella on the official website. Passes go on sale Wednesday, Jan. 4 at 2 p.m. ET.