UPDATE January 16 5:12 p.m. EST: Sam Kleinman of Craze Digital responded to Complex via email, saying "We do not sell aaliyah on iTunes. this is not true... [The album] is not uploaded by us." We have asked for clarification, and will keep you posted with any further updates. 
Original story below:
As we at Complex covered in-depth last month, very little of the late r&b star Aaliyah's catalog has made its way to streaming services like Apple Music or Spotify, or even to iTunes. The reasons for this are complicated, but mostly revolve around the man who owned her label, set her up for stardom—and, oh yeah, was also her uncle: Barry Hankerson. 
Back in 2013, a company called Craze Digital, who didn't actually own the rights to any of Aaliyah's music, put some of it up for sale illegally on iTunes. After some legal back-and-forth, the company eventually took the tunes down. 
Until now.
Complex noticed today that Ultimate Aaliyah, a posthumous 2005 compilation, is currently for sale on iTunes and streaming on Apple Music.  And in the copyright information? You guessed it: Craze Productions.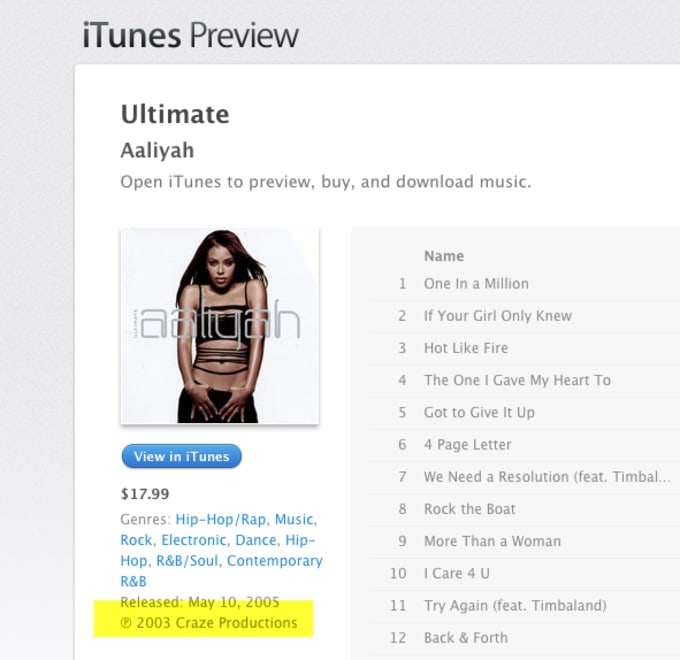 We reached out to Craze for comment, but they have not responded. Our guess is that this is a cash grab by Craze, a company that has a well-documented history of not paying attention to little things like copyright laws.
Some fans were ecstatic at the compilation finally being available, though many were aware of the back story and were counting the minutes until the album disappeared from the internet again.