The Austrian-born artist Nychos is known for his distinctive dissected style—transforming walls the world over with his elaborate murals of object, like rubber ducks, and pop culture figures, like Batman, turned into grisly, anatomical cross-sections. You may recognize his work from San Francisco, where he painted his Eye of the Tiger mural, or from New York's Jonathan LeVine Gallery, which held a Nychos solo exhibit this past summer.
We had the chance to not only catch up with this acclaimed street artist, but also hear some of the music he listens to when working on his massive murals. From classics like Jimi Hendrix and Led Zeppelin to more underground material, Nychos has idiosyncractic taste in rock. Get familiar with the artist and his taste by checking out Nychos' interview and fall playlist below. 
When did you first develop an interest in art?
I developed an interest in art very early in my life. I started drawing when I was a kid and never really stopped. I was around 14 when I decided I wanted to become an artist myself. 
Where did your dissection style come from?
Due to my family history of hunters, dissections were pretty normal to me. Since I grew up with it, it manifested in my style rather quickly.
Skeletons and dissections have always been a part of my graffiti style, but I think around 2010–2011 it got more distinct and honed.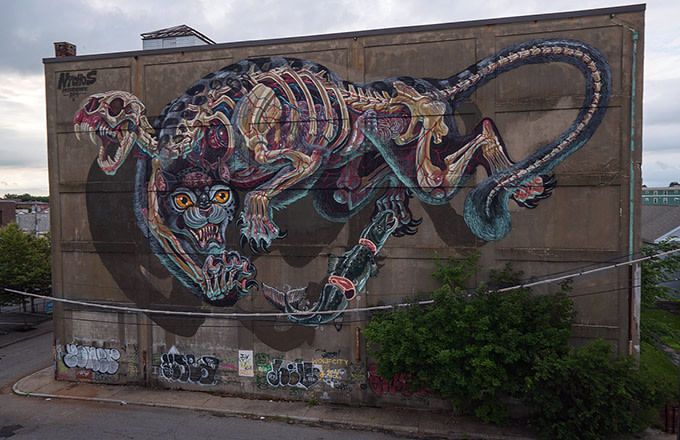 When did you start creating murals?
I don't really know when it started to be all murals. I started as a graffiti writer and then the walls just got bigger and more complex. 
Tell us about the Rabbit Eye Movement and how it came about?
Rabbit Eye Movement was founded in 2005. It started as a street art concept that I created as an homage to all the people active in the Urban Art Scene. You should watch our documentary The Deepest Depths of the Burrow, in which I talk about the whole Rabbit thing. Four years ago we also opened an Art Space in Vienna, which is a gallery, shop, and agency. It's about supporting and spreading the word of the artists.  
What's the hardest part about your job?
Hm, [that's] not an easy question…. All the socializing and going to parties. [Laughs.]
Do you listen to music often when you're working?
I always listen to music when I am working. I doubt that I could focus without some heavy metal blasting from my phone or computer.
Do you remember the first album you ever bought and why?
I can't really remember exactly what it was, but probably Metallica or Black Sabbath, something heavy for sure. [Laughs.]
Who are some of your favorite musicians and why?
At the moment it's Orchid. Their music has become my personal soundtrack. Their technical knowledge and style is mind blowing.
Nychos' Fall Playlist