Usher Wants to Do Something He's Only Played at Before: Confess
The singer started his career as a teenager and has spent his life in the spotlight. Now, he says, he'd like to make more of a real connection.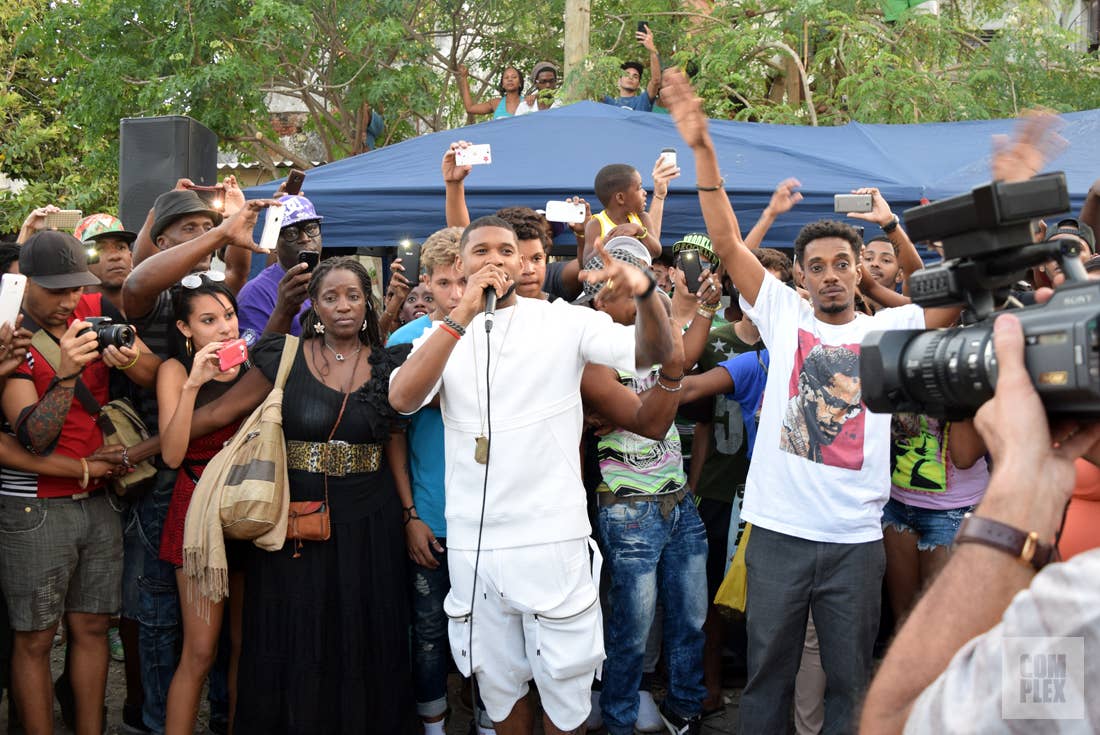 Complex Original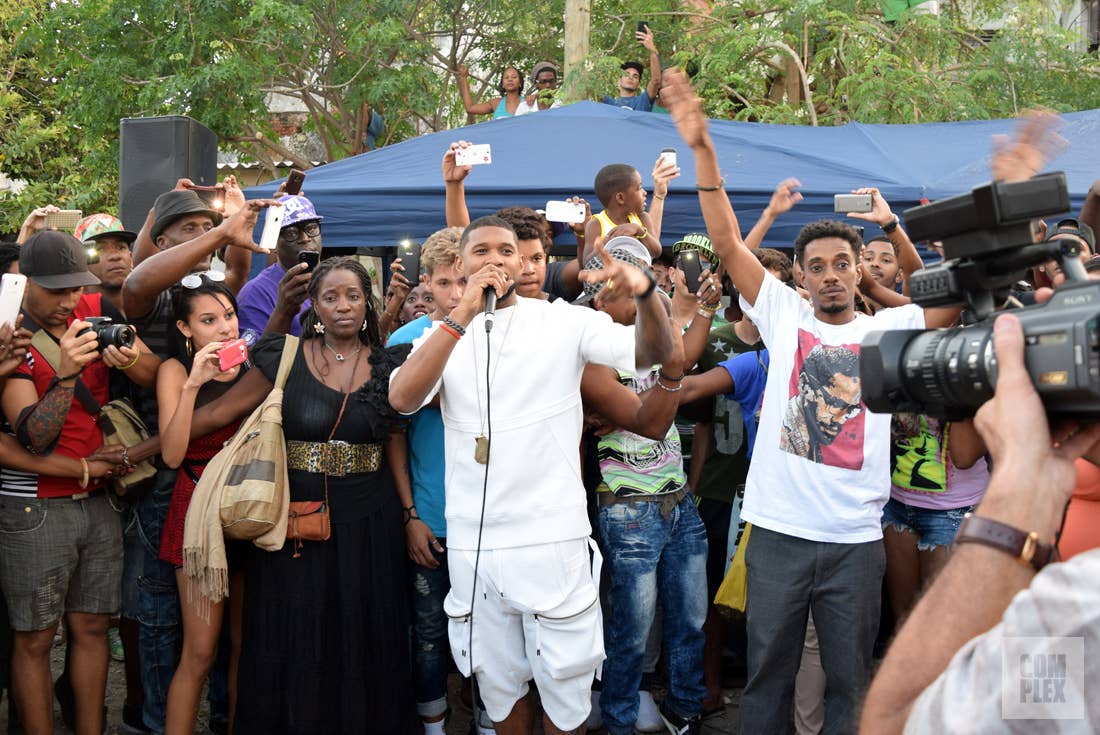 A throng of people swarm Usher, yelling his name. This happens to him every day—the only thing that changes is the location. Today, it's happening in Cuba.
Trailed by flashing camera bulbs and the crowd's screams, he maneuvers through the ragged streets of Regla, a poor community a short ferry ride from Havana, with his entourage. His own songs play faintly from a blue portable JBL speaker carried by a member of the team. Grace Miguel, Usher's wife and former manager, says it's just a thing they like to do: blast music from a portable speaker, even when going out to a restaurant. It's famous person behavior—a little like marrying your manager. The time is 7:00 p.m. on this warm April day, and Usher's making a surprise appearance at a block party in the neighborhood.
Two of Usher's thick-armed, bald-headed bodyguards clear a path towards a dusty lot sandwiched between multi-story houses. Dozens more fans—kids, teenagers, and older folks—have discovered he's here too. Some are scaling trees and perching in the branches; others are standing on the roofs of their houses. Everyone is screaming too loudly to make out any of their words.
Usher, clad in all-white except for his gray Yeezy 350 Boosts, is serene amid the commotion. It's his second time in Cuba; last time he came for his wedding. This visit, however, has a political agenda; Usher is part of a 33-person cultural delegation sent on the heels of the U.S. lifting travel and trade embargoes this past March. Grabbing a mic, he addresses the country. "Hola, Cuba!" he half talks, half sings. He then launches into his Young Thug-assisted single "No Limit"—the first from his new album Hard II Love—followed by a parade of his classic hits.
"That made me feel like a kid again," Usher says later. "When I was a kid, we got in a cipher and battled each other lyrically. We told jokes and made the hottest dance moves. That's what's still here."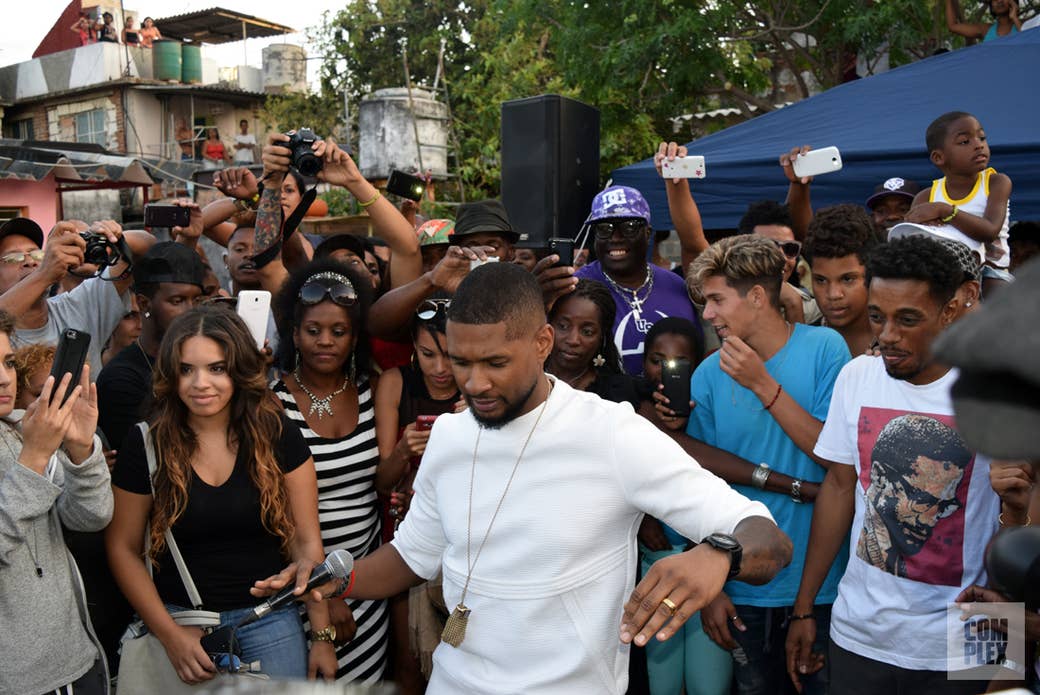 It's shocking how unfazed Usher is by a teeming crowd of adoring strangers. The crush of people surround his van as it slowly drives away from the block party at the end of the night. Usher climbs up to the van's roof, sits down, and waves to his admirers, who are still trailing the vehicle.
In a spur-of-the-moment decision, Usher descends from the roof to join them. After decades of being followed around by crowds, he wants to connect with the people up close. "I guess we're all kinda searching for a connection with something that's relevant to our past and speaks to who we are," he says after the party, "and maybe helps us make a connection to what we are, and where we come from." In the most immediate sense, Usher is coming from a string of years marked by personal tragedy and a renewed sense of social responsibility. Now, maybe more than ever, he's searching for an escape from the trouble he's experienced, and a way to ground himself. The Cuba trip is part of that. So is Hard II Love, which, Usher explains, is an attempt to narrow the gap between him and his fans, like the ones he's marching through Regla with. He wants them to see him as he really is.
Months later, on a late August afternoon, Usher Raymond IV, 38, is slumped in the back of a black SUV in New York, talking about how performing for a crowd comes naturally to him. Since he was eight, he knew he wanted to be an entertainer. "As a kid, looking at Michael Jackson, Marvin Gaye, New Edition, the Temptations, Motown, people who I felt were huge artists, they made me wanna do something," he says. He joined an R&B act called NuBeginnings at 10 years old, and everything in his life since has been in service of entertaining. After appearing on the Ed McMahon-hosted, nationally televised talent show Star Search at 13, Usher was introduced to Antonio "L.A." Reid, the famed music executive behind OutKast and TLC, among others. He signed to Reid's LaFace Records label within a year.
When Usher was 15, Reid sent him to "Flavor Camp"—living with Puff Daddy in New York City—a sort of boarding school for ascendant stars. "That became my normal," Usher says. "That culture was my normal, so naturally I progressed to be who I became."
Today, he's one of the best-selling artists in American music history, according to the RIAA, with eight Grammys on his shelf, and fame is second nature to him. Accessibility—letting his fans into his personal life—is not. "People don't know me," he says.
In 2004, he gave them reason to believe they did. Usher released the smash album Confessions, which eventually went diamond with over 10 million units sold and was hailed by many as his best work. Its songs describe the dilemma of a man getting his mistress pregnant, and the details were divulged to anyone who listened to Top 40 radio that summer. Fans and critics believed the album was autobiographical; Usher was dating TLC star Chilli at the time.
"At this point in my life, I can't sit in a facade of who I am."
But Confessions wasn't as personal as people thought. "I reaped the benefits of other people's agony," he says now. "I made their story my own."
"Even L.A. [Reid] was saying to him, 'People talk about your songs but they don't really know Usher,'" Confessions producer and writer Jermaine Dupri told Complex around the time of the album's 10th anniversary. So, they invented a new Usher. "My whole thing was to create a ruckus," Dupri continued. "Usher had a girlfriend, Chilli. I wanted everybody to start wondering: Who's he talking about? What's going on? Where's this coming from?"
Usher says the working title for Confessions was Real Talk. "I wanted the things I spoke about in the album to be from a real perspective, even if they weren't my own," Usher says.
This time, with Hard II Love, his first album in nearly four years, Usher wants to tell his own true story. "At this point in my life, I can't sit in a facade of who I am," he says.
In the summer of 2013, Usher's five-year-old son, Usher Raymond V, nearly drowned in a pool accident—just a year after his stepson with ex-wife Tameka Foster died in a jet-ski accident. It was the first day Usher had started recording what would eventually become his new album, Hard II Love, released yesterday (Sept. 16). "I'll never forget it," he says stoically, staring off to the side as if he were recalling that exact moment. "I left the studio and didn't come back for a year."
He pushed the album back again indefinitely in the fall of 2014. "I was going through a lot," Usher says, his voice still calm. "There were custody battles, almost the death of a child, and the death of [my stepson]. I went through a soul-searching period. I went to a place that was a little bit more reflective and dark. I began to look at who I am, who I was, where I come from, what my culture is, and who I am as an African-American person in America." He pauses. "I went through a lot of shit," he says.
In October 2015, Usher released "Chains" via an interactive video on Tidal, of which he's a partial owner. Featuring Nas and singer/songwriter Bibi Bourelly, the song addresses police brutality, racial injustice, and oppression. The video contains stirring images of black men and children who were killed by the police, including Sean Bell, Tamir Rice, and Eric Garner. Until "Chains," Usher had never made politically charged art like this. "[Everything] led me to this open, organic, and authentic place where I feel like I can talk about what I feel. You can say ['Chains'] is meaningful, and everything else I've done has been for emotion, maybe even vanity," Usher shrugs. "I don't mind 'cause I say it, too."
This time, he wanted to use his music to address an issue that applied to, as he says, "my country and my people. We're supposed to be integrated and building with each other, but that opportunity ain't the same," he says, visibly perturbed. "It's like, 'Man, don't kill me before you make a judgment on who I am. As you get weakened by the reality of the world you live in, it begins to make you feel responsible.'"
"It's about telling your own story. I can keep living in a facade or I can just be who I am."
When Usher began writing the Hard II Love album, the working title was Flawed. He admits that some close to him questioned the name. "They were like, 'I don't understand why you wanna use Flawed, because flawed has a negative connotation to it," he recalls. He didn't see it that way: "I look at it as being honest with yourself. I can't take all responsibility, but I realized that a lot of the shit that I had gone through was the results of decisions I made."
Hard II Love isn't just a memoir, he says, "but there are very specific moments and things I've experienced that I chose to write about." Usher, who has been in his second marriage for a year, sings about love, the complications of marriage, and his journey to find the right woman. The harmonic opener "Need You" is about realizing that he made a mistake and accepting that he is incomplete without the lady he loves. On "Rivals," he sings about redemption in the face of past transgressions.
But you can't have an Usher album without some jams, and to create some he looked to some of the biggest stars in hip-hop today: Future, Young Thug, and Drake. "I wanted to create a cohesive piece of work," he says—which meant cutting the Drake feature. The rapper laid a verse on a relationship song called "Slow Motion," but it didn't fit the project. "This album has a very specific tone," explains Usher, "but I would love to work with him [again]. I really respect his writing. You should, at some point though, get a song from Usher and Drake."

Frequent Drake collaborator PARTYNEXTDOOR fit the vibe, however. The OVO R&B crooner produced "Let Me," which samples Ready for the World's "Love You Down." "He always manages to make love a bit dangerous and cool at the same time," Usher explains. 
Club cuts aside, it was important—imperative, even—that Hard II Love be an album that spoke to Usher personally, not necessarily the charts. "I just want to make something that I love. When you've done so much, sold so many records, and toured a lot of places, the benchmarks are different." On the ballad "Stronger," he sings, "Baptized in the river and almost drowned/That's when I figured out I'm stronger than ever now." The words were inspired by the deaths of his stepson and grandmother and the near-death of his son. "I felt like the waters were so deep at one point, like I couldn't breathe," he says. "So the song is about how I could've crumbled under all that pressure but I fought through it."
"It's about telling your own story," he continues. "I can keep living in a facade—or I can just be who the fuck I am."