Lil Uzi Vert is now a single man, but it doesn't sound like he's happy about it. In fact, he sounds straight up heartbroken.
On Saturday, the Philly rapper hit up Twitter to announce his breakup with longtime girlfriend Brittany Byrd, and, only an hour later, decided to release a new track called "Stole Your Luv," in which he gets personal about the split.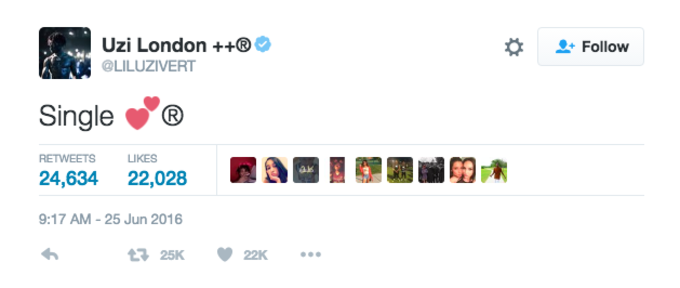 "Now she want to go because I'm on a roll […] Look at your face boy/I know you're sad, yeah/ You want her back, huh/ You want her back, yeah/Can't get her back, yeah […] She done with you like a fad, yeah."
Clearly he's not taking it well. Social media has responded to the news as well as the track—with many speculating about the cause of the breakup. Of course, infidelity is the main theory. 
Whatever the reason, it had to be sudden, as Uzi posted several Instagram photos with Byrd only a couple of days ago. And, judging by the captions, it seemed like everything was all good.
You can listen to "Stole Your Luv" below, and look for a new tape from Lil Uzi coming soon.