It came as a shock to everyone that longtime hitmakers DJ Mustard and YG weren't on good terms.
In the last week of December 2014, Mustard took to Instagram to call out YG for not receiving payments on My Krazy Life. YG fired back by saying he never got paid for his work on Mustard's 10 Summers or received any royalties for being the voice behind "Mustard on the beat, hoe." Mustard returned with a threat, saying, "Say no mo I ain't for no sucka shit and this internet shit weak we can get down this won't be the first time … I'm finna pull up we can squabble up !!" YG then followed with a screenshot of outgoing calls to Mustard that went unanswered.
In almost record time, 2015 started off with YG stating on Instagram that he squashed his beef with Mustard. "Me & bro @djmustard squabbled up and got it over wit. 2015 is the takeover 4realz Bless up Yall." But fans could tell things behind-the-scenes weren't right. For the next 12 months, Mustard and YG went their separate ways as artists, rarely making any public appearances together and even stopped collaborating on music. YG became the new face for West Coast gangsta music off the success of My Krazy Life, while Mustard churned out radio hits like Rihanna's "Needed Me" and Kid Ink's "Promise." Still, it was a personal blow to fans who knew they had much more to accomplish as a duo.
 
When two good friends fight, you can almost guarantee they'll make up once everything blows over. We're in a black sprinter on our way to Coachella for Mustard's first DJ set on Friday. YG's in the back with his female friend in the middle. Mustard, his girlfriend Chanel Thierry, and his bodyguard DayDay are in the front. YG is telling Mustard about the songs he wants to perform, strategizing their big comeback for the whole world to see. Mustard reveals he originally wanted to bring out Pu$haz Ink, but Ty Dolla $ign was overseas in Amsterdam.
 
Over the course of the hour-long drive from his Airbnb in Palm Springs to the festival grounds in Indio, Mustard is visibly tired. He has spent the last two weeks finalizing his mix for Coachella, staying up until 8 a.m. to make sure everything was perfect. In between yawns, he powers through questions as if to fight through his sleep deprived state.
 
Calvin Harris is one of the headliners this weekend. Is he the inspiration for your EDM stuff?
I think my set is moreso mixed in everything. It's not just EDM. It's like my records, EDM records. It's like moments. So I guess you can say so. He's the one that made me want to do it. He made me like EDM. I don't think I'll start doing that type of music—like not that far [though]. I wouldn't want to be corny and shit.
 
True. It's also crazy how much the trap shit is dominating.
When I play that shit today, it's gonna be crazy.
 
Do you think Metro Boomin is having his moment right now?
Yeah, I think it's all they time. It's a certain time. It's a timing thing—people want new stuff. It's just everybody has their time. I don't really like saying "waves" though. Like, "That's your wave." It just means you're done right after. Shit is wack. I don't think it's a wave. I think Metro is going to be the one that stays around. You can already see it. He's here.
 
When you were popular in 2013-2014, do you think that was a moment?
Nah, people always say that. But I think it's like when you come into the music industry, you're new. Everybody likes the new guy. Being the new guy is cool. But then when you're there for a couple months, you're just the cool guy. I think I'm just the cool guy. I never really went anywhere. I've been on the charts the whole time. It's not like I haven't had the songs. I'm normal to people now. It's like, "Oh, that's Mustard. That's cool." So you got the new guys coming. It's like, "Oh, that's the new guy. See how long the new guys last." Metro is going to be one of the ones that stay around and be a cool guy.
 
That's a great way to put it—you are over the hump of the new guy. You're now the cool guy.
That's why it is so exciting when you come into the game being the new guy. Look at Bryson Tiller. Everybody loves Bryson Tiller. He's the new guy; he's the new kid in school. Then you have niggas like Drake that's the cool guys.
 
How are you pushing the Mustard sound?
I'm just doing all type of music that I like. I'm not so worried about the money like I used to be. I got money now. I don't have to worry about that.
it's not about the money no more. It's just about doing music that I like.

 
So your motivation is different now that you have money?
Money is not really [my motivation anymore]. When you're a kid and you never have that much money before, and you know you can make that much money off of music, that's gonna be the main focus on why you're doing it. Then when you have money—it's like being the new guy. Being the new guy, you're gonna dress your best every day. When you're the cool guy, you gonna be like, "Ah, I'm the cool guy anyway. I don't need to dress like that." So it's not about the money no more. It's just about doing music that I like.
 
You're always actively working with different artists. Tell me about working with Rihanna on "Needed Me."
See? Cool guy shit. It was cool. She's like a big sister almost. I did like 100 songs before that song came about. I did like 100 demos, 100 written songs probably that didn't make her album.
 
What is this process of getting a beat to Rihanna?
They had rented a house to work on her album. Everybody was over there doing stuff. I always had a room. Last time that I went, I didn't feel like going. I was tired, and everybody made me go. That's the same night we did "Needed Me."  My team made me go and I went. And that's how we did "Needed Me."
 
So Rihanna had a house?
Like a mansion or some shit. Instead of doing it in like the studios, it's just the mansion with a ton of producers.
 
So you had your own room?
Yeah. I mean I'm with Roc Nation so it's kind of easy. But I mean everybody had their own room. I could go every night if I wanted to. So it's really on you if you want a song you will go over there. But I didn't go every night. You wouldn't want to give up if it's that close. It's like talking to her and figuring out what song she likes.
 
What was it like working on A$AP Ferg and Missy Elliott's "Strive?"
I did that shit a long time ago. Me and Ferg did that last summer. We worked on a lot though but we did it last summer. We did another song too. I was trying to have him put it out then and he was like, "Nah, you gotta wait until like next summer." I was like, "Next summer? Time is now." He was right.
 
On Twitter, you said you also got a song with Britney Spears.
Yeah, I don't know if that's ever coming out. Her fans are fucking crazy. They won't stop. They will not [stop]. Everyday somebody is like, "What's the name of the song?" Nobody even knows the name of the song. It's done though, but I don't know if it'll ever come out.
 
Did you guys make it together?
Yeah. I wish I didn't say that shit. It just got too much now. I ain't tripping. They're just like, "What's the name of the song?" Her fans, they deep.
 
You're bringing out YG today. It's been a long time since we saw you guys together.
I haven't been on stage with YG or talk with him in like a year. They haven't seen us together in a while. We don't follow each other on Instagram. We haven't talked for a long time, but we have been keeping it under wraps. We haven't talked since New Year's [of 2014].
 
This was during the time people saw you guys going back and forth on Twitter?
Yeah, dumb shit.
 
What do you chalk that up to?
I think it was just young and dumb. I don't think it was the money. I think it was a lot of dumb shit. Dumb people in a way of me and his friendship. It was a lot of stupid shit. A lot of bad vibes I was telling you about? We had to cut them things the fuck out.
 
Who initiated it?
We both did. His mom and my mom. They were saying, "Y'all need to go grow up. For a year straight, you don't talk to the nigga you made it with? That's crazy."
I think That [YG and I] needed that. We need to grow up and be our own people a little bit.

 
Was that part of your process of cutting people out?
Nah, he wasn't the problem. I think that we needed that. We need to grow up and be our own people a little bit. See what it is like to not be a duo. Now, it's something bigger.
 
What happened with Mike Free? Is the lawsuit against you still happening?
It just goes back to if you think you can do it. Not saying you can—I think anybody can do whatever they put their mind to it. This is not like...this shit is a gift. This shit is you really gotta have this shit 'cause everybody can be producers in the world. Just big producers. I ain't heard a song yet. [The] same person that's saying that he made all my music. Where's the music?
 
He claimed that he made some songs and he should have gotten credit for it.
Yeah, he definitely helped [on some]. I'm not denying that. I think if I was lying, I wouldn't say he helped me. He definitely helped. Think of it like this: if he made all my songs, if he was that entitled to the music that I was doing, where the fuck are all the hits at now? You should be fucking smashing niggas right now. You should be dominating the game. You can't. It's not like you can't get in the room. You can get in the room 'cause you're telling people that you made everything so that's gonna get you in that room. Nothing comes out of that session that should tell you something. Two years now, time is ticking. We're on a whole new sound already.
 
Can you speak on if it's settled or not?
It's not settled yet, but hopefully it does get settled. I'm the one that's spending the money. They don't have to spend no money. I would love to settle and just say fuck it. I'm over it. I'm not mad at it. I thought it was more of a friendship thing but it's not.
 
Do you think artists on the West Coast in general have a lot of egos?
Certain ones, I don't think everybody is like that though. I think certain ones are. I think the ones that they are; nobody ever listens to their music. It ain't matter. The ones that are already doing something, they cool.
 
You've said your album is about 75-80 percent complete. Is that still the case?
Yeah, I don't think I'm going to do an album this year. I think I'm gonna just do singles and I got some big, big surprises. It's no telling what I am going to do. I think I got a lot more groundwork to do. I got a lot more music to put out. Just all types of shit. I look at music a little different now. 
***
Once we arrive at the artist drop-off area, it's an hour before Mustard needs to be at the Sahara Tent. The sprinter cuts through a large green grass field where there are throngs of Coachella goers as they make their way towards the entrance. Mustard and YG are thinking of their master plan to get by without anyone noticing them. 
"Can they see through these windows?" Mustard says, peering through the tinted window.
 
YG: "Hey, Mustard how do you want us to do this because I don't want them to see us together."
Mustard: "I don't think they're gonna see us right now. But I hope not. It just be our luck, a nigga be like, 'I just seen Mustard walk pass. YG with him! He's bringing him out!'"
YG: "I'ma let y'all slide off, and I'll come back later."
 
Mustard: "Oh yeah, that's cool."
 
YG: "Ridiculous, I'm just saying, all these people. On God. My nigga they gon' know when they see me up here."
 
Mustard: "Oh yeah, they gon' know."
 
YG: "My nigga, they gon' know. I got no business being up here." [Laughs.]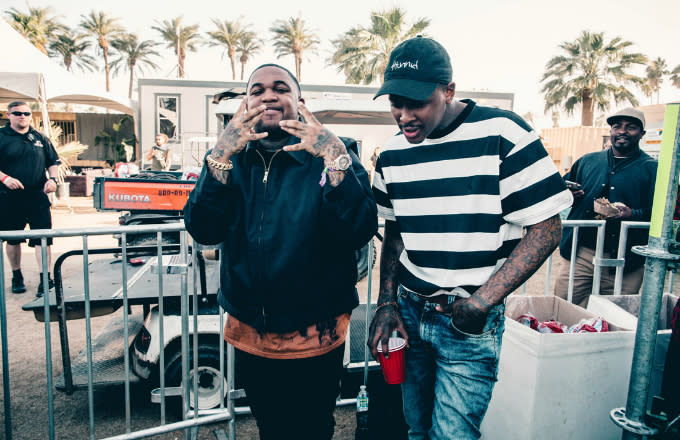 Mustard's diverse set is almost over and the Coachella masses don't want it to end. In a Hot Boys "Guerilla Warfare" tee, a "Forever 100" jacket with the West Side hand logo and yellow headphones, Mustard has a ton of energy behind the tall DJ podium. During his dance jam "Whole Lotta Lovin," he's commanding everyone to clap their hands in unison. He initiates a countdown for when the beat drops that gets people closest to the guard rail jumping up and down. Mustard gives a short intro for a certain artist who has been down with him since the beginning, coming out with his own 4Hunnid gear to perform "My Nigga," "Who Do You Love," and "FDT."
Backstage, YG is surrounded by VIPs as he gets congratulated on a successful performance. Mustard comes a bit after with a big smile on his face. There are celebratory drinks being passed around. The two stand for their first photo together on Instagram in a long time. YG's caption? Way less aggressive than last time. "For a whole year me and this nigga @djmustard ain't been BOOL 'at all' But niggaz FINALLY sat it down and holla'D like some successful azz day 1's pose 2 & uhhhhhhh now.... WE BACK BITCHES!!!!"
But the question remains: Would this reunion lead to the studio someday?
"Bo been doing what he been doing. I'm doing what I'm doing. I did my whole album [Still Krazy]; I got no Mustard beats on my album," YG says. "I don't know, we just got back so we'll see where it goes. But we boys so that's for sure going to happen."