UPDATE 6:50PM: TMZ caught up with Kanye at LAX earlier today and asked if he thought he went too hard on Wiz. "I said what I had to say," Kanye replied. Watch the video below. 
See below for the original story.
Last night, Wiz Khalifa went on Twitter to react to Kanye West's new album title, WAVES, and basically tried to call him out for stealing the wave movement attributed to Max B from the early 2000s. Now Kanye has clapped back at Wiz on Twitter, sending the situation to a whole other level. In the series of tweets, Kanye said that Wiz's first single—presumably "Say Yeah"—and most after were "corny as fuck." In one of the tweets, Kanye brought up Wiz tweeting his wife's initials, but it seems that Wiz was just tweeting about a strand of weed. 
Kanye also said that Wiz stole his "whole shit" from Cudi in the first place. The series of tweets were both harsh and pretty funny, as he tweeted out Wiz's "Work Hard Play Hard" song title with a crying Kim Kardashian emoji.
He also said that even though he's currently making the best music of his career right now, he still hasn't lost his pettiness. That is especially apparent in 'Ye's later tweets where he brought in Amber Rose and her son with Wiz. The rant was long and took multiple twists and turns, and Kanye finished it with the reminder that WAVES drops on Feb. 11. Like we could forget. While Wiz has stayed quiet on his own Twitter, the official Taylor Gang account is sending out some quite vulgar messages toward Kanye and Kim. Kanye since deleted most of the tweets, but you can check out the screenshots below. We'll update as this story progresses.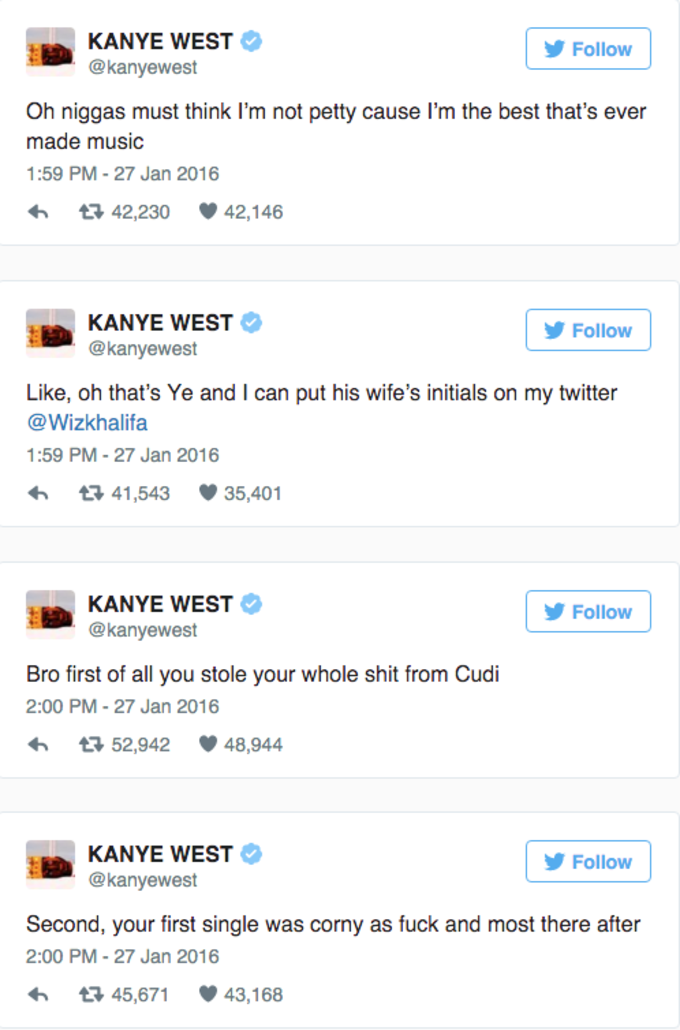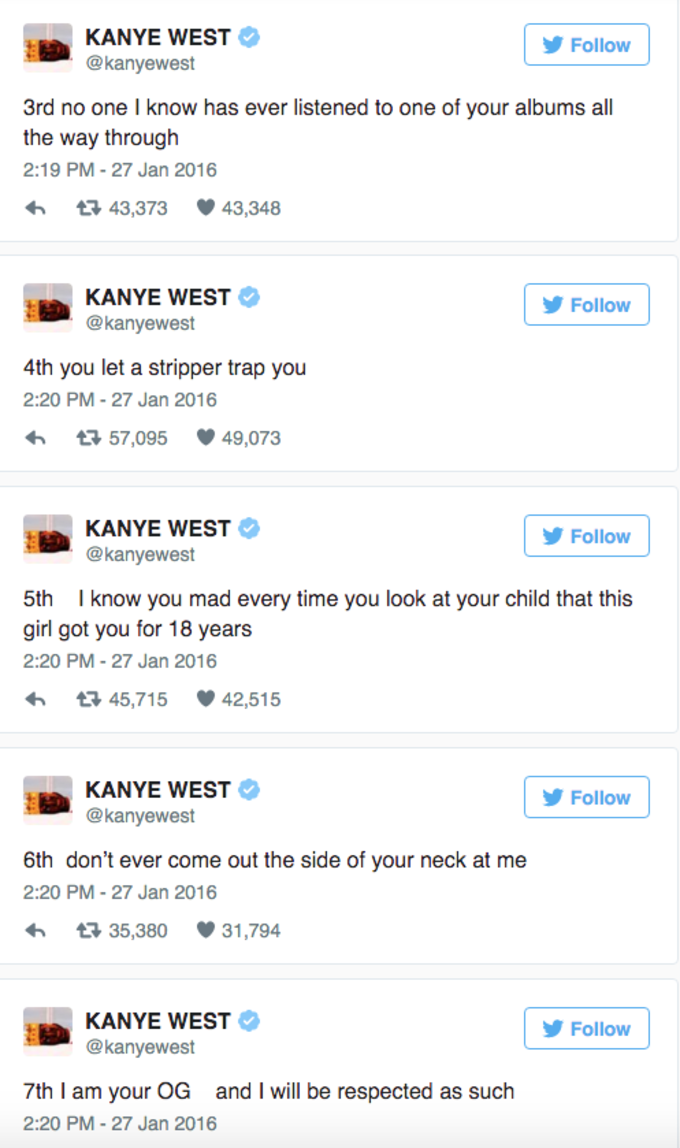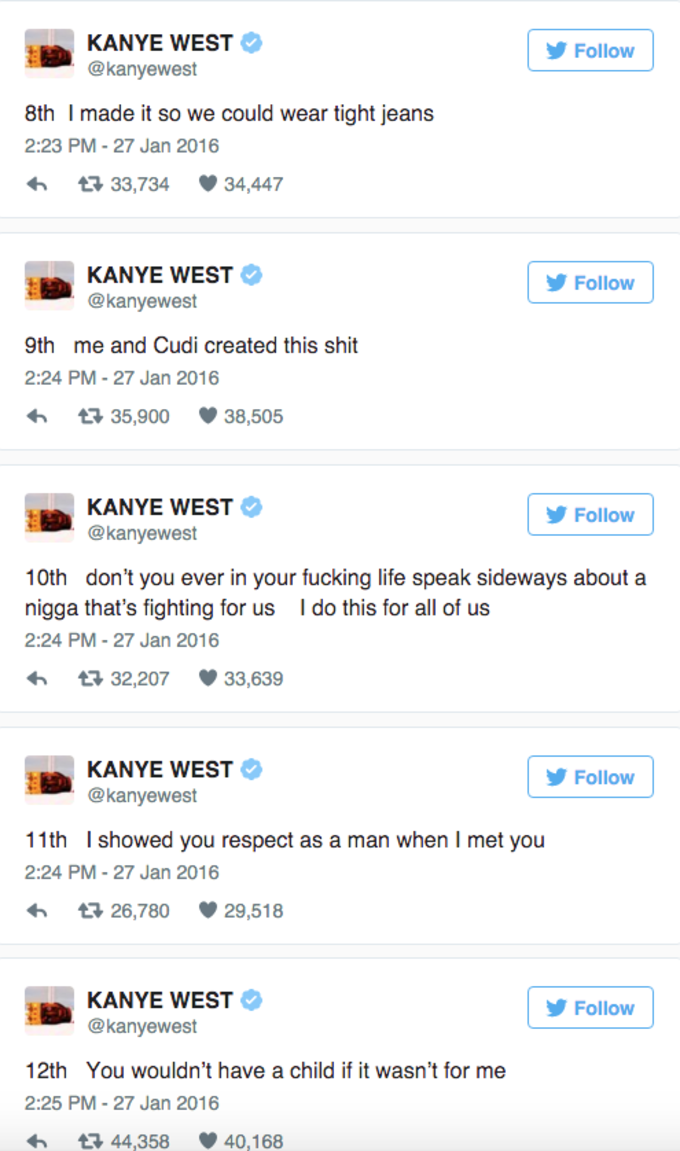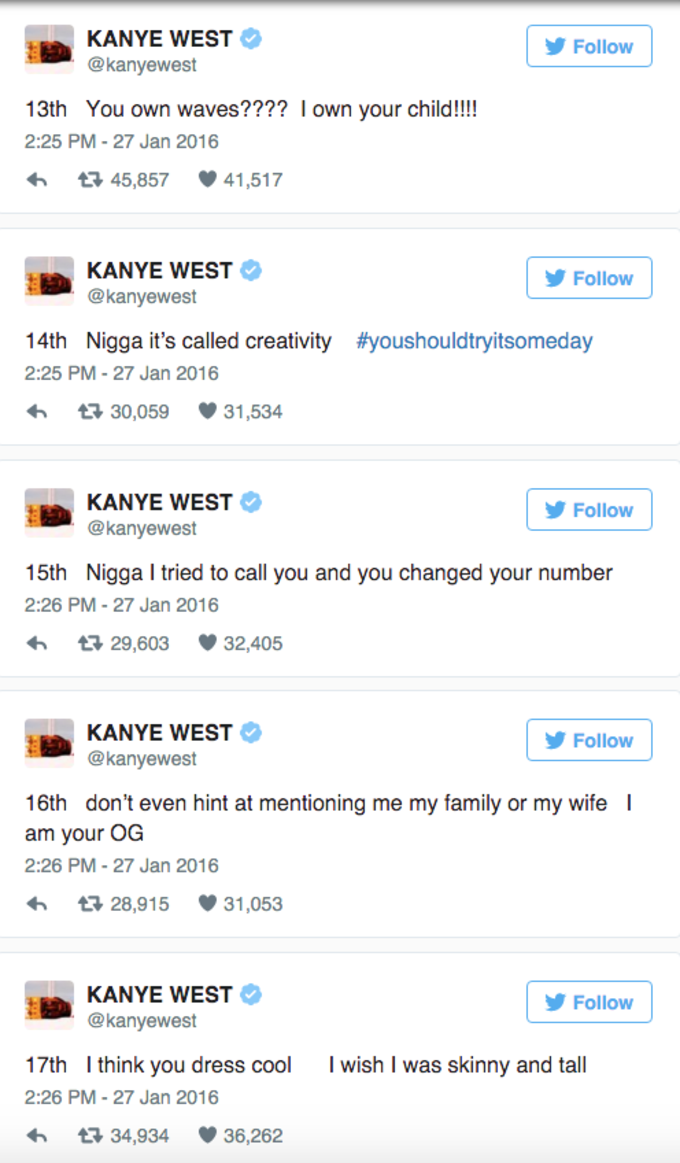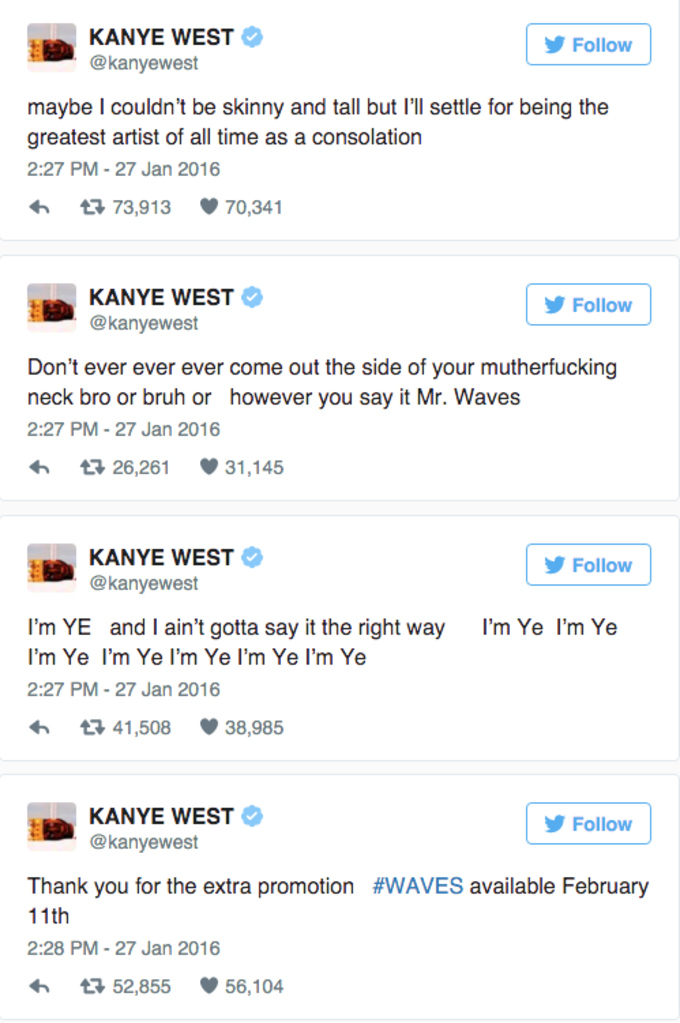 What's sad is I love Wiz and I love all all my brothers and all people

— KANYE WEST (@kanyewest) January 27, 2016
I love the world bottom line and all I want is peace and positive energy

— KANYE WEST (@kanyewest) January 27, 2016
This album is actually a Gospel album

— KANYE WEST (@kanyewest) January 27, 2016
Good energy positive energy

— KANYE WEST (@kanyewest) January 27, 2016
@ChanningsMuva im not finna troll that man.

— KOE (@wizkhalifa) January 27, 2016
#goodmusicfridays pic.twitter.com/zL9qd1jSSy

— Taylor Gang (@TaylorGang) January 27, 2016
Man it's a sad a day… Wiz lost 2 million followers since I tweeted I didn't mean to either him like that.

— KANYE WEST (@kanyewest) January 27, 2016
Ima take these down cause it's all about positive energy blessings blessings positive energy blessings

— KANYE WEST (@kanyewest) January 27, 2016
The Devil can't stop us

— KANYE WEST (@kanyewest) January 27, 2016
In the lab with Ian Connor by the way

— KANYE WEST (@kanyewest) January 27, 2016