"It doesn't matter where I am, though. I usually just stay in the studio." That's what Charles Hamilton says when asked if he prefers to be in New Jersey where he stays with his mother, Talise Moorer, or in Los Angeles, where he is recording his upcoming album. He says he doesn't go out much, either. It all sounds like the emptiest of platitudes, something rappers will say to prove their mettle. It's right up there along with "This is my best project ever." However, listen to Charles for long enough—this Charles, not the Sonic the Hedgehog-obsessed guy who always wore pink headphones—and it becomes apparent that if an empty studio where he can be by himself is not the best place for him, it may very well be the most comfortable.
When he arrives at the Complex offices for this interview, Charles Eddie-Lee Hamilton Jr., 27, is wearing all black from head to toe, save for the green and red accents in his Gucci sneakers. It's a stark contrast to the Charles Hamilton of yesteryear who used to roll around New York City looking like he was gearing up to attend Comic Con. This Charles Hamilton has filled out; he now carries a manly weight. His eyes look heavy and vacant as if he either hasn't slept in days or just doesn't want to be here. He rolls in with a sizeable group of people: some videographers who are documenting his comeback, some handlers from Turn First Artists, the London-based management company that signed him, and publicists from his new label, Republic. He insists that one of his handlers remains in the room with us while we do the interview. "It's better for me if she's here," he says. Every few questions he averts his gaze and looks toward her, seemingly for approval, before answering. He tells me at one point that he "can't give a filtered answer" so he's going to "shoot from the hip." He speaks mostly in deliberate hushed tones and fidgets with items on the desk in front of him. It doesn't seem as if he's in the right state of mind to do interviews, but here he is making the media rounds because, as we're told, Charles Hamilton is back.
Back in 2008 Charles Hamilton was on track to becoming one of the rappers in contention for, if not the crown, then at least some sort of hip-hop feudal land tenure. After all, he came up right alongside Drake, Kid Cudi, J. Cole, Wale, and Big Sean. Pharrell was a fan. He was so sought after that a bidding war broke out for the young Harlem-bred talent, which led to him signing a reported seven-figure deal with Jimmy Iovine at Interscope Records.
"[Jimmy Iovine] is an engineer," says Charles. "So, he understood the sound I was going for with my music. The focus for me at the time—obviously I could put words together, and I was good at production—but the focus for me was the sound of the song. I wanted all of my music to sound a certain way intentionally, and he got that. I was like, 'You're the first person to understand that.'"
Despite the budding mentor/mentee relationship, things began to sour. Charles released his debut single, "Brooklyn Girls," an ode to women from Kings County, that, while not a national smash, became a regional hit. When he didn't want to include the song on what would be his debut album, things between him and the label came to a standstill. Frustrated, he decided to release the project, The Pink Lavalamp, himself for free. After more disagreements regarding the release, Interscope reportedly dropped Charles without even telling him. "I was a little hurt I got dropped," he says. "But I got me back."
Behind the scenes, however, he was beginning to lose himself. He all but disappeared from the public eye. His mother reportedly found him sleeping in an abandoned building. The only times people got a peek at his life were through increasingly outlandish news stories. There was the video that leaked of him getting punched in the face by an ex-girlfriend. Then, in 2010, while in Ohio visiting his father, Charles stole his father's girlfriend's car, crashed it, and then, when approached by a police officer, allegedly punched the cop. He was charged with assault and arrested, and spent a few months in jail and psychiatric wards, where he was diagnosed with having bipolar disorder. And then he vanished.
But that's all behind him now, or so we're told. In 2012, Charles performed a five-hour set at New York's S.O.B.'s. An employee from Turn First Artists, a talent management firm that, according to its website, aims to "ignite growth and development, guiding the careers of our artists to the highest level," was in the crowd. Impressed by the sheer breadth of the set—Charles rapped, made beats, and played the piano—the employee told Turn First's founder and CEO, Sarah Stennett, to meet with the rapper during one of her trips to New York.
"I went to meet him in the studio in New York where he was playing me some tracks," says Stennett by phone from London. "To be honest, it was clear to me that there was something wrong. I could see that he needed some support. He was in a very unstable environment."
Stennett had Charles flown to London where she was able to see firsthand the extent of his talent. "He did a song at the time when I was there called 'Best Friend,''' she remembers, "which was about that moment when time seems infinite when you're a child and you're with someone who is your best friend." The song was touching and emotionally complex, and afterward the two began to talk and Stennett learned all about Charles' past tribulations. "We were in a meeting with Charles, and it was there I said to him, 'Charles, we really want to help you.'"
Stennett says Charles represented to her "how talent in the business can get so easily discarded if it's not nurtured properly." She and Turn First decided to help Charles get back on his feet (at the time, Stennett says, Charles, who created over 100 mixtapes on his computer, didn't even have a laptop) by researching his disorder and offering to fully pay for the treatment he needed. That treatment includes visits with psychiatrists and monthly shots of an antipsychotic drug called Haldol. "We believed that given the right support that he would get to this rightful place," she says.
But where is the rightful place for an artist who not too long ago was reportedly contemplating jumping off of a bridge? "I think we start by [giving] Charles the ability to get into the studio, that he has great people around him, great musicians around him," says Stennett. "I think the place we're trying to get him to is to be the best he can be and to complete a body of work that shows the world what Charles Hamilton is."
Whatever Charles Hamilton can be, he hasn't yet become. For fans of the old Charles Hamilton, they may be dismayed to learn that the musicians Stennett speaks of surrounding Hamilton with are the Invisible Men (managed by Turn First), the production trio responsible for Iggy Azalea's inescapable hit, "Fancy." They, along with Hamilton, produced "New York Raining" (featuring Rita Ora, another Turn First artist) from Empire: Original Soundtrack From Season 1. The sound is much cleaner and slicker than old Hamilton songs. That sound he once hoped Iovine would help him preserve seems to be gone.
It's easy to believe that Turn First is looking to do everything it can to make Charles a pop success. After all, a lot of money has been invested into Hamilton, as intense medical treatment is not cheap. So is placing him in the company of certified pop hit makers Turn First's way of protecting that investment? Stennett says no. Kind of.
"I always felt that Charles is going to have a long-term career," says Stennett. "We try not to put ourselves or the artists under that sort of commercial pressure where it's like,  'You better sell records or you'll be dropped.' Of course, we would like to recover the money we invest. I have absolutely no doubts that the money we've invested in Charles will be recovered. I think the question is, how successful will he be?"
It's clear Charles feels the pressure. Despite giving off an eerie calm during the interview, the idea of reaching more people this go around is on his mind. He's trying very hard to behave himself and do what is being asked of him and, in his words, stay in the center. It all makes you think that perhaps the only place he can really accomplish that is in a studio, away from everyone but himself and his music.
How are you?
I'm alive. I'm happy to be alive. That's the most important thing.
I remember downloading your mixtapes every week. That seems like a lifetime ago. Does it feel that way for you?
I've changed. There was a certain element that I was trying to appeal to, and now I've grown a little bit and I want to present myself.
Who were you trying to appeal to before?
I'm glad you asked me that. That's kind of why I disappeared because I really didn't know who I was trying to appeal to. I thought I was trying to be myself and then the further into myself I got I became very introverted. You read the Billboard piece: I didn't go anywhere, and the more I started exploring myself the more I started realizing that I had been making very therapeutic music as opposed to appealing music. So the fact that people were latching on to my therapeutic music made me kind of uncomfortable. After a while it became like, "Do you want to hear about me being depressed? Is that all you want to hear? You don't want to hear me happy?" I wasn't happy when I made "Brooklyn Girls." That's not a happy song for me. I don't want to say that I felt insulted. It felt good that they thought the song was good enough to move with, but I was like, "Yo, y'all only like the songs where I talk about how sad I am because y'all don't even catch when I'm talking about how sad I am." Then I started imploding like, "Maybe this is how I'm going to end up going out." Just always talking about how screwed up everything is and people not taking full notice of the story of the struggle and making it through certain turmoil be it self-inflicted or imposed upon me by others.
It's interesting to think about it as a fan of yours because those songs were therapeutic to listen to. But for you, those songs reflected an everyday thing that you could not escape.
Right. And there was no leaving the situation. I would think about...I made a mixtape called Every Charles Hamilton's Ex-Girlfriend's Worst Nightmare, and the worst nightmare is me because I'm going to keep rehashing the same thing. I'm going to keep thinking about you, I'm going to keep calling you despite the fact that the relationship is over. Some of those girls I haven't spoken to in years, and I was thinking about them so hard. I was holding onto memories before I got a deal. Almost every song I had when I was on Interscope was about my life before the deal, and I had no new experiences. The only thing that I could relate to was heartbreak, and it was weird because I was supposed to be happy at that time. I don't know. I processed that whole situation differently.
"[The rappers I came up with] love what they do, and they're having fun, and for me this is all I got."
You came up with a group of artists who have now established themselves as a new generation of rappers: Drake, Big Sean, J. Cole, Kid Cudi. How do you feel seeing that all of them have blossomed, all these people who were your peers at one point in time?
I'm proud of all of them. Some of the artists you mentioned are awesome. They're all dope, and they all deserve their moment in the spotlight. It's just the one thing that separates me from them is confidence. I'm not saying that I'm super arrogant or cocky. You have to possess that when you're on the microphone. You have to exhibit and exude confidence, and that's something that I'm working on having on my own. They love what they do, and they're having fun, and for me this is all I got. I don't want to go out, I prefer to be in the studio, but I don't mind getting acknowledged for the work I put forward. It feels good to be considered one of the leaders back then. I wish I had known that back then.
You really didn't know that?
Nope.
Even with the magazine covers?
I mean I didn't…I thought it was a good look. I was like, "All right, cool, maybe more people will start listening." I thought I was that underground. I thought the enigma was, "Charles Hamilton got signed to Interscope, and he's an underground artist." I thought they were trying to say, "Interscope is making an underground artist," so I was kind of on the lookout for any shade getting thrown to my situation.
What's different now?
There's a few things different. For one, I'm more centralized. I'm paying more attention to the surface. I understand and respect everything from both the right and the left. Please let me be centered this time, and if there's anything to be acknowledged on the left bring it to the center; if there's anything on the right, bring it to the center.
Are right and left good and bad?
What do you see when you think of someone being left?
I would say I think of someone on the left being more liberal and not conforming to societal norms than a person who's on the right who adheres tightly to societal norms. But I'm trying to figure out what you mean by right or left.
You're pretty much there. This experience is a test of faith for me—having a new management team and label. Am I going to continue to push my ideals, or am I going to do what it takes to be a star?
"I don't want to die before somebody finds out how ill I am. Sometimes it feels like it's gotta be like that."
Do you want to be a star?
I want to be known for my musicianship, and if that takes me to being a star then yeah. You know what I mean? Some of my favorite musicians only got their credit in passing. I don't want to die before somebody finds out how ill I am. Sometimes it feels like it's gotta be like that.
Do you think you were ready for fame back then?
If I could go at it with a different group of people, yeah. That's not to say anything negative about the people I was around, but some people are around for a season and some people are around for a lifetime. I'm not looking for what I have found with my new management.
What do they give you?
Camaraderie and support, which is really dope. They understand that I'm making creative adjustments, and they're supportive of what I'm doing on top of the fact they're honest so they'll straight up let me know if they're not feeling it. There it is.
In the two years you've been with Turn First, you found that what you were ultimately looking for was camaraderie?
Yeah, and I had a doubting problem. Even if I did get a compliment I'd doubt it, but I'd believe it for the sake of the conversation. So I couldn't believe that these people wanted to be cool with me. They flew me out to London, and I was working in the studio like no strings attached. But they treat me so good I almost get a little paranoid, but I just have to accept that it's a natural kind of love. But it always fuels me to work hard because I don't want to lose it.
Is love something you feel like you were missing?
Can we come back to that?
Sure. To hear that you're going to be working with the Invisible Men sounds weird to me. Their stuff is kind of the opposite of what we've grown to expect from you. Is it weird for you to work with such a poppy production crew?
Well, the production that we've been working on hasn't really been that pop. It's not as underground laden as my other stuff has been, but it's not necessarily pop. It's pretty different. You have to understand they have the influence of once being a part of a band. They're interested in the musicianship side of things. So we'll build from scratch. It's totally different. They have an edge to them. Like, "Fancy" didn't sound like a Mustard beat, it just sounded like a Mustard beat. At the time the square bass sound was big with Mustard, but where Invisible Men went with it was totally different, and that's what made me kind of latch on to that production style as well as the production style of Invisible Men. Although they did "Fancy," they did "Trouble" too, and that's a totally different sound.
Can you talk about how you work together? Walk me through the creation of a song with them.
We listen to what we like, create a melody based on what we like, and I'll lay down some simple drums, lay down my vocals, lay down a hook, and then the Invisible Men go do their thing with it. Obviously, I'm playing the piano. I'm like laying bass down, playing the guitar here and there. But I let them jam out on it. Like "Correct," for example, those are my chords, but we listen to a Spanish record, and I just did my thing based on what I heard. The drums on it were a totally different style, and the Invisible Men listen to the content of the record, and they shaped the drums around what I was saying. They went from one type of record to what it is now.
This is vastly different from how you used to make records. Did you feel like at any point in time that you were giving up too much control?
The only other producer I had worked with where I didn't run the session was Pharrell. So I guess this is a lesson in being open minded in working with other producers and artists. So it's still a refreshing sound, but I'm not exactly at the helm. I'm playing the piano more, and that's what's different this time around.
"I'm going to have to admit that this is not going to be as bold of a project as my last stuff has been. I've got to be honest about that."
You're completely comfortable with that?
Before, I had thought the beats of mine were going to be the spotlight. I thought I was going to be a spotlight producer. Now, I'm one of those spotlight piano players. So yeah, I'm comfortable with that.
How has your rapping changed?
I'm writing again.
When did you stop writing?
Around 2011. I was writing in my head.
Why did you stop writing?
It was liberating.
To stop writing was liberating?
Yeah. It was a challenge. It was a test of confidence. It was everything to be able to spit the verse or freestyle the verse. It was everything at the time that I needed to be able to get all these thoughts out.
You said before that you were gearing your music to a certain people or person. Who is this new music for?
The rest of the world.
And who is in the rest of the world?
People who think they know better. I came across a little too aggressive. This is something you don't have to overthink it. The beats are right there in your face. The main thing that should stand out is the piano playing.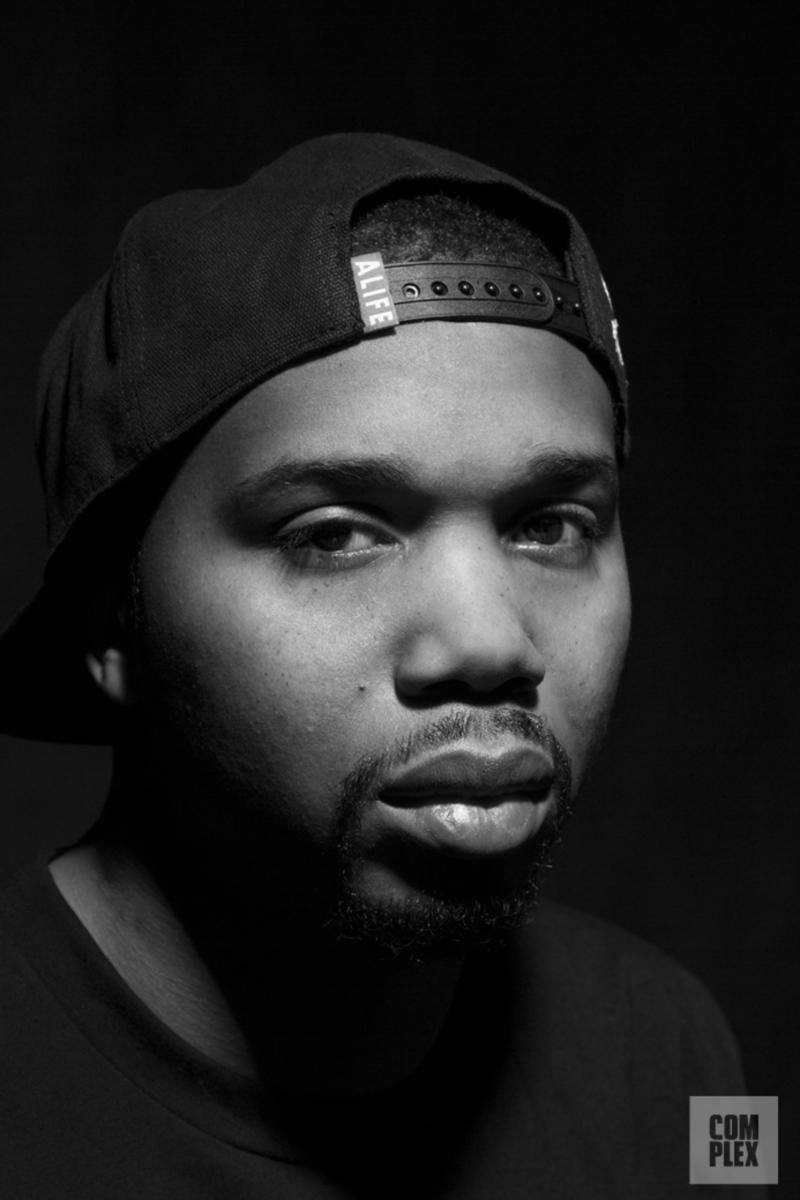 It sounds to me—with you talking about being in the center, and you talking about writing down raps again, and this being for everybody else—that this music is going to be less daring.
Yes. I'm going to have to admit that this is not going to be as bold of a project as my last stuff has been. I've got to be honest about that.
How do you feel about that?
We'll see. We goin' see.
I know people are expecting a certain brand of music, and it seems like they're not going to get that. Does that worry you at all?
I'm not sure if it worries me. People have been asking to hear more of me on the piano, so they're getting that. My lyricism is still up there. I think you'll like the music.
It seems that in conjunction with that, you're older now, but your look has also changed. Your look has gotten more centered. There's no more bright pink.
Well, before any of this, I had stopped wearing pink. I switched to green, but I'm not wearing as much green.
Why'd you switch to green?
There was a whole meaning behind it. I don't really want to get into it right now. But I got into a darker mode, and pink just didn't fit in the picture at the time so I started wearing its AKA [Alpha Kappa Alpha] cousin, green.
"The Charles Hamilton of 2014 would like to thank you. This year, Charles Hamilton is still trying to figure out how he feels about the growth."
So it's like your mood wasn't matching that color.
Right.
Would you say your mood is matching what you're wearing now?
Yeah, but what I'm saying isn't.
Why not?
I'm wearing all black. I mean, I got green in my Gucci sneakers, but they're Gucci sneakers. I'm used to wearing Vans and Chucks and stuff.
But your mood matches the all black?
Yeah.
That comes off a little dark. Is that fair?
The Charles Hamilton of 2014 would like to thank you. This year, Charles Hamilton is still trying to figure out how he feels about the growth.
We sent someone to cover the L.A. show, and she really enjoyed it. What was going on in your mind when you were on stage?
Don't mess up a word. I figured somebody was going to be there, someone of influence. I just have to make sure I get my words down right.
What about when you finished?
I got a good reaction from the crowd, so I was just taking that in and reminding myself to stay humble.
Were you happy?
Yes. Yeah. [Laughs.]
Why's that funny?
Only recently have people been asking me if I was happy. Like happy is like a button for me.
The word?
Yeah. I'm finding out what happiness is. I'm probably not going to find out truly until I sell some records, so I guess we'll see.
"So this time around I'm trying to make sure that anything I say won't be used against me in the court of mass media."
I see you keep looking at your publicist throughout the interview…
—I didn't have people filtering what I was saying before. So a lot of the things I said that got into the media ended up being bad for me. So this time around I'm trying to make sure that anything I say won't be used against me in the court of mass media.
I want to go back to the question I asked you before about love.
OK. I'm not sure how to give you a filtered answer about this so I'm going to try and shoot from the hip. Love is a very intricate subject for me. I feel as though there's different types of love, and each type of love I feel I kind of got shortchanged on. Even by my bottom line, which is why I'm kind of like I don't mind not talking about what I always talk about because there was a point in time where I was supposed to get reciprocity. I wasn't expecting it, but it was being promised to me. It's almost like you catch the Holy Ghost in the Pentecostal faith you're going to definitely see Jesus when you die, and when you die you realize you're supposed to be Buddhist. Do you watch wrestling?
A little bit.
Do you know who Bray Wyatt is?
Vaguely.
Bray Wyatt's theme song is "Broken Out in Love." I am broken out in love.
Broken out in love. Explain that.
The love that I have for the people who have me somewhat on a leash is what's keeping me from going too far left or too far right. That basically translates into love is what's keeping me on the right path. If you don't like the music you can call me a lovesick puppy and we can just keep it there. But I believe you're not supposed to use love for anything. You're supposed to fall in it, give it, show it, or leave it alone. But I think this time around love is going to be the catalyst for the respect I receive.
To play off that, you've mentioned death a good amount in the time we've been talking. Was there a point in your life when you thought you were going to die?
Yeah. Even if by my own hands or by me being the bug in the ear of somebody else. I'd do things like, "What you gonna do, kill me?"
"I was on a quest for love, not a romantic type of love, but if there's love in your heart, would you do what would cause someone to hate you forever?"
You don't feel like that anymore?
I can't feel like that anymore. There's too much love coming. It's like telling someone to put a straitjacket on you so you won't do anything wrong, and they actually do it, and after about five years they take you out of the straitjacket, but they're still around you, but the reason they put the straitjacket on you is because they love you.
They actually did that to you…?
No. I've never been straitjacketed.
Not straitjacketed but they helped you seek help.
Yeah.
And when this arrangement happened you weren't in the best place, right?
No, I wasn't in the best place. I could afford to be a little more discreet where I decide to lay my head, and that kind of goes without saying. But I was on a quest for love, not a romantic type of love, but if there's love in your heart, would you do what would cause someone to hate you forever? Even if that person was suicidal and wanted you to kill them like a Kevorkian situation?
No. So they helped you seek help, and you were surprised that they were there afterwards? Is that a proper reading?
They wanted to be the catalyst for my victory, and in order for me to get into that form of conversation I had to do what it takes to get better mentally, physically, spiritually, emotionally. It started with the doctor.
But what happened then?
I finally had someone to talk to about what I was going through. I was very blunt with my doctor. I'm not going to share what I said with my doctor, but I finally got a chance to say, "This is what I think I'm going through…." Kind of like if you were a fly on the wall, I'd have a cover story with the stuff I was talking about. I'm at the point now where I'm over it because I let it manifest itself in my behaviors and even in my music. I'm kind of expecting a few questions about some things, but nowadays it just makes sense to follow before I could lead. I wasn't aware of everything in the world the way I could've been. I could've been more aware.
It's a little past 8 p.m. on Tuesday, May 19, and Charles Hamilton is in the basement of S.O.B.'s prepping for his first hometown show in three years. It's a show that was originally scheduled to happen in March at Minton's in Harlem, then most recently at Webster Hall in April, but was canceled due to "technicalities," according to Charles. He's wearing mostly black again, but his mood is much brighter than when he last came to the Complex office. His eyes are bright and alert. He seems jubilant, bounding about the room giving daps to the people who've convened around him. It's difficult to reconcile this Charles with the solemn, socially detached one who said he was still looking for happiness.
In a smaller, empty adjacent room he takes a seat on a stool and says he would like to amend what he previously said about working with the Invisible Men and going pop. "The sound I'm making is more commercial. The content is still the same," says Charles. "They're not telling me what to write. They do tell me I gotta fall back from being as dark as I've gotten in recent years. But as far as social commentary and love songs and getting on a record and spitting, they don't really stop me from that. They just want it to sound commercial. They don't want no excuses as far as why I'm not on the radio this time." And the plan is working. Charles says he heard "New York Raining" on the radio for the first time today and that it made him feel good, like he deserved it.
Upstairs, the venue is beginning to fill. At 9:30 p.m. Charles takes the stage along with a drummer, a bassist, two backup singers, and a keyboardist. He sits at a full piano positioned in the middle of the stage. After burning through two songs including "Loser" from The Pink Lavalamp, he plays a new track called "Down the Line." It's a song that, he says, "addresses everything y'all been saying about me." And it does: It touches on his past rise to fame, the artists he shared the XXL Freshman Cover with, and the fact that he no longer gets high. It's the most comfortable and at ease he's been all night. After the song, Charles takes a drink of water and tells the crowd, "I take Haldol, I can't turn up like y'all." Everyone laughs. "I'm not playing," he says with a smile. "I'ma tell my doctor about y'all."