The doors of NYC's referrals-only Japanese bistro Bohemian are nondescript. You could walk past them a thousand times and hardly even notice. But once you step through the doors, it's clear that what lies beyond is special: You have to ring two doorbells before you're fully inside. Granted entrance, you find eight tables surrounded by white-washed walls, and if you're lucky enough to face the back of the room you get a view of the hydroponic garden. It's the type of vibe-y, exclusive, insulated environment that perfectly suits producer Emile Haynie, who's been the guy behind the guy of some of the most influential (and divisive) artists of the last half decade. When asked why he picked this place to eat, Haynie, 34, cites the food ("The burgers are incredible here," he says. "The fondue…. I mean, two guys can sit around and eat fondue, right?") as well as the fact that Basquiat once lived in the building that now houses the restaurant. With Haynie, there's always a story behind the story, a detail to the detail.
Haynie, who makes noise behind the scenes and is a constant in the liner notes of hit records, exists in the details. This quality's present even in his origin story: In 2000, after waiting outside of Madison Square Garden for Eminem's tour bus to pull up, Haynie spotted late D12 rapper Proof and managed to get a CD full of his beats into Proof's hands. On the bus ride back to Detroit, the rapper listened to the beats, and the next day Haynie was being flown out to Detroit to hang out with Proof and meet Obie Trice.
Off of that break, Haynie started to make more industry connections, and for the next five years built himself a solid resume of production credits on records by Ghostface Killah, M.O.P., and AZ, among others. In 2007, after stumbling onto Kid Cudi's MySpace page and connecting with Plain Pat, Haynie began to co-manage Cudi and went on to executive produce his breakthrough mixtape, A Kid Named Cudi. (It was followed by Cudi's hit LPs, 2009's Man on the Moon: The End of Day and 2010's Man on the Moon II: The Legend of Mr. Rager.) In 2010, he scored a Grammy for his contributions to Eminem's Recovery, and co-produced Kanye West's "Runaway," off My Beautiful Dark Twisted Fantasy (which, maybe you've heard, is one of Yeezy's most critically acclaimed pieces of music, full stop). After an abrupt public split from Cudi over creative differences, Haynie recalibrated, and in 2012 he went pop, producing Lana Del Rey's breakout album, Born to Die, Fun.'s platinum-selling, Grammy-winning Some Nights, and Bruno Mars's chart-topping, five-times platinum single "Locked Out of Heaven," all in the same year.
As hard as it is to get into Bohemian, it's even harder to catch Haynie—a native of Buffalo who's lived in NYC for the past 15 years—in the city lately. He spent the last year holed up in the Chateau Marmont, L.A.'s famed celebrity hangout, working on his first solo album, We Fall, which arrives Feb. 24 on Interscope Records. The making of the album served as an escape of sorts, from a sucker punch of a breakup that left the producer in an emotionally raw state. After being encouraged by friends to find an outlet for what he was going through, Haynie decamped to the Chateau and set up a recording studio in his hotel room. Those same friends—Lana Del Rey, Mark Ronson, Fun.'s Nate Ruess, and Miike Snow's Andrew Wyatt, to name a few—got in the habit of stopping by to see Haynie. In other words: A residency became a perpetual social occasion, which became a perpetual jam session. From that time, a full, cohesive body of work in the form of We Fall's 11 emotional and melodic tracks emerged.
But what is it that Haynie does, exactly, that's so special? His friend and collaborator Mark Ronson paints Haynie as a traditional producer, at least in the sense that he's not afraid to grind it out, get back to basics, and get his hands dirty in the work of making music.
"Emile still retains that 'digger' mentality," Ronson says. "No matter how successful he becomes, he will still spend a whole night scouring the Internet for some rare Japanese record that has a two-second drum break on it. Going through the drum library on his MPC is like Christmas for someone like me. I can get inspired off of the sound of one of his snare drums alone."
"The best thing in the world is to see someone who always facilitates things for other people get to create something that comes from their own heart or aesthetic." -Lana Del Rey
Painter George Condo—yet another close friend to the producer, and one who was there the night the first notes of We Fall were recorded—compares Haynie's particular stripe of sonic genius to another Condo collaborator, Kanye West. "He'll pick out three words out of a conversation, [he'll] find the unique part of something that was casually created, and take that, and turn it into something," he says. Condo adds, with admiration, "Once it gets into Emile's head, he hears all the different parts."
And listeners will, too: We Fall is a cohesive, emotive, and sonically dense album that transcends ideas about pop, soul, and R&B, and doesn't bother to tether itself strictly to either analog or electronic production techniques. But how does the man responsible for getting artists like Cudi, Eminem, and Del Rey to pour their hearts out on hit records make one with his own name on the front of it?
Ruess thinks his friend has always been up for it. "He's an artist who wants to get behind [a] vision, and will stop at nothing to make it happen," he says. "It's impossible to bet against him."
Lana Del Rey agrees that the wait has been long enough for Haynie to step into the spotlight. "The best thing in the world is to see someone who always facilitates things for other people get to create something that comes from their own heart or aesthetic," she says. "I couldn't believe when I heard his record—it was so good! I was really proud."
In between sips of sake, somewhere in New York City—beyond the door that's beyond the door—Emile explains the bleak last year that found him crafting the most important sound he's ever worked on: his own.
When did you decide to leave NYC and go to L.A.?
I was in the middle of starting Lana's second album and I introduced her to Dan Auerbach [of The Black Keys], who ended up producing it. All of us were supposed go to Nashville to work together and I couldn't do it. I was miserable at the time. I was like, "I need to go to L.A. I want to stay with my [musician] family. I'm writing songs, and it's insane because she's my favorite artist, but I'm just going to go to L.A."
What was making you miserable?
The record is kind of based around a failed relationship.
A long-term one?
Long-term. Like a year. It was either full shutdown or just work.
Is it fair to characterize the album as a breakup album?
Yeah.
"When you're in love you're a bit crazy, good or bad. At the moment I was nuts, the way we all are."
Was recording therapeutic?
Yeah, it's a cathartic way of writing. When you're in love you're a bit crazy, good or bad. At the moment, I was nuts, the way we all are. You get endorphins in your brain that turn you into a different person, and that's great for writing songs, but when it's all said and done, you get that back and the person becomes completely gone. The song is still there.
Did you have a "This will show them" mind-set?
Sometimes, you know. Of course. This is such a generic way to answer this, but one day you're pissed off, next day you feel like you're miserable and met somebody special, next day you're thanking god that this person isn't in your life anymore, then the next day you're back to being pissed off again. Now, no. In hindsight, at the time, absolutely. The record, it's part gift, part funeral.
People break up all the time. What was it about this situation that was so hard?
This wasn't a real grown-up, civilized thing. This was an absolute mess.
The ending was abrupt?
Yeah, yeah. I've been through grown-up, secure breakups that are trying, but you deal with it as an adult. There was nothing adult…. This was different. This was just a roller coaster, which really does a number on you. You can cruise control a breakup or relationship, but those roller coaster ones you gotta watch out for.
What's the vibe when you're writing songs for yourself and not other artists?
I've written with artists plenty of times, and co-written songs where you sit there with a girl and it's right. I've written lyrics with them, but that was me trying to get into their life. This is actually about what I was feeling. I've never done that before. I've never had anything I felt I wanted to say. It's not better or worse, it's just all of a sudden red became black. Also, I've never been nervous about writing songs. I've never been weirded out by lyrics. I'll write anything for somebody else, and if they don't like it then they don't sing it. If they like it, cool. This is like your whole context changes. Imagine if you're writing a piece on somebody else. It's cool, you make them look good, you do your job. What if you had to write something personal about your life? It's like, "Oh, shit. Is this cool, is this good?" You lose all sense of reality.
Was there a lot of self-doubt during the recording process?
Depending on the day. Some days I would wake up and be like, "This is going so good, this is going to be the greatest thing I've ever done!" and the next day I'd be like, "What the fuck am I doing? This is horrible, the music is bad, I should go do this project that is a bit more dialed in."
You felt that?
Absolutely! Every second. If I had to do it on my own, this would have never come out. I was surrounded by my friends and they don't lie to me. If it wasn't for them saying, "No, it's good. I promise. It's good," psyching me up, this would've never happened. There's no chance. It gives me a lot of perspective on artists, too. The weirdness they feel. When I argue with them in the studio and they're totally crazy, it's like, "Wait a minute. I get it now." This is their words, their life they're talking about. Even if it's great, if it doesn't apply you can't put it out in the world.
"[Florence welch] came running in with her yoga outfit and sang on a song. She sang background vocals and then popped off to yoga. At a studio, that wouldn't happen."
What was it like living in the Chateau?
I have one particular room that I stay in. It's my favorite room. It's like a one-bedroom apartment. It faces south and the light that comes in is so perfect. No matter what you do, if you do anything creative—writing, painting, anything—this light is just wonderful. It's almost every day that it gets this—it's so hard to describe. Between 3 and 6, it's unbelievably perfect.
Is that when you would work? Those hours?
I'd work all hours. That was the sweet, spot though. When I invited people over, there was a lot of, "Hey, Lykke Li, come over and have tea." There was never, "I really want you to sing this song." It was, "Hey, we're having tea and there's a song playing." Just to see if somebody comes up with a melody, if something happens. If it doesn't, then it doesn't happen.
What was a good random run-in you had? 
Baz Luhrmann, the director, would pop in and listen to songs and give me advice. Danger Mouse would give me advice. I saw Jon Brion in the lobby; I didn't get him on my record but I had a lovely talk. I met Father John Misty there. He sang on my album. Florence [Welch] from Florence and the Machine is a good friend.
There was a day when I was working and I had the windows right open, and she had a room like two above, but kind of off, and we could see each other, and I got a text that was like, "What is that? That's beautiful." I was like, "It's my album, come!" She came running in with her yoga outfit and sang on a song. She sang background vocals and then popped off to yoga. At a studio, that wouldn't happen. It wouldn't happen at any other hotel. It just kept happening. The light that my room pulls in would wake me up every day at 7 o'clock, no matter what. I usually stay up pretty late and have a hard time getting up early, so it was like clockwork. Up, every day.
Were you partying a lot?
Yeah. That's not even my thing. It wasn't all just a great place to work and great light. It's also, in some ways, a fucking totally seedy L.A. scene, which is kind of gross but kind of incredible if you're heartbroken and need to forget about stuff.
So like 5 a.m. nights consistently?
Pretty much every night. You're recording, recording, recording. Miguel and I did a song that didn't make the album. We were in my room with 20 people at 4 a.m., wasted, playing the piano, and it's like, "Oh, shit, everyone, shhh," because the mic is in the middle of the room. So, like, 20 people in the room, some singers, some not, now Miguel is recording an idea while everyone is sitting there quiet at 4 a.m. That happened a lot.
"I connect with artists that are completely fucking crazy, for whatever reason. I like to argue in the studio, I like to fight, I like to love each other."
Did you turn down a lot of projects?
Yeah, everything.
Really? Any big ones?
I don't wanna diss anyone. Not working on Lana's second album, that's like my sister, and we love each other. That was a massive move. I felt terrible. Before she got with Dan and it worked itself out, there were some tense moments. She got quite upset sometimes. It was painful for me to feel like I might be leaving her hanging. The beauty of the relationship that we have is she understood, and she knew what I was dealing with, she knew I had to do what I had to do, and she was so supportive the entire time.
We met years ago just to make tunes, and now it's become so much more than that. This is her album, this is her baby. She just knew on a friendship level what I was doing and she didn't get bummed. She sang a song on my album. She would come in and listen to my album and give me all this great advice.
Thank God for her. That was trying. It was right at the beginning, I didn't know what I was doing at that point. She had her songs written. She wrote her entire album. It was a production. That's Lana, she does that. Lana doesn't do the generic co-write thing, Lana sat and wrote her songs. I just knew I had to write, and it wasn't a writing gig with her—it would be a producing gig. I had to write, I had to write. It didn't matter if the songs got produced and never came back, I had to write. I would've went crazy if I didn't.
"If it's going to be 'Man on the Moon,' it kind of has to be me, [cudi], and Pat... It's 'Man on the Moon.' It's got to be, it just has to be that."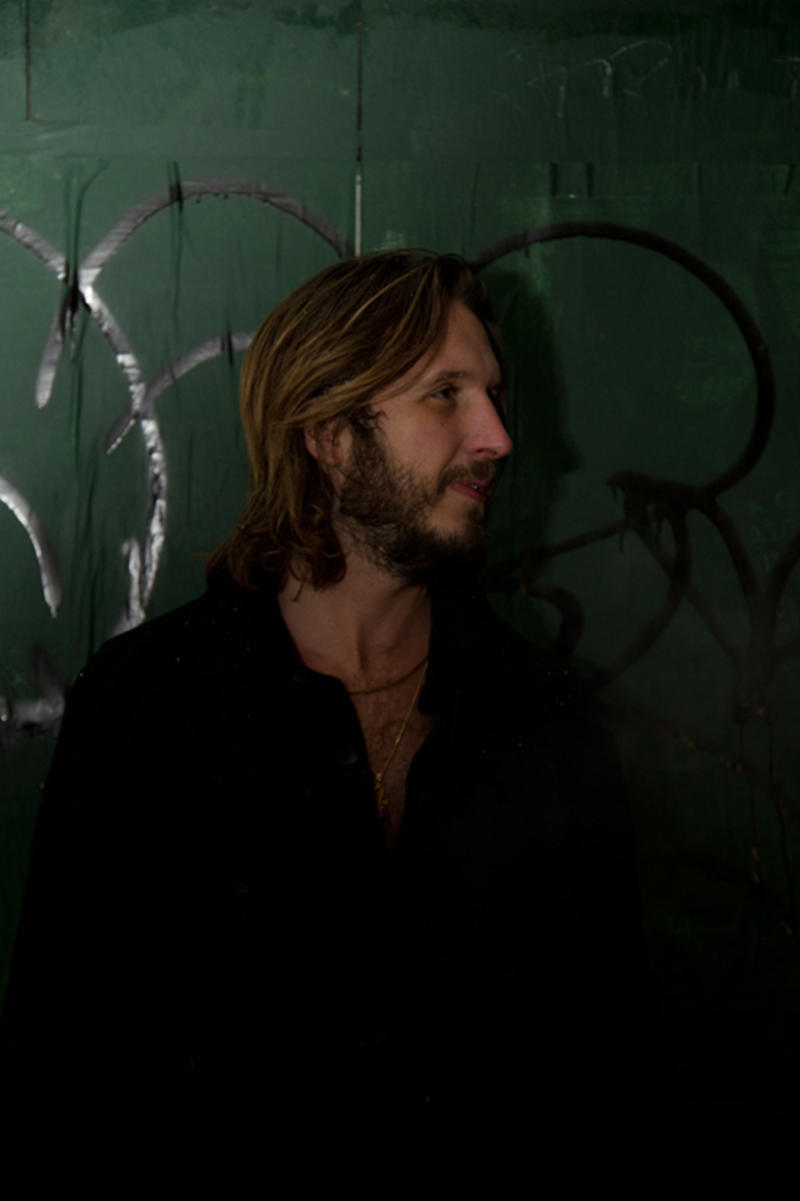 Fans will always tie you to Cudi. Has he heard your album?
No.
He hasn't?
We hung out recently, though.
That was the first time in a while, right?
Yeah.
How was that?
It was cool. We just bumped into each other. He was at the Chateau Marmont and I was downstairs drinking. I heard his voice. I just know that voice, you know? I was like, that's Cudi. I turned around and it was fun. We had a couple drinks. We did go up to my room, the studio, and we didn't listen to my music. I had some beats, and I was all drunk, like, "Listen to this!"
Do you miss those times?
Yeah. We've had times where he called me or I bumped into him. We're both busy. He and Plain Pat, whether they like it or not, they have an intense bond. Cudi looks to Pat like a big brother more than anything. He seeks that big bro approval. Pat was with Cudi first, so I'm just guessing here, I could be wrong. Pat and Cudi are both stubborn in a similar kind of way. I would always be the neutral one, which is great. We had such a good dynamic.
Do you think you guys are gonna work together again?
I hope so. It would be crazy not to. I'm only gonna work with people who are gonna have fun in a room. We can fight, but at the end of the day, just dig being around them. And make each other better on the music side. So if that's the case, I'd love that more than anything.
Did Cudi tell you he wouldn't make Man on the Moon III without you?
No, it was never like that.
'Cause he twittered it.
Yeah, that kinda caught me off guard. I don't even think he has to say that. If it's going to be Man on the Moon, it kind of has to be me, him, and Pat. I never needed to say it to him, I don't even think it would be some big discussion about it. It's Man on the Moon. It's got to be, it just has to be that.
Do you think about ideas for that album?
Yeah. I always think of that, of course. There are a few artists who I've worked with heavily who I think about all the time. It's like you think about exes. Somebody who's really impacted your life, even if it's in a musical way. I always think of Cudi. I always think of Lana, and I always think of [FKA] twigs when I make anything.
What do you think of the stuff Cudi's made since you guys split?
There's not a lot of artists I can say this about, but it's difficult for me to work and listen to artists who I have a strong bond with if we're not working together. It's not coming from a place of jealousy or anything, it's just like you could care about one of your ex-girlfriends or ex-boyfriends and you want them to succeed, and still love them and hope they have a fantastic life, but you may not want to hear the juicy details. I always want to hear that they're killing it and selling out shows but I just may not want to really dive in. It's a little weird. Like with Lana, that's my girl, I don't need all the details. I love you and I hope it's great. It's the same with Cudi.
You're known to work with emotional artists. What is it about them that makes you gravitate toward them?
I connect with artists that are completely fucking crazy, for whatever reason. I like to argue in the studio, I like to fight, I like to love each other. That emotional roller coaster creates something special in the studio. It's hard to say who is the most emotional or who is the most crazy. I couldn't tell you that.
You produced "Runaway" with Kanye. Is working with him different than everyone else?
He's the most intense creative person I've ever met. It's the most difficult working situation ever. But it's the same with [FKA] twigs and the same with Lana: They have what they want their shit to sound like in their head, and they know what it is before you've ever touched the piano. And they will fight to the death until they get that sound. They don't compromise, they don't say, "Yeah, I guess it's good," which are the worst words [that could come] out of an artist's mouth. They get pissed off and they say, "No, something's not right here." In the pop game they're going to you to make their shit better than it actually is.
I like to work with artists who are way better than me and I'm just good at getting them to the point where they can hit that peak. Twigs is such a good example. She would constantly push and fight, and in the back of my head I knew that's what needed to happen, but it's super frustrating at the time. Same with Kanye. It's like, "How can you not like this? This song is a nine!" And he's like, "Fuck you, it's got to be a 10!" And that's what makes it great. That's where you really learn.
How do you think you'll feel when the album is finally out? And what's next?
I've been trying to figure it out. I'm not sure if I should do a party or what. I'm a glass-half-empty type of person. Maybe it will be like any other day. I'll be pretty weirded out at the same time. I have this amazing cast of characters who are my friends, and we've proven we can do stuff that we all love together, whether it's a film, or music, or whatever vision an artist has. Sticking to the formula and putting this crew together in making something new. Nothing planned—just whatever slips into place and feels right. That's the best thing I learned about making this record. No managers, no record companies, no pressure. It was just, let's make something great and whatever that next thing is, I'll know it when it comes along.