Los Angeles has grown into one of the main hotbeds for bass music in America, and a huge part of that is due to the efforts of the SMOG crew. Starting out as a club night in 2006, they turned into a record label that, as MTV put it, became a "pioneering incubator" for a number of bass music sounds. While 12th Planet was seen as the initial face of the scene, many of our favorite producers have graced the SMOG collective, including Pawn, SPL, Flinch, Noah D, and Antiserum. They've not only helped usher in a number of the new faces that are impacting the scene, but have kept their fingers on the pulse of what's hot, and what's next.
This Saturday, their eighth anniversary party is going down in LA at The Regent Theater, and it made sense to get in contact with one of SMOG's founders, Drew Best, to talk about SMOG's growth, their impact on the scene both in LA and nationwide, and get a glimpse at what's in store for the future.
Damn, so we're moving into SMOG's eighth year. First off, congrats on that. Talk to us about the beginnings of SMOG–it started out as a club night, right? With dubstep really making an impact in the American market at that time, what was the idea behind SMOG and the void it'd be filling?
We didn't really think of it as filling a void. It was more of a vision of what we thought it could be. From our perspective, Dubstep music was ripe for Los Angeles. Back in 2006 there was a thriving underground LA music scene that was really incredible. Combine that with this city's history of hip-hop and rap, graffiti, rave culture, and a thirst for the next big thing and we thought dubstep could be all of those things.
Dubstep to us was the blank canvas that you could add your own ingredients to. All of the producers pushing the sound had their own take on it. We felt like we could put our spin on it too. As a result, a culture was created for a new music scene in LA and that spread across America.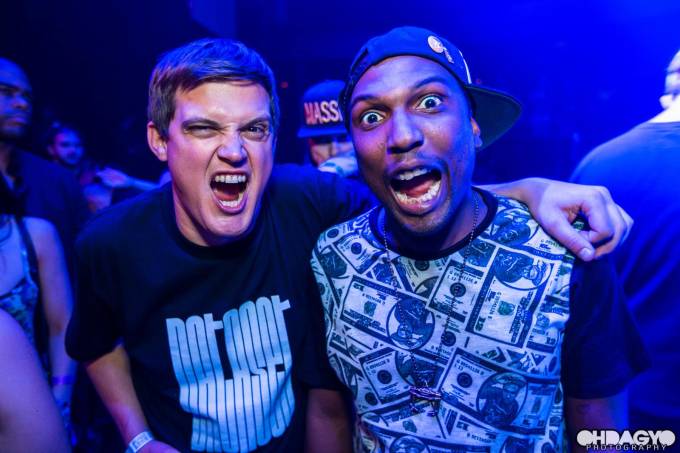 What would you say is the defining ingredient for SMOG as a night?
I've always thought of SMOG as the dubstep gig at a rock & roll venue barricaded with bass bins. We mix it up every now and then with warehouses and club events, but to me that's the standard. We wanted to have the ability to bring in a sound system, and it didn't make sense to do that in a nightclub. We also didn't feel like our crowd belonged in a flashy Hollywood clubs, so rock & roll venues were a better fit. We were anti-dress codes and anti-VIP service. This was a format that worked.
I also think it's the way we book all the talent. Each event is curated in a way where each DJ compliments the next. We think of scheduling the night the way a DJ would select his tracks. There's a story that is told over the course of the night, from one DJ to the next.
How did the brand go from being a dope club night to starting out as a label?
12th Planet was the big reason we wanted to start a label. He was making tracks that were going off big time at our events and we wanted to get that music released into the universe. In the early days of dubstep, the DJ format of choice was vinyl. So we started up as a vinyl-only label. We printed and distributed our music in the UK to sell at a domestic price in the European market. That got us a lot of attention from the global market. I still meet people from around the world that say they first heard about us while shopping for records.
What were some of the releases early on that you felt helped push SMOG out there as more than a vanity imprint?
We had a remix from Breakage for a DLX track called "Matter of Facts" that really turned a lot of heads. Breakage was living in LA at the time and he got to see dubstep grow in LA. A lot of people in the UK knew him for his drum & bass tracks and this was one of his first offerings into the realm of dubstep. It's a great tune that still gets played out by the bigger DJs.
I would also have to say the CD that we did with Scion was a major break through for us. Scion printed 130,000 copies of the CD that were distributed all across the USA and Canada. That CD featured the Doctor P remix of 12th Planet & Juakali's track "Reasons" that became an anthem of that year.
The bass music thing has been intriguing in the U.S.–once people get used to dubstep, it felt like you could start easing in things like grime and trap into the mix. Has it been difficult to adapt to the changing interests of the fans while still keeping SMOG's brand alive?
You know, it's a fine line we have to walk. On one side of things we are known as one of the founding brands of dubstep music in the USA. On the other hand, our interests go way beyond just dubstep music. Over the years we have released a lot of grime, trap, drum & bass, hip-hop, house, and even techno on SMOG Records. We will always have dubstep at our core, but this music has inspired so many producers to grow in different directions and we a growing along with them. That might get some of the purists bent out of shape, but we have always tried to be a little more open format with our events and the label.
Talk to us about the core of SMOG, in terms of the artists and DJs as well as the machine behind-the-scenes.
At the core of SMOG is John (12th Planet), Danny Johnson, and myself. The three of us live in downtown LA where we bounce back and forth between our downtown office and recording studio. We have a team of producers and DJs that include Flinch, Antiserum, SPL, Noah D, Kelly Dean, Steady, Pawn, and DLX. The family has grown considerably to include Son of Kick, Two Fresh, Protohype, Starkey, HeRobust, Infuze, Dubloadz, and many more.
While the label has definitely dropped huge albums from the likes of Noah D and others, it's definitely been more EP and compilation-oriented. Do you have more plans for artist albums on the label, or is that not even a real concern?
This year we invested a bit into the compilations. Right now we have our annual Smog City project and introduced two new ones with Battle Royale and Motherload. Compilations are our way of introducing new artists and building on that buzz.
Albums are a big thing for us, but not something we really want to over-do. It needs to be a special product that requires a lot of attention. We have a couple big album projects in the works for 2015, but EPs and singles are our bread and butter.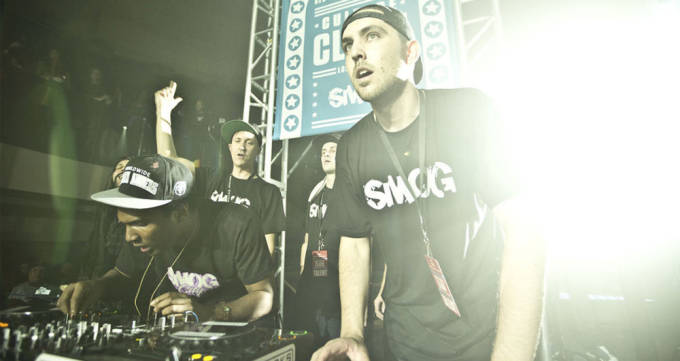 What's on deck for 2015 from SMOG? Any surprises?
If I told you now, it wouldn't be a surprise then! Haha–yeah we have some big picture things we want to implement next year that will change things up. We like surprises, so I won't say much beyond that.
Talk to us about this weekend's eighth anniversary party at the Regent Theater. What can heads expect from the night?
Big fucking crazy bass music bash with way more DJs than we are allowed to advertise. Our annual birthday bash is always a special one for us. It's a time we as a community reflect on just how far this movement has come.
This year is also especially unique with the location being smack in the middle of Downtown LA. This is our turf so it feels good to bring things back to our block.
Tickets for Smog's Magic 8 Year Anniversary party are still on sale.