Last night, in a decision that surprised no cynical American, St. Louis County Prosecuting Attorney Robert McCulloch announced that Ferguson police officer Darren Wilson would not be indicted by a grand jury for the murder of unarmed teenager Mike Brown. The decision lead to an uproar on social media and protests in Ferguson as well as several major American cities.
Many rappers took to social media to react to the decision including Pharrell, Nas, Big K.R.I.T, and many more:
Pop stars like Beyoncé, Solange, and Rihanna took to their Instagrams to respond.
However, not everyone reacted the same way. Earl Sweatshirt took issue with certain protestors, and Lecrae wrote an impassioned Facebook post: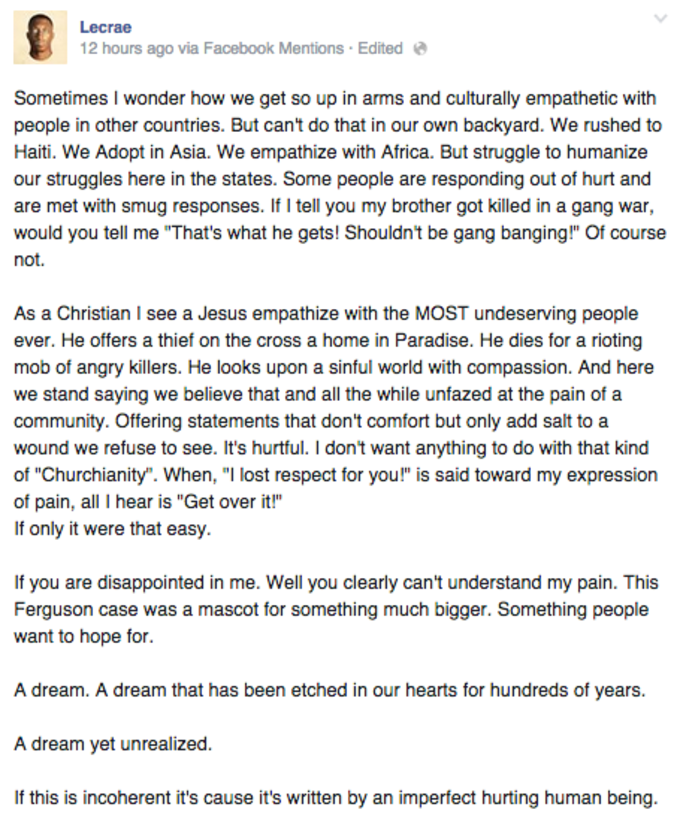 Meanwhile, a few rappers actually took it to the streets. Here's a photo of Macklemore protesting in Seattle and a Vine of Q-Tip protesting in NYC. 
One of the most compassionate responses came from rising rapper Tink who released a song called "Tell the Children."
Finally, Killer Mike, who performed in St. Louis last night alongside El-P as Run the Jewels, gave a speech on stage.