By ItsTheReal
Remember The Encyclopedia Britannica? It was a multi-volume set of books that contained the collective knowledge of the planet. Britannica, which sat as a centerpiece in family rooms across the country, and was revered by teachers around the world, was amazing not only in its role as the definitive resource on the world's history, art, and science, but also for the convenience of solving riddles right at your fingertips.
But when the Internet came around, Britannica's days were numbered. Now from your own computer keyboard (or Internet Cafe at the mall) you could type in your exact question into a search bar, and a butler named Jeeves would find what you were looking for in an instant. Suddenly flipping through pages and pages of a heavy bound book dedicated to words or phrases that began with the letter "U," wedged on the bottom shelf all the way down in your family room, wasn't so charming.
So for the last two decades, every answer about the 1906 San Francisco earthquake, or the timeline of the Aztec Empire, or what your elementary school crush does for a living, or whether Yao Ming shaves his armpits, could be found out instantaneously online!
Every answer, that is, except who the female lead was in Craig David's music video for his song, "Fill Me In."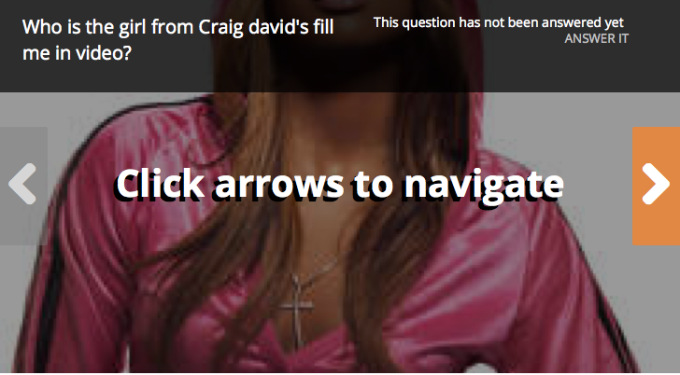 No one knows. Even Answers.com reports: "This question has not been answered yet." Not even Craig David himself knows, he who—according to Wiki lore—said that she'd "never been named" on his Greatest Hits deluxe CD + DVD. Some devoted Craig David fan shelled out $17.99 at Borders, learned of this wonderful adventure awaiting her and stopped right there.
Imagine if The Goonies turned around at the foot of the cave, or if the Washington Post hadn't unraveled the ball of yarn that turned out to be Watergate. No. Investigations must be carried out and discoveries must be made; that's why there's a whole TV channel devoted to such a thing. This would be our mission, our birthright. God had called upon us. We would be the Woodward and Bernstein of finding some girl from some Craig David video that no one really remembered all that well from over ten years ago.
It's not that Craig David isn't remembered—he was the sound of 2000. "Seven Days," "Fill Me In," "Walking Away": all massive hits. His debut album Born to Do It went six times platinum in the UK; another million copies moved in America. Everyone wanted to work with him: Usher; DJ Premier and Mos Def quickly hopped on a remix. In 2001, Elton John declared, "If there is a better singer in Britain than Craig David, then I'm Margaret Thatcher."
Right, Craig David's legacy is fine and good. Less assured is that of this woman: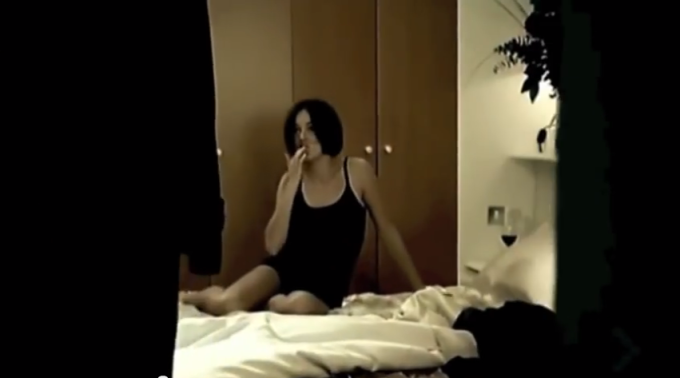 Yup, that one there. There are people who say that she's the same model (?) or actress (?) who appeared in Craig David's video for "Seven Days," seen here: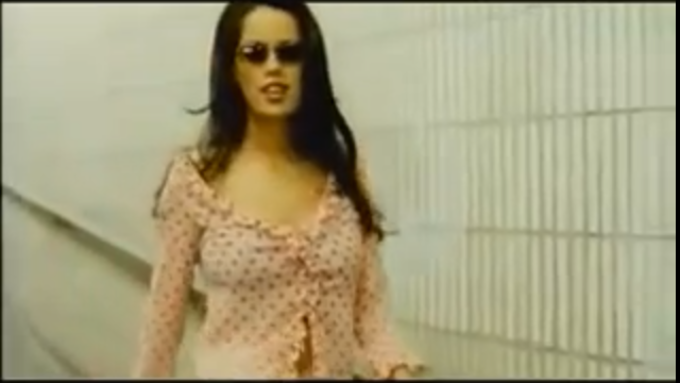 Oh, hello. But we don't think so, based off a quick eyeball of the situation. You know what, neither one has been identified, unless they're the same girl. Who knows! This manhunt(s) just got interesting, filled with possibilities. But, of course, it can't be easy. What complicates things (when your only goal is to find "the girl from the "Fill Me In" and/or "Seven Days" videos") is that there wasn't just one "Fill Me In" video—there were two of them. Same for "Seven Days." One for the US, and one for Britain.
A quick trip over to FunTrivia.com told us this:

"People did not agree with Craig dancing with women of a certain race." Wow! Fun trivia dot com, indeed! While we may not have gotten a lead on the girl, we now know that racists in the year 2000 had really racist'd up what could've been a fun search party. So now we were on the lookout for three girls that might've been two and definitely couldn't have just been one, unless she'd dyed her skin to these people's satisfaction.
Oh, and as if there weren't enough rips in the fabric of this treasure map, there were two record companies involved: Wildstar, based in London, did all of the heavy lifting. Atlantic came in with their deep pockets to distribute and to reap rewards. In 2014, this helps no one because in 2004, Telstar (the parent company of Wildstar) went bankrupt, leaving behind no records, no numbers to call, no discernable information. As for Atlantic, no one remembers anything about the videos except the fact that they had to do two of each. Because of racism.
So, not to be too stalkerish, we did what anyone does in a given situation: we Googled.
"Craig David girl"
"Craig David girl from Fill Me In video"
"Craig David girl from Seven Days video"
"Missing girl" "Craig David"
"Craig David" "Girl"
Thinking of who might know the girl, we tracked down Craig David's acting coach, Dee Cannon,

who gave us a heads up on who the British directors were: Max and Dania are a directing team based out of London, who've helmed music videos for Oasis feat. Robert Carlyle, Beverly Knight feat. Wyclef Jean, and six Craig David videos, including the one featuring Sting. They've won a BRIT Award, directed feature films, and were commissioned by the BBC to contribute a short film for the London Olympics in 2012.
So we reached out to the company that represents Max and Dania…

And we knew, once we got a response only eighteen minutes later, that this would be as easy as [British analogy, probably something along the lines of 'shepherd's pie' or something]. … Except we never heard back from the London office. Were they hiding something? Had we been reported as spam? Was this query too stupid to drag out? Maybe, probably, and yes. Still, we're nothing if not persistent; we were not going to let the Internet beat us.
We started bothering Craig David's manager Colin Lester. We harassed Monte Lipman, the Chairman and CEO of Republic Records, who is business partners with Craig David and Colin Lester. We reached out to Sandra Reynolds, a makeup and hair person who worked with Craig David. We reached out to Miguela Charlery, the female lead from another video of Craig David's, "Walking Away." We sent emails to Evan Lamberg, Craig David's publishing partner. We tracked down James Lopez, who in 2000, was Atlantic Records' senior director of urban marketing. We emailed with Atlantic's current video commissioner. We even hit up Mark Hill, the producer of the song "Seven Days," who would have nothing to do with the video.
We signed up for LinkedIn for the sole purpose of getting closer to Craig David's personal assistant!

She accepted the LinkedIn request, but never responded to the LinkedIn Mail. So now I have a LinkedIn account through which I failed to find Craig David and 32 requests of my own, none of which I will ever accept. Cool. Good service.
It became an obsession. We hit up any friends and friends of friends, or even the friends of friends who were British and even tangentially in the music business in the early 2000s, including our manager's husband, who today is a film director, and was at one time in his life a replacement member of a popular British boy band. He offered up the only wild card he could: an old buddy of his who works with The Wanted.
Frankly, though, no one was of any great help. Universally, people would recommend we get in touch Max and/or Dania, but other than guessing their email addresses or FB messaging them (which we tried), or going through their management company (which we also tried), there was no way to professionally contact them.
This is what frustration looks like. Why are we waking up five hours earlier than normal so that we're on London time? Why are we scrolling through the same search results on Google for a girl that honestly may not even have ever existed? How in the world would we explain this to our family at Grandma's birthday? Perhaps it's time to let this mystery girl go. Maybe it's time to get back to the real world, to leaving the apartment, to the year 2014.
...or we could give it one more shot?
And amazingly, beyond the YouTube videos for "Fill Me In" and "Seven Days," there was indeed one more obscure listing, this time on Vimeo. And buried on another page was just one credit for the clip: the cinematographer, Greg Copeland.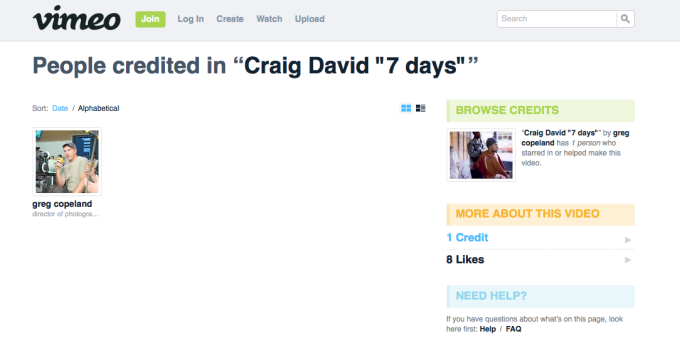 And so we emailed. And he emailed us back.

Um, through every possible legal way, yes. But after trading correspondence, Greg Copeland gave us Dania's personal email. We emailed Dania, and we waited. And waited. And waited.
No response.
We gave up. Until Pete Chambers, the executive producer of the stupid goddamn video, emailed.

...who gave us a different email address for Dania. One that she also didn't respond to.
And who was Jane Casting Director? Was she the casting director? She'd obviously be the one we'd want to speak with, having presumably cast the girl in question. But alas, there were no traces of a "Jane" who worked with Max and Dania anywhere online. Fourteen years is a long time, and it's definitely a possibility that Pete was mistaken with the memory.
We kept on Craig David's manager/business partner, who gave us Max's email. We'd previously emailed Dania a few times to no avail; we emailed Max for the first time, and Dania for the third.
We also stopped by Atlantic Records—they distributed Craig's albums in the US—and spoke with one of the very few people still working there who had been in the building 14 years ago. He said that Craig David seems to be very accessible via Twitter, if we wanted to try and find out anything from him. Our guy, a publicist, said, "What else is Craig doing, besides working out and posting pictures on Instagram?" So we reached out on Twitter, like the thirst-buckets we are.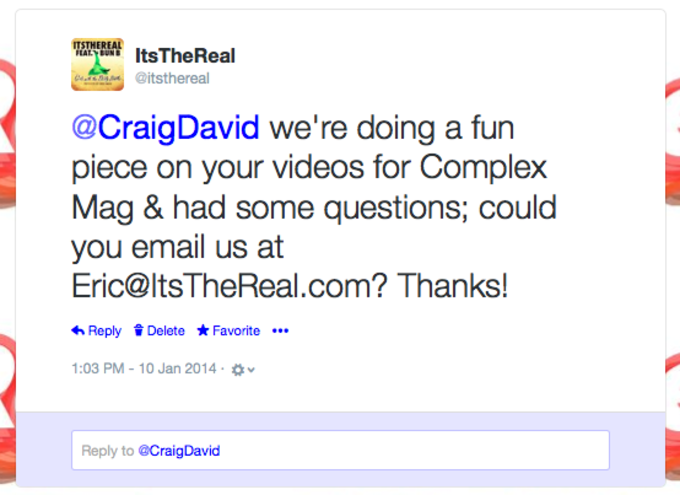 What's even more embarrassing than hitting up a celebrity on Twitter about a dumb thing? Not hearing back.
So with all of leads tapped, and all the energy and emotion drained from us—we put more work into this girl than any in real life—we steeled ourselves with the idea that we'd bury this story and her memory once and for all.
But something still bugged us about Pete Chambers' email. Who was this "Jane" he mentioned as a casting director? And how could she have disappeared from the internet too… Wait. Could it be that this "Jane" was the same woman (or women) we'd been looking for in the first place?!
The answer: no. Pete actually had misspelled Jane's name. Jayne Collins was casting director for those Craig David music videos, and even better yet, she'd gone on to find, put together, and manage the super-successful boy band, The Wanted!
This was the break we'd been waiting on! This was going to solve everything! This was going to connect us to the long-lost female lead in Craig David's video! This validated everything the Internet could ever be! Screw you, Encyclopedia Britannica!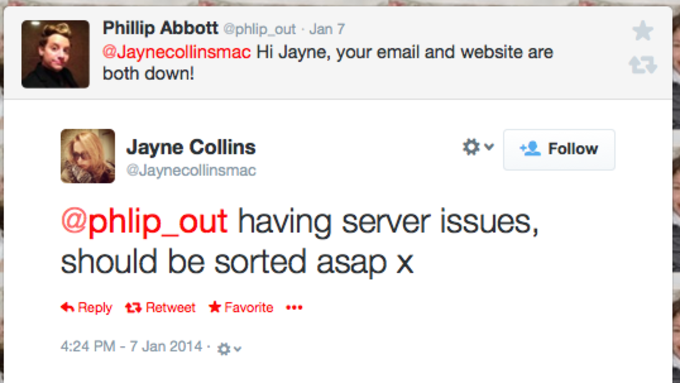 Ugh. So we reached out to Jayne via Twitter…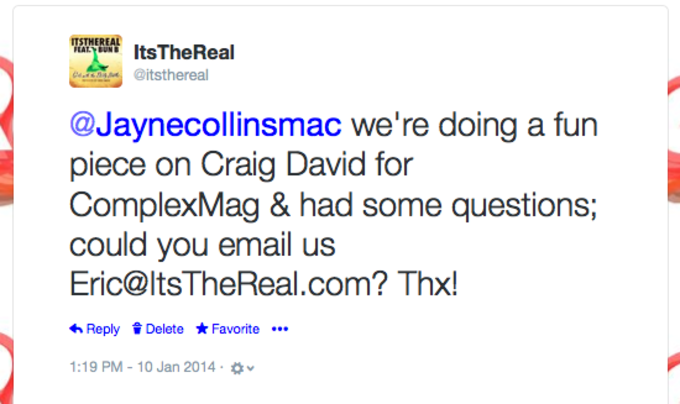 And when she replied by email… our email to her bounced back. Just when we could taste the Gatorade shower.
And our connection through The Wanted? They had recently fired her and had no (intention to give us a) forwarding address.
It's at this point that you're supposed to say, "Well, it's all about the journey" and then cry softly in the dark. But what had we learned, aside from the email addresses of a few British music insiders? What had we gained? Of course we knew this was a waste of time from the beginning; this was a stupid assignment, based off our editors' gin-eyed nostalgia. "That girl was hot," they said, not knowing that there were two or three girls to speak of. They were background players, passing visions. Maybe this woman, these women, hadn't been found out because no one cared. Maybe we should cut our losses and write a dumb post about how we'd wasted a week of our lives.
And just when we were ready to do so, we finally heard back from Dania, albeit ten days after we emailed:

So that's what we're left with: to ask Craig David.
So Craig David, we —and the Internet at large—beg of you, please help us find this missing girl! She hasn't been seen in almost a decade and a half, and the world deserves to know where she's been, what's she's been up to, and at the very least what her name is.
Could you fill us in?
And, if not, can someone, anyone, explain why Answers.com uses pictures of Papoose and P!nk to illustrate the questions below?