If we've learned anything over the last few months, it's that deadmau5 can flip an idea in a number of different directions, almost like a "Chose Your Own Adventure" style of production that can send you careening into exciting new paths with a tempo shift or added guitar. We'd love to link you back to a number of these instances, but if you hadn't noticed, deadmau5 removed everything from his SoundCloud save for this new seven-track, 18-minute opus entitled 7 (each track being named after one of the Seven Deadly Sins), while also removing everything from his Twitter. It's a curious chapter in his social media story, and goes to show how much a gift and a curse the medium can be.
While we don't have much to go on, it's interesting to see what deadmau5 was tweeting about before this all went down. One convo (twonvo?) found deadmau5 telling Madeon he was "better than that" after Madeon was hyping some of his Lady Gaga productions on Artpop, to which he got into a back-and-forth with someone over writing hits: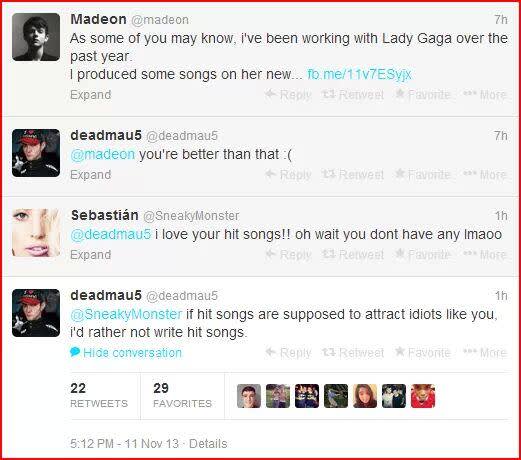 Not even an hour after this exchange, deadmau5 then posted about deleting his Twitter account, referencing what might have been some views on this new batch of tracks, 7: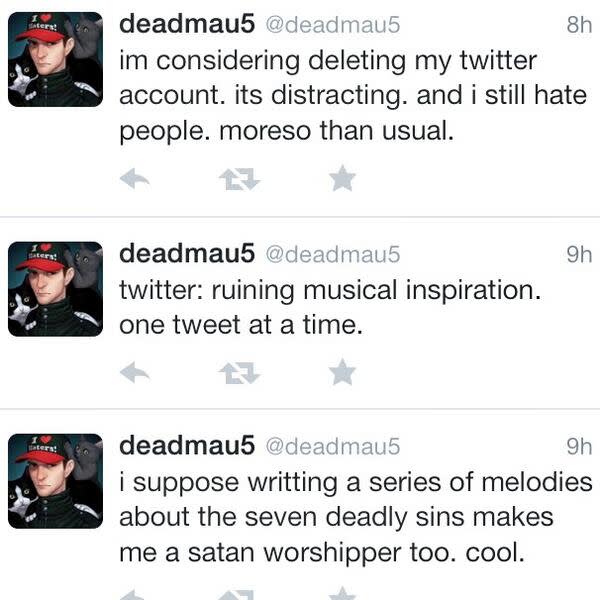 Joel Zimmerman, known to his fans (or should we say fanatics) as Deadmau5 has always been somewhat erratic with his behaviors on social media. Especially since his relationship with Kat Von De began. The couple kept a very public profile in their relationship, and their break-up. It was almost painful to witness, as they went back and forth on Facebook and Twitter proclaiming the circumstances around their break-up, specifically whether or not he cheated.
The fans, and the rest of the public, have continued to keep a watchful eye on the Canadian producer. That kind of pressure was likely to get to anyone. Added onto this was deadmau5' disdain for his Ultra Music contract, which ended over the summer, which resulted in a flurry of new material flooding deadmau5' SoundCloud page. He's since moved both his output and the output of his mau5trap imprint to Astralwerks, the first mau5trap release under this new regime dropping today in the form of the We Are Friends, Vol. 2 compilation. As of late, there's been one thing that seems clear in his attitude towards the public: he is most importantly concerned with making music, not much else matters to him. And we say this even after he's entertained the masses with his Coffee Run series.
It seems as though that is still impossible for him, and a stigma of bitterness is about him, preceding his reputation. He is probably one of the most watched producers in the EDM world, and it feels like he might have cracked under the pressure. Maybe that's where 7 came from. It didn't take long to figure out that the track titles in this set are Latin for the seven deadly sins: sloth, greed, gluttony, vanity, wrath, envy, pride. It is a very dark, soft, sad score of piano, and almost brings tears to the eye as you listen. You can feel his pain in the music. He is certainly bearing his soul in a very raw form of his art; we envision him sitting at a piano bench, moving shaky fingers across the keys in such utter despair, speech and any other sound is rendered useless. The graphic for these tracks is a black image with what seems like fallen bodies around the number seven. It is all very gruesome and dark, scary almost.
deadmau5 doesn't seem to do anything without purpose, although the intention is yet unbeknownst to us and may forever remain a mystery. There has to be a very methodic reason for titling these tracks this way, maybe even in the order by which they are listed. Interestingly enough, the comments are disabled from this particular SoundCloud post, seemingly spreading the message that he is doing what he wants and doesn't seem to care what people think. This isn't necessarily a slight to his fans, but it feels like a message to everyone that he is tired of being treated like a celebrity. He is a musician and an artist, and his creative process has been severely tampered with seemingly since the beginning of this relationship, and the simultaneous blowing up of the EDM bubble. It has gotten to the point that not even his very large mouse mask can hide him from the evils of the world. Fans everywhere are severely disheartened, sending out their love and support for one of their favorite artists, wishing him the best, hoping he is okay.
It seems the EDM bubble isn't the only one bursting around here. We also hope that deadmau5 recovers from this bout, and represents himself as the witty and honest artist we have come to know in the public eye. Let's hope for the best, and wish Joel the best as well, although the question remains: is Joel Zimmerman packing up the Mau5 and leaving electronica forever? Is that what he was saying in this ballad of raw and rare instrumental sounds? We may never know.