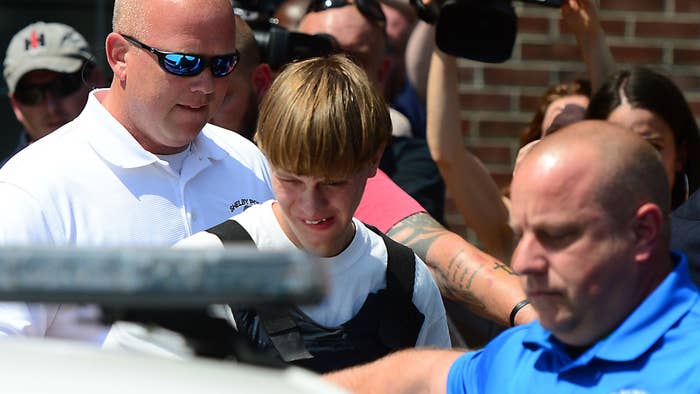 Dylann Roof, the mass-murdering white supremacist responsible for the murder of nine black churchgoers in South Carolina in 2015, is reportedly under the impression that he's being "treated disproportionately harsh" inside a federal prison in Terre Haute, Indiana.
In letters sent to the Associated Press this month, Roof stated that he initiated a hunger strike "to protest the treatment" he had received. Roof alleged that prison staff felt the treatment was justified because, in his own words, he is "hated by the general public" for the mass shooting.
Additional quotes from the letters excerpted in the AP report include Roof alleging he has been "verbally harassed and abused without cause" and "targeted" by prison staff. As of this week, per a source "familiar with" Roof proceedings, the mass-murdering white supremacist is no longer on hunger strike.
In late January, Roof filed an appeal to his conviction and death sentence, with lawyers arguing he was "too mentally ill" to stand trial or represent himself during sentencing. In the 321-page appeal document, lawyers called Roof's mass shooting "tragic" but said the court should have "no confidence" in the verdict.
Roof, sentenced to death in 2017, was found guilty on 33 federal charges including hate crimes. Those killed by Roof during the 2015 attack at the Emanuel African Methodist Episcopal Church were identified as Clementa Pinckney, Cynthia Hurd, Susie Jackson, Sharonda Coleman-Singleton, Tywanza Sanders, Ethel Lance, Depayne Middleton Doctor, Daniel Simmons, and Myra Thompson. 
The victims had gathered at the church as part of a weekly Bible study meeting.