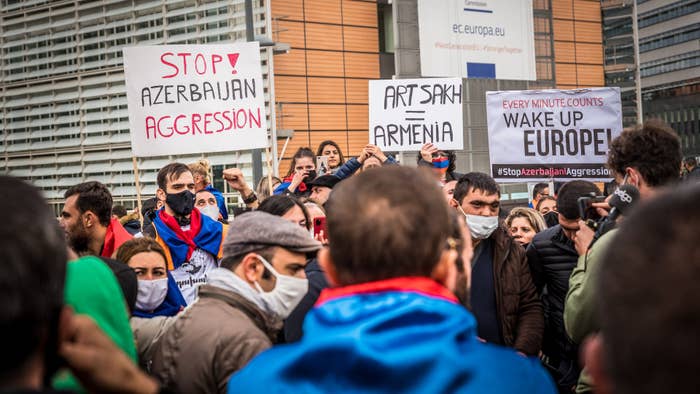 Military forces from Armenia and Azerbaijan are currently fighting over the area of Nagorno-Karabakh, with many assessing the situation as the worst it's been in more than 25 years. As of Wednesday, the fighting showed zero indication of slowing down, with ensuing clashes—at the time of this writing—having already resulted in hundreds of deaths. 
The independence of the region in the South Caucasus, referred to as Artsakh by Armenians, is not recognized by Azerbaijan. And while a ceasefire in 1994 brought the Nagorno-Karabakh War (known as the Artsakh Liberation War in Armenia) to an end back then, recent tensions have many worried that another war is possible thanks in part to what some have argued was pandemic-inspired "diplomatic silence" from other international powers when early warning signs started popping up over the summer.
For everyday people in the States, it's all a lot to take in—particularly given the somewhat limited news coverage this issue has been getting due to ongoing pandemic concerns amid an already-contentious presidential election year. Thus, we've put together a few key bits of info regarding Armenia and Azerbaijan's current situation below.
The last week of September saw a new wave of fighting in the region, with Armenian foreign ministry spokesperson Anna Naghdalyan reporting that Azerbaijan forces had initiated "a large-scale aggression including missile attacks." Though tensions between the two countries have remained for three decades, particularly with regards to the Nagorno-Karabakh region, this new wave is different in that it's showing the signs—per many political leaders and historians—of growing into a full-scale regional conflict.
Despite having a predominantly ethnic Armenian population, the disputed region was under the control of Azerbaijan during the Soviet Union era. That majority's declaration of independence ultimately kickstarted a war that saw tens of thousands of casualties, per NPR, before the aforementioned 1994 ceasefire was reached.
The current conflict, notably, has roots in actions carried out by the notorious Joseph Stalin.
During a recent discussion with CBS News as part of their own explainer, Olesya Vartanyan—a senior analyst for the South Caucasus region at the International Crisis Group—minced no words when speaking on what he characterized as the dire elements at play in the region at the moment.
"All the signals were in place, everything was telling that escalation was coming," Vartanyan said. "And there was diplomatic silence. We are definitely one step away from a large-scale war in the region."
As for why this current escalation is of higher importance on an international scale, it's worth noting the potential involvement of Turkey as well as the fact that many major powers—the U.S. among them—are still dealing with the ongoing pandemic. Turkey's history with Armenia is deeply fraught due in large part to their hesitance in acknowledging the Armenian Genocide.
Though the fighting has been publicly condemned—including by the U.S., Russia, France, and more—criticism has remained with regards to how other administrations have responded to word of the situation. In addition to the aforementioned "diplomatic silence" brought on, in part, by the pandemic, Armenia and Azerbaijan (as well as Turkey) have declined those who are calling for a ceasefire or other peace initiative. 
The U.S., specifically, is facing specific criticism regarding the alleged use by Turkey forces of F-16 aircraft from the country in support of Azerbaijan. Speaking with the New York Times, Armenian Prime Minister Nikol Pashinyan said the U.S. "needs to explain whether it gave those F-16s to bomb peaceful villages and peaceful populations."
Declining to speak on the region's aim of being widely recognized as an independent state, U.S. Secretary of State Mike Pompeo recently addressed the conflict by stating that "both sides must stop the violence."
With Turkey backing Azerbaijan and thus openly referring to Armenia as a "threat," many others around the world—as touched on above—are understandably fearful that a larger conflict (perhaps a war) could rope in a number of additional powers while increasing the number of casualties, civilians included.
Speaking to the European Parliament this week, for example, EU Foreign Policy Chief Josep Borrell said that the recent reports of attacks have been "extremely worrying" for a multitude of reasons.
"We strongly urge the sides to fully observe their international obligations to protect civilian populations," Borrell said.
Russia, meanwhile, is Armenia's ally and serves as co-chair of the Minsk group, which sees the nation, France, and the U.S. actively engaged in mediating the conflict. Simply put, a war would result in an impact felt across a number of countries, Turkey and Russia included.