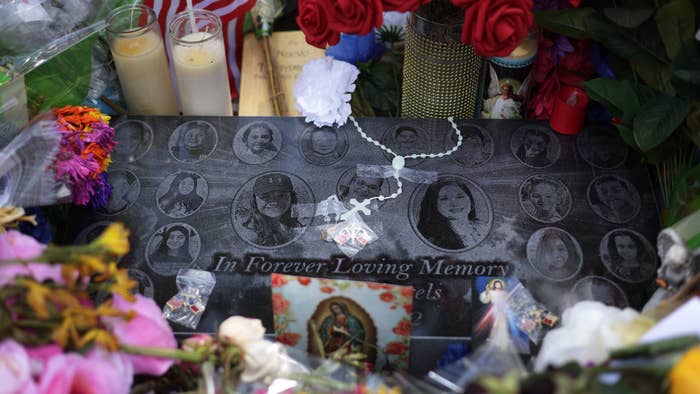 As criticism continues to mount over the law enforcement response to the Robb Elementary School shooting in Texas, not to mention the ongoing national obsession with ridiculously outsized weaponry, families of victims are beginning the process of taking legal action.
On Monday, Texas-based lawyer Thomas J. Henry announced his office's representation of the families of four children who were wounded in the Uvalde shooting. Per a press release, Henry's original petition was filed against the estate of the shooter. Moving forward, however, the plan is to look into "all available legal actions against all responsible parties," including what could be argued as violations of constitutional rights.
"This initial lawsuit will allow us to discover evidence and possibly add other parties to the lawsuit, if necessary," Henry said Monday. "The discovery process will focus on the school system, law enforcement, social media, and gun and ammunition manufacturers."
Per a subsequent report from the Hill, this suit sees millions in compensation being sought from the shooter's estate. As stated in a petition, plaintiffs are seeking "exemplary damages in an amount in excess of" $100 million.
Others are taking similar measures, including the father of 10-year-old Amerie Jo Garza, who was among the 19 children killed in the May shooting. Per a report from regional outlet KSAT, Alfred Garza and his lawyers have sent a letter to Daniel Defense, which made the AR-15 style rifle alleged to have been used in the shooting. In short, the letter demands the sharing of information related to the company's alleged marketing efforts toward "teens and children."
Daniel Defense is also named in court documents filed last week by Emilia Marin, an educator who survived the shooting. Per NPR, Marin has petitioned the court to require the company to sit for a deposition, as well as to provide materials related to its official website and marketing, among other documents.
Meanwhile, Arnulfo Reyes—a fourth-grade teacher who also survived the shooting—spoke with ABC News this week and affirmed he would "never forgive" law enforcement for their failed response. Asked if he felt "abandoned" during the shooting, Reyes said he "absolutely" did.
"After everything, I get more angry because you have a bulletproof vest. I had nothing," he said. "You're supposed to protect and serve. There is no excuse for their actions and I will never forgive them."
11 students were in Reyes' classroom when the shooter entered, ultimately killing all of them.