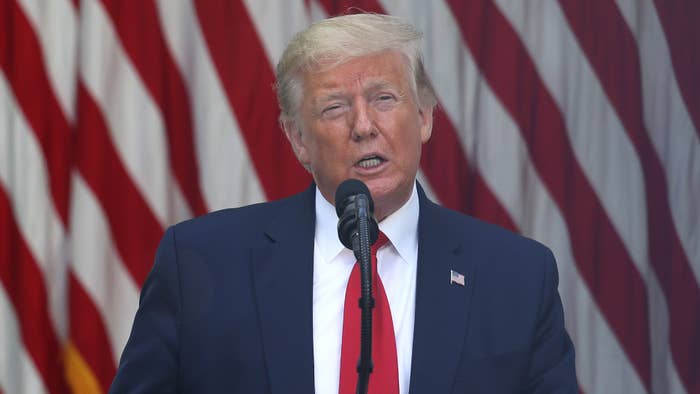 Trump, fresh off bastardizing a T.I. classic, has now threatened social media companies with regulations or closures, despite not possessing the ability to unilaterally do either.
The comments arrive following Twitter's addition of a fact check option for users viewing recent tweets from Trump in which he falsely labeled mail-in voting as "fraudulent" and attempted to further disparage the voting method by claiming mailboxes could be robbed.
On Wednesday, Trump said "Republicans feel that social media platforms totally silence conservative voices." As a result, he claimed, "we will strongly regulate or close them down before we can ever allow this to happen." He also referenced the 2016 election cycle, as well as repeated his intentionally misleading claims about mail-in ballots.
Though Trump is likely hoping his ardent supporters will absorb his assessment of mail-in ballots as fact, even a cursory reading on the voting practice—which has received heavy discussions as of late due to the coronavirus—wouldshould bring the POTUS' messaging into focus as sheer nonsense.
Several states have long been practicing "all-mail elections," in which voters are sent ballots in the mail, even prior to COVID-19 containment concerns. And several other states allow for counties to opt into the practice.
Also on Wednesday, press secretary Kayleigh McEnany notified reporters that Trump will sign an executive order on social media. No other details were provided. 
On the flight back to Washington, press secretary Kayleigh McEnany told reporters President Trump is going to sign some kind of executive order on social media. No further details appear to have been offered, but it comes after he lashed out over fact checks on his tweets.
Facebook founder Mark Zuckerberg has also weighed in on the matter, stating private companies, like Twitter and Facebook, shouldn't fact-check or censor public posts—unless, of course, the content poses an imminent threat.
"I just believe strongly that Facebook shouldn't be the arbiter of truth of everything that people say online," Zuckerberg said on Fox News' The Daily Briefing. "In general, private companies probably shouldn't be, especially these platform companies, shouldn't be in the position of doing that."
He continued: "... But in general, I think a government choosing to censor a platform because they're worried about censorship doesn't exactly strike me as the the right reflex there."