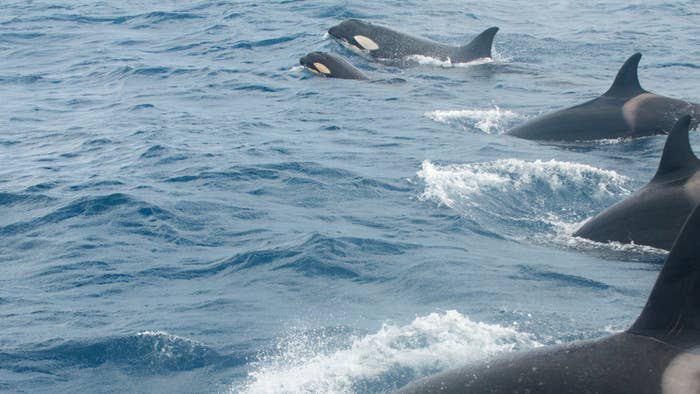 A strander sailor is hopeful that experts can find a way to better "look after these gorgeous animals" after an encounter with several whales resulted in the destruction of both rudders on his vessel.
The incident, per an Insider report citing a BBC interview with the sailor, took place in the Strait of Gibraltar region and is actually far from the first recent encounter of its kind. In fact, reports point to 20 such incidents over the past month, citing data from the Atlantic Orca Working Group.
Speaking with Justin Webb for a BBC Radio 4 interview, Iain Hamilton said his specific encounter began when he was sailing roughly 20 miles west of Gibraltar. At first, he felt a "light bump," then "a very big bump." It didn't take long for him to determine the cause of these vibrations.
"I looked 'round and there was a very large whale pushing along the back of the boat, trying to bite the rudder," he said, noting that he ultimately saw one big whale and four smaller ones.
"They were just bumping it and bumping it and the one of them managed to take off one of the rudders," he recalled. "The boat has two rudders, so that obviously becomes quite concerning. Then we lost the second rudder so we had no mechanism for steering the boat. … They pushed us around like a rag doll."
To be clear, the sailor is adamant that—despite the size of such whales and the damage they can cause—this wasn't an example of "aggressive" behavior. In fact, he assessed, the whales were "almost playful" in how they went about their rudder targeting.
Hear the full interview, including the marooned man's thoughts on eventual insurance concerns and the need for additional data, at this link.
Since 2020, according to data from the Atlantic Orca Working Group and the Cruising Association, experts have noticed what they describe as a "new pattern of behavior" in an orca population known to feed on migrating tuna in the region. For now, researchers still don't have a definitive answer as to why certain orcas are engaging in such practices, including ramming yachts and taking out rudders.