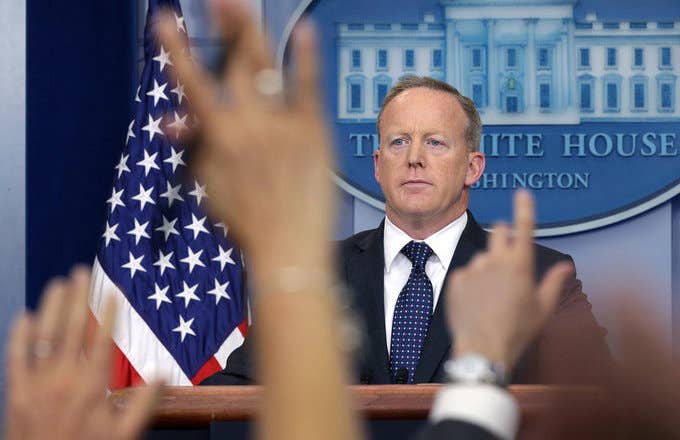 Sunday's Primetime Emmy Awards broadcast included many welcomed instances of remarkable work actually getting the credit and praise it deserves. Master of None's Lena Waithe won for that powerful, perfect Thanksgiving episode! Atlanta continued its well-deserved winning streak! Both were groundbreaking! Still, one moment—a brain-free calamity that, in turn, resulted in a cacophony of additional fuckeries—proved just how little the Academy has learned in the wake of Trumpism.
For some reason, a spineless dipshit best known for being paid actual American dollars to blatantly lie and peddle neo-Nazi excrement to the masses was invited to the stage Sunday night in an apparent effort to be cute or in on the joke or whatever. Of course, the only joke here—and it's got a hell of a punch line—is that this happened mere days after this same spineless dipshit was on TV defending Trump.
After delivering some lines of apt Trump bashing, host Stephen Colbert was joined onstage by former White House Press Secretary Sean "Period" Spicer for something I'm seriously hoping wasn't Colbert's idea. Spicer, who kicked off his career of bullshitting the American people by inflating Trump's inauguration attendance numbers, went awkwardly meta by predicting an equally inflated ratings score for this year's Emmys.
To ensure copious amounts of salt were dumped into the gaping wound of the post-truth news cycle, a number of Emmys attendees then decided to attempt cute, beery backstage photos with Spicer, as if this wasn't the same guy who once asserted (with a straight face) that Hitler didn't use chemical weapons:
That same day, mere hours before the Emmys broadcast, Trump—who, just so we're absolutely clear, once hired Spicer as his mouthpiece—retweeted a doctored video clip from a Twitter user known as @fuctupmind that showed the perpetually ill-dressed former Apprentice host hitting popular vote winner Hillary Clinton in the back with a golf ball. The retweet was met with backlash, then quickly forgotten as eyes turned toward the Emmys.
So why are we now allowing Spicer to further infiltrate pop culture with inane Kimmel interviews and Emmys cameos? Have we already forgotten just how much an unearned celebrity status contributed to Trump's rise? Sadly, that seems to be the case, even if social media response to Spicer's Emmys cameo was overwhelmingly negative:
For those rocking a tailored tux and rifling through swag bags Sunday night, maybe Trump's growing list of fired co-conspirators seems like an opportunity for fascism-cuddling LOLs. But for everyone outside the Microsoft Theater, the reality is much different.
Fuck Sean Spicer, and fuck the Emmys for patting him on the back.