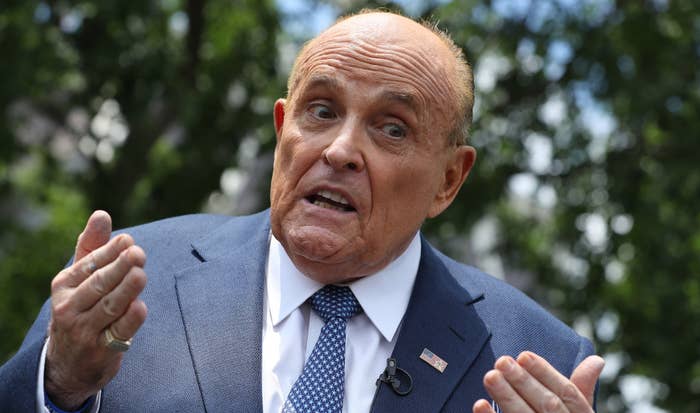 UPDATED 10/21, 6:47 p.m. ET: Giuliani has taken to Twitter with claims that he was tucking in his shirt at the time.
(1) The Borat video is a complete fabrication. I was tucking in my shirt after taking off the recording equipment.

At no time before, during, or after the interview was I ever inappropriate. If Sacha Baron Cohen implies otherwise he is a stone-cold liar.
See original story below.
Rudy Giuliani, who—among other despicable titles—is Trump's personal attorney, is damningly (and disgustingly) featured in Sacha Baron Cohen's Borat sequel.
Early Wednesday, the reviews and reactions embargo for the Jason Woliner-directed movie—the full title of which is Borat Subsequent Moviefilm: Delivery of Prodigious Bribe to American Regime for Make Benefit Once Glorious Nation of Kazakhstan—was lifted and brought with it the reveal of what some would consider a spoiler. However, given the nature of the scene in question, it's easily argued that this is more than a worthy exception to the no-spoilers approach.
The scene in question sees the character of Borat's daughter—played by a reportedly-24-year-old Maria Bakalova but referred to as 15-year-old "Tutar" throughout the movie—conducting an interview with Giuliani. The presented nature of the meeting appears unclear enough to (one would assume) raise some red flags for Giuliani and his team. The encounter proceeds before eventually being interrupted by Cohen in character as Borat, who states that she's 15, but not before Giuliani is seen making remarks about Tutar's appearance and joining her in a bedroom.
Once in the bedroom, as Vanity Fair's Sonia Saraiya and others have pointed out in reviews, the 76-year-old Giuliani is seen lying on a bed and messing with his shirt while seemingly reaching into his pants. He's also seen in the footage consuming alcohol, eschewing all social distancing guidelines, agreeing to ingest a bat, and—as an example of perhaps his most frequent pastime—mindlessly praising Trump's pandemic tactics.
Having also seen the film last night, I can wholeheartedly confirm the footage is just as vile and shocking as it sounds.
Over the summer, prior to any official word that the filmed-in-secret Borat sequel was underway, it was reported that Giuliani had called the cops on Cohen over the staged interview.
Yahoo News White House correspondent Hunter Walker tweeted that he contacted Giuliani on multiple numbers and hasn't heard back.
Borat 2, starring Cohen and Bakalova, hits Amazon Prime on Friday. As expected, the full experience is fucking brilliant and also sees Cohen's notorious character crashing a Mike Pence rally and having a great deal of revelatory fun at the warranted expense of coronavirus deniers.