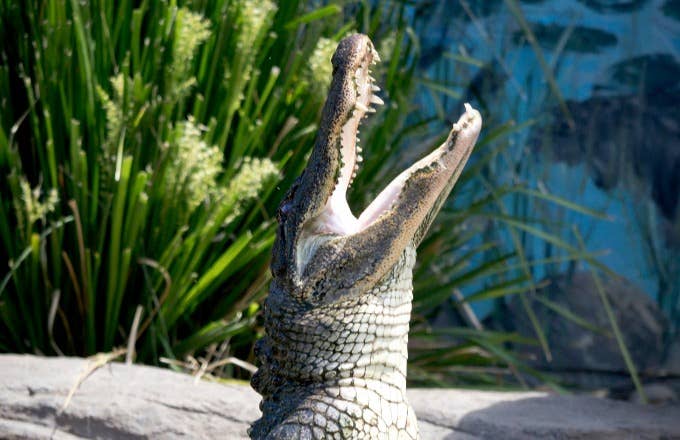 A police department in Tennessee used the recent arrest of a guy who unsuccessfully tried to flush some meth down the toilet to proverbially dunk on a fellow Embarrassing Headlines Generator, i.e. the increasingly harrowing state of Alabama.
The Loretto Police Department took to the arguable social media graveyard service known as Facebook over the weekend to announce the arrest of the man in question, sharing an AL.com-spotted photo of the recovered substance and related paraphernalia. The department also shared a message warning others not to emulate the hasty flush methods utilized with diminished results here, randomly mocking Alabama for what they characterized as a recent uptick in "methed up animals."
According to the department's Saturday-shared Facebook post on the incident, which notably includes the presentation of a presumed joke about meth-boosted alligators in north Alabama, the individual in question—identified as Andy Perry—was ultimately arrested on charges including possession of schedule II (meth) for resale, possession of drug paraphernalia, and evidence tampering. All told, police claimed, they uncovered 12 grams of meth, as well as another 24 fluid ounces of it in liquid form.
"Ducks, geese, and other fowl frequent our treatment ponds and we shudder to think what one all hyped up on meth would do," the department said whilst urging against flushing. "Furthermore, if it made it far enough, we could create meth-gators in Shoal Creek and the Tennessee River down in North Alabama. They've had enough methed up animals the past few weeks without our help."
Of course, the real story here is the use of the descriptor "meth-gator" in a quasi-serious fashion. With quickness, fans of this tomfoolery started positing "meth-gator" as a potential new sports team or Syfy production:
For the real fun, however, we should consider the fact that "meth-gators" aren't really a thing at all.
"I've never heard of such a thing," wildlife educator Jim Nesci told Vice News on the topic of semi-charmed gators. "I would think that by the time it got into the water system, it would get pretty damn diluted."