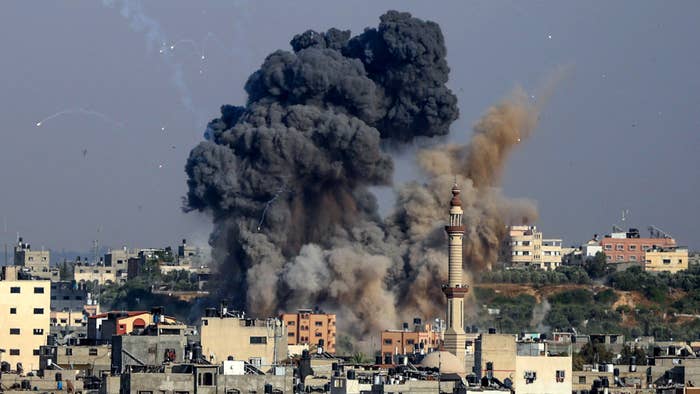 The Health Ministry in the Gaza Strip said Tuesday that at least 28 people had been killed amid Israeli airstrikes in the region, with 10 children among the dead. News of the airstrike deaths comes after days of fighting in the area, with the tensions between Israelis and Palestinians focused on the religious sites of Jerusalem considered sacred by multiple belief systems.
On Sunday, the White House announced that National Security Advisor Jake Sullivan had spoken by phone with Israeli National Security Advisor Meir Ben-Shabbat "to express the United States' serious concerns" over violent confrontations in and around the Al-Aqsa Mosque in the Old City of Jerusalem.
According to the White House, Sullivan urged for a denouncement of violence and expressed "serious concerns" over the removal of Palestinian families from their homes in the Sheikh Jarrah neighborhood.
Violent confrontations in Jerusalem have been going on for decades now, though the latest examples have many paying especially close attention. Below, we take a brief look at some of the history behind the vehemently contested region. 
Jerusalem is at the center of the longstanding Israeli-Palestinian conflict. In 1948, West Jerusalem was part of the land captured and annexed by Israel, while East Jerusalem—which includes the Old City region—was captured and annexed by Jordan. During a 1967 war, Israel captured East Jerusalem and annexed it. The history preceding those key dates is also characterized by conflict.
Many international powers, however, do not recognize this annexation as having been legal. As such, East Jerusalem is widely considered to be Palestinian land under Israeli military occupation.
The United Nations—in a 1997 report prepared under the guidance of the Committee on the Exercise of the Inalienable Rights of the Palestinian People—pointed to Jerusalem as a region that "holds enormous religious significance for millions of believers of the three monotheistic religions throughout the world." 
Palestinians say that East Jerusalem should be the capital of a Palestinian state. The Israeli government, meanwhile, views the entire city as the "indivisible capital" of their country. The latter view is not widely recognized on an international scale.
On Monday, Saleh Higazi—the Deputy Director for the Middle East and North Africa at Amnesty International—criticized Israeli security forces for repeated recent instances of using "abusive and wanton force" on peaceful Palestinian protesters.
"The latest violence brings into sharp focus Israel's sustained campaign to expand illegal Israeli settlements and step up forced evictions of Palestinian residents—such as those in Sheikh Jarrah—to make way for Israeli settlers," Higazi said. "These forced evictions are part of a continuing pattern in Sheikh Jarrah, they flagrantly violate international law and would amount to war crimes."
The plight of Palestinian families facing eviction in the Sheikh Jarrah neighborhood of East Jerusalem has inspired protests, as well as additional public condemnations from critics who argue that these actions are part of a larger effort to push Palestinians out of Jerusalem.
As touched on in an evictions-focused piece from Joseph Krauss for the Associated Press earlier this month, Israel claims that everyone in Jerusalem is given the same treatment. However, those in East Jerusalem have different rights based on whether they are Jewish or Palestinian. For example, Palestinians born there are given a type of permanent residency status that can be taken away if one spends a large enough amount of time outside the city. And while these Palestinians are also able to apply for Israeli citizenship, the extent of that process—as well as the dispute over the annexation—inspires most people to forgo this route.
Israeli authorities put up (and later removed) barriers outside the Old City's Damascus Gate at the start of Ramadan, a holy Islamic month. Protests and demonstrations in response to those aforementioned eviction threats continued. 
More recently, violence erupted at the Al-Aqsa Mosque compound, which is regarded as the third holiest site in Islam. Israeli forces stormed the area on multiple occasions over the weekend, using tear gas and grenades on Palestinian worshippers. A Palestinian Red Crescent spokesperson confirmed to NBC News that 300 Palestineans were hurt on Monday, dozens of them seriously. Sunday, notably, marked the Israeli national holiday Jerusalem Day.
Escalations at the top of this week saw a wave of airstrikes, with the AP reporting that—since sundown on Monday—28 Palestinians had been killed in Gaza, most of them by airstrikes. Among the 28 killed were 10 children and a woman.
After two Israeli women were reported to have been killed by rockets fired from Gaza, Israeli Prime Minister Benjamin Netanyahu—the longest-serving Israeli prime minister in history and a known Trump fan—vowed to "increase both the strength and rate" of strikes against what the Irsaeli army described as Hamas and Islamic Jihad group members in Palestine.
Hamas, per AP, said on May 11 that it had launched 130 rockets in response to Israel having destroyed a high-rise in Gaza.
On Thursday, May 20, after almost two straight weeks of violence, Hamas and the Israeli government were reported to have agreed on what the latter called "a bilateral cease-fire with Hamas," per NBC News.
"We obtained guarantees from the mediators that the aggression on Gaza will stop," Hamas leader Osama Hamdan told a TV station in Lebanon, saying the cease-fire will take effect at 2 a.m. local time.
A Hamas spokesman, meanwhile, told the Washington Post, "Ceasefire is likely taking place soon, but this highly dependent on how much Israeli occupation respects Palestinians' rights."
When Israel's Intelligence Minister Eli Cohen was asked early Thursday if the cease-fire would commence on Friday, he replied in the negative. "We are definitely seeing very significant international pressure. We will finish the operation when we decide we have attained our goals," Cohen said.
As of May 20, at least 230 Palestinian people and 12 Israelis have been killed in the conflict, with 65 Palestinian children among the victims, as well as two Israeli children. "Nearly 2,000 people were injured and tens of thousands displaced in the densely-populated enclave, home to some 2 million Palestinians. … Hundreds of buildings—including homes, hospitals and schools—have been damaged or destroyed, according to United Nations officials on the ground," NBC writes.
On May 19, prior to the cease-fire announcement, President Biden told Netanyahu he "expected a significant de-escalation today on the path to a cease-fire."
On May 21, after a cease-fire between the two sides was negotiated by Egypt, Israeli police forces raided Al-Aqsa Mosque in Jerusalem and fired tear gas and stun grenades resulting in 21 Palestinians getting injured, the New York Times reported.
In a statement, the Office of the United Nations High Commissioner for Human Rights said Israel "must respect international humanitarian law" by not killing civilians.
In the States, Democrats and Republicans have both criticized President Biden over the conflict, albeit for different reasons. While Republicans are pushing for Biden to specifically condemn Hamas and "unequivocally support Israel's rights to defend its citizens," Democrats—including Rep. Rashida Tlaib of Michigan—have argued that Biden has effectively enabled the violence.
"This is an apartheid system. … Palestinians have been telling us for decades that their homes have been demolished, that they've been targeted, that violence has been met by Israeli forces under Netanyahu's racist policies," Tlaib said, later explaining the complicity of the U.S.
"Our own country is enabling it with billions of dollars every year being issued to Israel even though they are promoting racism and dehumanization," Tlaib said.
Artists and other public figures have also spoken out about the recent violence. 
"So everybody always be quick to Pray for Paris and Pray for this place and that place but when it's The Muslims, everybody go quiet," Jay Electronica said on Twitter. "Got it."
Others who have also spoken out include Viola Davis, Lena Headey, Bella Hadid, Khabib Nurmagomedov, and the Weeknd. On Monday, the latter shared a post from @shirien.creates calling for "no more ethnic cleansing."
NYC mayoral candidate Andrew Yang was swiftly criticized for his pro-Israel tweet following the violence but praised by conservatives like Donald Trump Jr. and Sen. Ted Cruz. He was later asked not to attend an Eid event that was scheduled in Queens by organizers.
On Wednesday, President Joe Biden, who said he spoke with Israeli Prime Minister Benjamin Netanyahu, expressed his "unwavering support" of Israel at the White House.
"My expectation and hope is this will be closing down sooner than later," he said. "Israel has a right to defend itself when you have thousands of rockets flying into your territory."
Biden made no mention of Palestinians, CNN reported.



No mention of Sheikh Jarra.


No mention of the al-Aqsa raid.


No mention of the 13 innocent children killed in air strikes.


No mention of the ongoing occupation of millions in an open air prison.





You aren't prioritizing human rights. You're siding with an oppressive occupation. pic.twitter.com/B0DG1IHbaD


— Ilhan Omar (@IlhanMN) May 12, 2021