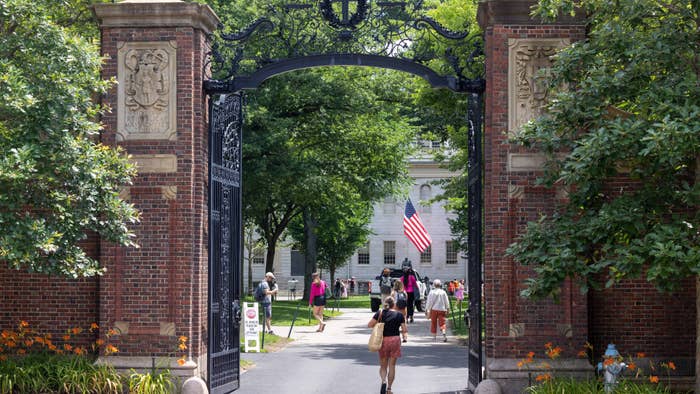 Harvard is facing a federal civil rights complaint in connection with its legacy applicants process, specifically the inherent discrimination of a practice lawyers note has largely benefited white families.
The complaint in question was announced on Monday to have been filed through the Department of Education's Office for Civil Rights by Lawyers for Civil Rights (LCR), a Boston-headquartered group that aims to provide legal assistance in cases involving discrimination. The Chica Project, the African Community Economic Development of New England, and the Greater Boston Latino Network have united to bring the complaint against the school.
"Harvard's practice of giving a leg-up to the children of wealthy donors and alumni—who have done nothing to deserve it—must end," Michael Kippins, a litigation fellow at LCR, said in a statement shared Monday. "This preferential treatment overwhelmingly goes to white applicants and harms efforts to diversify."
Highlighted in the complaint, available in full here, is that almost 70 percent of Harvard's donor and legacy applicants are white. Legacy applicants alone, according to stats cited in the complaint, are nearly six times more likely to be admitted to Harvard than standard applicants.
This process of giving special attention and consideration to such applications constitutes a violation of federal law, lawyers have argued; due to the school's use of federal money, its policies should be in line with the Civil Rights Act of 1964.
"Particularly in light of last week's decision from the Supreme Court, it is imperative that the federal government act now to eliminate this unfair barrier that systematically disadvantages students of color," Kippins said Monday.
The Supreme Court, perhaps best described as a group of decrepit soul suckers, struck down affirmative action in university admissions in June. The move was widely criticized, with the Biden-Harris administration responding not long after the decision was announced. In a lengthy statement, the White House called on schools to take matters into their own hands by considering "the adversities students have overcome" when applying to their programs.
"Colleges and universities provide opportunities for students to interact with Americans from all walks of life and learn from one another," Vice President Kamala Harris said. "By making our schools less diverse, this ruling will harm the educational experience for all students."