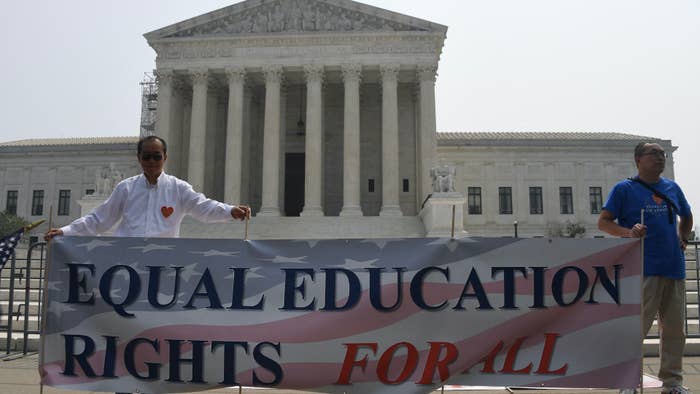 The United States Supreme Court is facing backlash after it struck down race-conscious admissions programs at U.S. universities.
The landmark decision was announced Thursday, more than 40 years after SCOTUS first permitted colleges to use race-based affirmative action in admissions—a move that aimed to combat discrimination practices and bolster diversity. However, opponents of affirmative action argued that the programs resulted in reverse racism, as they disadvantaged white and Asian American students who were selectively held to a higher standard than brown and Black applicants. These arguments were laid out in two separate lawsuits against Harvard University and the University of Northern Carolina, which have allowed race to be a deciding factor during the admissions process.
The court's conservative justices ruled against UNC and Harvard in a vote of 6-3 and 6-2, respectively; Justice Ketanji Brown Jackson recused herself from the latter case because she previously sat on the Harvard Board of Overseers. The court ruled that affirmative action in higher education violated the 14th Amendment's Equal Protection Clause, determining that race should play a limited role in deciding which students receive admissions.
Chief Justice John Roberts penned the majority opinion, which stated UNC and Harvard's "programs lack sufficiently focused and measurable objectives warranting the use of race, unavoidably employ race in a negative manner, involve racial stereotyping, and lack meaningful end points. We have never permitted admissions programs to work in that way, and we will not do so today."
"At the same time, as all parties agree, nothing in this opinion should be construed as prohibiting universities from considering an applicant's discussion of how race affected his or her life, be it through discrimination, inspiration, or otherwise."
Justice Sonia Sotomayor—the first Latina member of the Supreme Court—wrote the main dissent, saying the ruling rolled "back decades of precedent and momentous progress."
"The Court cements a superficial rule of colorblindness as a constitutional principle in an endemically segregated society where race has always mattered and continues to matter," Sotomayor wrote. "The Court subverts the constitutional guarantee of equal protection by further entrenching racial inequality in education, the very foundation of our democratic government and pluralistic society," she added. "Because the Court's opinion is not grounded in law or fact and contravenes the vision of equality embodied in the Fourteenth Amendment, I dissent."
A number of political leaders echoed Sotomayor's position, including former President Barack Obama, former first lady Michelle Obama, former President Donald Trump, NAACP President Derrick Johnson, and current President Joe Biden.
"Like any policy, affirmative action wasn't perfect," Obama said. "But it allowed generations of students like Michelle and me to prove we belonged. Now it's up to all of us to give young people the opportunities they deserve — and help students everywhere benefit from new perspectives."
Biden also expressed "disappointment" in the court's decision.
"We cannot let the decision be a permanent setback for the country," he said. "We need to keep an open door of opportunities. We need to remember that diversity is our strength."
The ruling also garnered reactions from political commentators, state-level lawmakers, and students, many of whom pointed out that the court did not eliminate legacy admissions, a form of affirmative action that's based on alumni status rather than race. You can read some of the responses below.