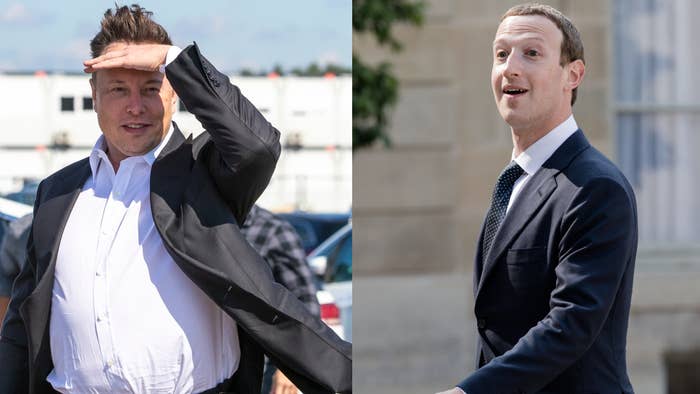 As Threads topped 100 million signups in less than a week, Elon Musk turned his attention to the size of Mark Zuckerberg's penis.
In short, the Twitter-tanking billionaire appeared to spend several hours in a phallic frame of mind on Sunday when responding to some Threads talk.
"Zuck is a cuck," Musk said in an initial tweet. A little over eight hours later, he returned with a penile proposition.
"I propose a literal dick measuring contest," Musk wrote.


Regardless of the outcome of any such contest, what's already been determined is that both of this men are not only insufferable, but loudly (and constantly) so. While Threads has indeed been an immediate success and does provide an admittedly smooth-feeling alternative to the wildly uneven user experience one will find on the post-Musk iteration of Twitter, it's hard to shake the fact that we're all far too invested in whether or not one billionaire emerges victorious over another. (To be fair, only one of them has forced the public to imagine their respective penises.)
As for that 100-million threshold, Zuckerberg himself confirmed it on Threads (where else?) early Monday morning.
"Threads reached 100 million sign ups over the weekend," Zuckerberg wrote. "That's mostly organic demand and we haven't even turned on many promotions yet. Can't believe it's only been 5 days!"
At the time of this writing, he had not made any mention of Musk's penis on the platform.
Of those 100 million signups, as previously reported, roughly five million are said to have occurred during the platform's first four hours of availability.
With the initial version now available in more than 100 countries, Meta says it's aiming to roll out "a number of new features" in the coming months, including what the company bills as "improved recommendations in feed." This aspect of the Threads experience, at least in its earliest incarnation, has generated a fair amount of attention; for example, some have complained about the accounts being recommended to them, most notably the presence of accounts they do not follow.
This is all playing out in the shadow of claims about a physical match of some sort between Musk and Zuckerberg. Though it's hard to imagine any such showdown actually happening, stranger things have happened and will likely continue to happen for the foreseeable future.