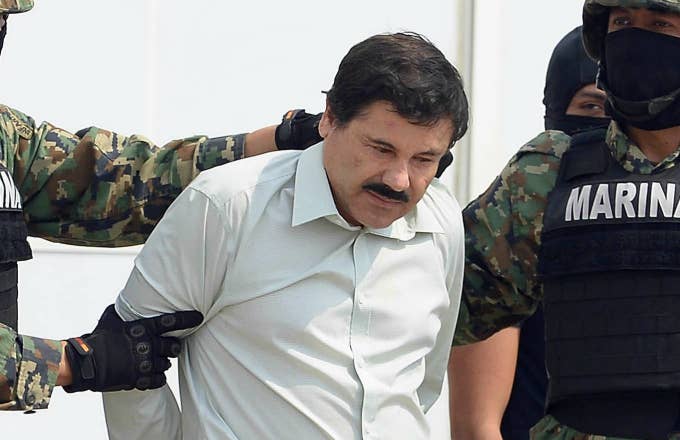 Joaquín "El Chapo" Guzmán would like a new trial.
As first reported by Reuters early Tuesday, a recent court filing reveals El Chapo is seeking a new trial. Last month, he was found guilty on multiple federal counts including engaging in a continuing criminal enterprise and international distribution of cocaine and other substances.
In the documents, obtained by Complex, El Chapo's team argues that jurors "violated their oath" by following the surrounding media coverage of the case during the trial. "Reports of jury misconduct, of course, are nothing new in high-profile cases," the document states.
A Vice News report published after last month's verdict is specifically cited in the documents, with El Chapo's team pointing to the article's further allegations on juror misconduct. That article was previously mentioned in reports last month about El Chapo's team quickly looking into retrial efforts following the verdict. At the time, lawyer Jeffrey Lichtman said there was "massive misconduct" in need of addressing.
Also mentioned in the court documents that surfaced Tuesday are the tabloid reports alleging an affair between Lichtman and former Pure Food and Wine boss Sarma Melngailis.
Richard Donoghue, U.S. Attorney for the Eastern District of New York, previously predicted a life sentence for El Chapo. "It is a sentence from which there is no escape and no return," he said in February. "His conviction is a victory for the American people who suffered so long and so much while Guzman made billions pouring poison over our southern border. His conviction is a victory for the Mexican people, who have lost over 100,000 lives in drug-related violence. His conviction is a victory for every family who has lost a loved one to the black hole of addiction."
Lichtman and attorney Marc Fernich argued in Tuesday's docs, however, that the justice system "may have failed" El Chapo instead by denying him an impartial trial.