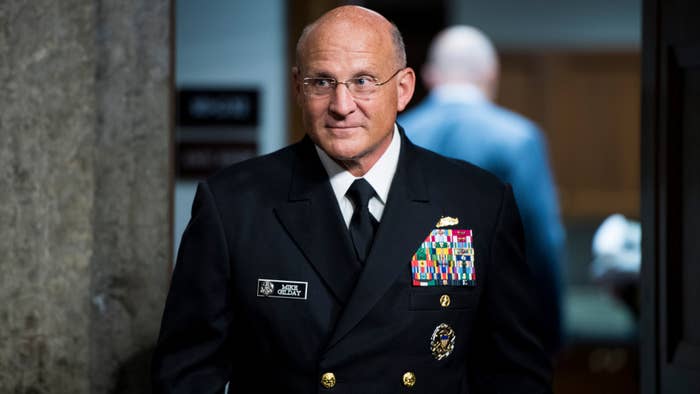 Admiral Michael M. Gilday, who's served as the chief of naval operations since August of 2019, confirmed this week that the so-called "drones" that famously swarmed American ships in 2019 have still not been identified.
Gilday's comments, as reported by the Drive's Adam Kehoe and Marc Cecotti on Monday, came during a roundtable chat with reporters this week in which the topic of these oft-questioned 2019 incidents was broached.
"No, we have not," Gilday said when asked by Task & Purpose's Jeff Schogol whether the mysterious aircraft had since been identified. "I am aware of those sightings and as it's been reported there have been other sightings by aviators in the air and by other ships not only of the United States, but other nations —and of course other elements within the U.S. joint force."
According to Gilday, findings related to the 2019 swarming incidents off the coast of Southern California have been collected and are still in the process of being analyzed. A "well-established process" is in place "across the joint force," Gilday added, and it will be put to use in collecting and further investigating relevant data. 

Gilday was also specifically whether the unidentified phenomena are being considered "extraterrestrial," to which he responded, "No, I can't speak to that—I have no indications at all of that."
As Monday's Drive report notes, it's unknown whether Gilday's comments about data collection and analysis was a reference to the recently launched UAP Task Force, which itself was preceded by the Advanced Aerospace Threat Identification Program, which was led by Luis Elizondo. Elizondo later went on to be an integral part of Tom DeLonge's To the Stars Academy of Arts & Science, an aerospace and entertainment company that proved pivotal in the recent mainstream destigmatization of the UAP (a.k.a. UFO) research pursuit.
Addressing Gilday's latest comments in a tweeted statement Monday night, fellow ex-TTSA member (and former deputy assistant secretary of defense for intelligence) Christopher K. Mellon said the Department of Defense "is finally beginning to pay attention and gather the info that may reveal who is doing this and why."
DeLonge, TTSA co-founder and interim CEO, has not publicly addressed—directly, at least—these latest developments. But in an Instagram post shared this week, the former blink-182 co-vocalist and current Angels & Airwaves frontman said—via hashtag—"aliens are not what you think they are" and suggested that TTSA's work is "not done yet." He also noted that, alongside his TTSA team, he "helped change the world."
Last month, John Ratcliffe—former intelligence director—teased that an upcoming UAP report from multiple federal agencies will provide information on "a lot more sightings" that haven't previously been made public knowledge. The report, made possible by the enactment of a new Intelligence Authorization Act, was previously announced as having been set for release later this year.