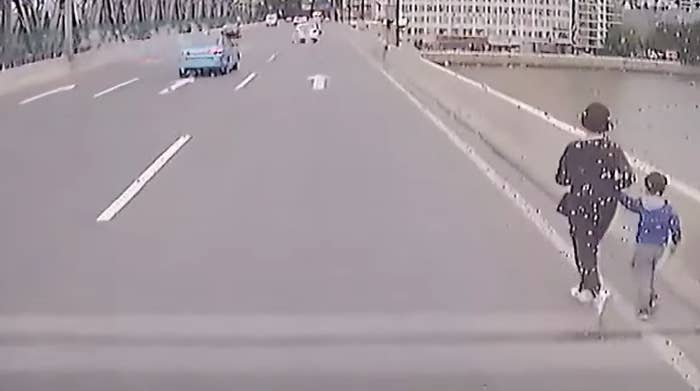 Content warning: This story contains material about suicide.
A bus driver is being commended for taking quick action when he witnessed a woman with a young child on the side of the road seemingly attempting to jump from a bridge.
The footage from Guangzhou in China, which has gone viral after a shortened version was shared to TikTok by @caroelynne, opens with a bus POV shot of the woman walking alongside a bridge road while holding the hand of a young child, identified in coverage as her son. From there, the angle of the video—dated Oct. 21 and seemingly derived from surveillance footage taken from the bus—shifts to show the bus driver stopping near the mother and child.
At this point, the woman is seen picking up the child before placing a leg over the side of the bridge. The driver quickly rises from his seat and races to the mom's side. According to Xinhua, who shared a brief report on the incident, both the woman and her son "are now safe and sound."
At the time of this writing, the TikTok-shared version of the footage (see above) had been liked more than 322,000 times and had garnered thousands of comments from people sharing their own mental health stories and offering words of support for anyone else who may be going through a difficult time.
If you or someone you know is in crisis, contact the National Suicide Prevention Lifeline (1-800-273-8255), text "home" to the Crisis Text Line (741741), and/or visit the official Lifeline site.