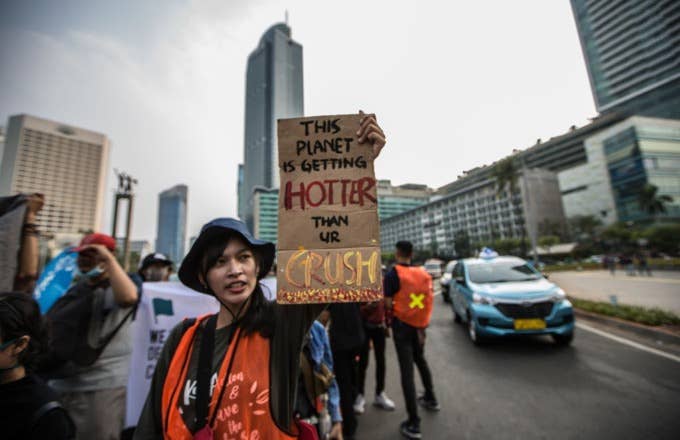 "Untold suffering" is to come by way of the increasingly-ignored-by-the-Powers-That-Be issue of climate change, thousands of scientists warned Tuesday.
"Scientists have a moral obligation to clearly warn humanity of any catastrophic threat and to 'tell it like it is,'" the statement, first published in the American Institute of Biological Sciences' journal BioScience on Tuesday, reads. "On the basis of this obligation and the graphical indicators presented below, we declare, with more than 11,000 scientist signatories from around the world, clearly and unequivocally that planet Earth is facing a climate emergency."
The full piece points to a number of "troubling signs" of what's ahead for humankind including "sustained increases" in livestock populations, meat production, tree cover loss, fossil fuel use, and more.
To avoid that "untold suffering," the scientists are calling for an "immense increase of scale" in biosphere conservation efforts worldwide.
"You don't need to be a rocket scientist to look at the graphs and know things are going wrong," the University of Sydney's Thomas Newsome, a co-author of the piece, toldThe Guardian. "But it is not too late."
Meanwhile, the current White House administration continued its campaign against active participation in globally united climate change measures this week by pulling this fucking bullshit: