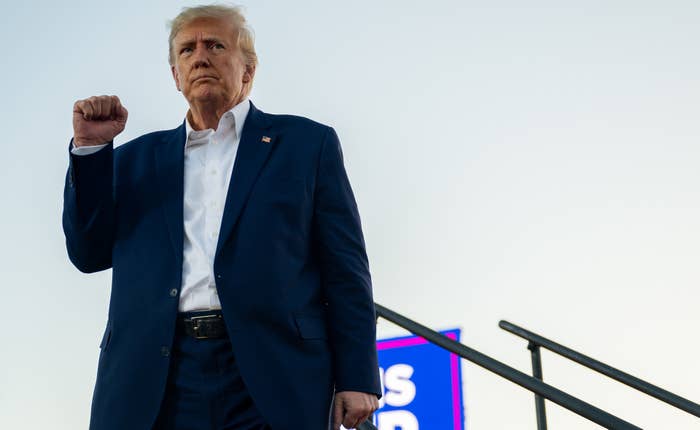 Donald Trump could finally be in the hot seat.
CNN reports that a New York grand jury has voted to indict the former head of the nation, marking the first time in the U.S. that a current or ex-president has been hit with criminal charges.
The grand jury convened in Manhattan to weigh in on Trump's alleged part in a payment plot with porn star Stormy Daniels that dates back to the 2016 presidential election. The charges lodged against Trump are not yet known.
On Truth Social on Thursday evening Trump wrote, with immaculate grammar, "These Thugs and Radical Left Monsters have just INDICATED the 45th President of the United States of America, and the leading Republican Candidate, by far, for the 2024 Nomination for President."
The 76-year-old continued in all caps, "This is an attack on our country the likes of which has never been seen before. It is likewise a continuing attack on our once free and fair elections. The USA is now a third world nation, a nation in serious decline. So sad!"
The New York Times writes that Trump lawyer Susan R. Necheles said the ex-president will turn himself in on Tuesday, April 4 at the State Supreme Court in Manhattan to be arraigned.
Trump previously commented on the indictment speculation last week, writing on Truth Social, "What kind of person can charge another person, in this case a former President of the United States, who got more votes than any sitting President in history, and leading candidate (by far!) for the Republican Party nomination, with a Crime, when it is known by all that NO Crime has been committed, & also known that potential death & destruction in such a false charge could be catastrophic for our Country? Why & who would do such a thing? Only a degenerate psychopath that truely [sic] hates the USA!"
It will be interesting to see how this impacts Trump's bid for the 2024 Republican nomination. According to the CNN, he has remained steadfast in running for presidential re-election even amid criminal charges.
Trump's legal dealings have mounted in recent years. When he was president, the Democratic-led House impeached him twice, though impeachment failed to pass in the Senate. Back in December, the Trump Organization was found guilty of tax fraud, though the man himself wasn't implicated in the case.