 Can technology predict the fate of your relationship? A new, free iOS and Android app is claiming to foresee you and your partner's future better than you can. Based on a complex set of algorithms, StayGo will assess different aspects of a potential or existing relationship in order to determine, as the name suggests, whether you should stay or you should go. 
If you're in a relationship, the app will grade different aspects of it on a scale from 0 to 100 based on your answers to 20 questions addressing everything from your sex life to how each of you handles money, StayGo partner Liz Schoenfeld, Ph.D. explained to Complex. "Your scores basically show how your relationship compares to other people's relationships—if you score a 70, for example, your relationship would be similar to how the average person scores," she said. It'll only compare you to similar people with the same relationship model, she added.
The app will also ask periodic questions to determine how you feel about your partner and provide graphs showing how your feelings are evolving over time, almost like a Fitbit. 
In addition to scoring your relationship, StayGo collects anonymous feedback from your family and friends so you can benefit from an outsider's perspective without anyone being penalized. It also crowdsources opinions on your relationship from other StayGo users. 
"Whether it confirms that feeling in your heart that you're with the right person, or that feeling in your gut that you're not, StayGo allows users to finally make informed decisions about their love lives," said StayGo co-creator Jim Casey in a press release.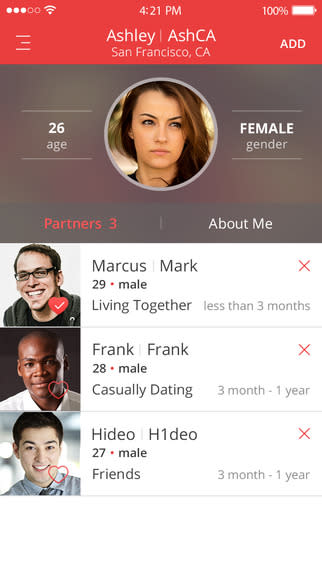 Asking an app what it thinks of your relationship sounds like it could either be a fun couples' activity—more fun than consulting your family, at least—or get pretty awkward. If you're uncertain enough about your relationship to use this in all seriousness, it's quite possible you have bigger problems than an app can solve. 
The StayGo team doesn't see it that way, though. "Considering the average woman dates for approximately 10 years before getting married and more than half of all marriages end in divorce, the reasons behind bad relationships aren't always so obvious," Casey said. "Maybe by using an app like this, they will be."
UPDATED May 14, 5:19 p.m. ET: This story was updated to include comment from Liz Schoenfeld.