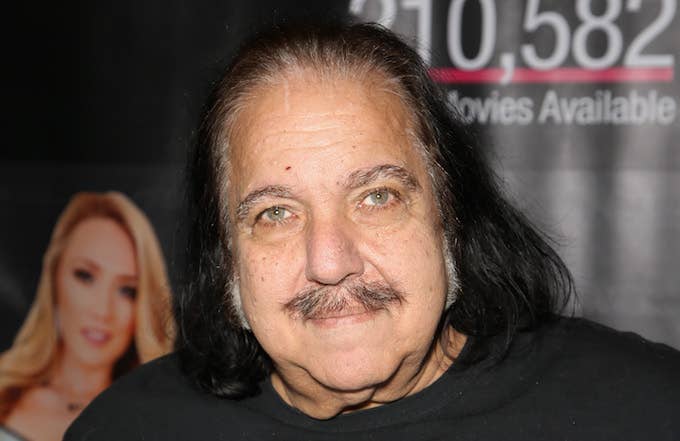 Among the famous men recently accused of sexual misconduct is porn star Ron Jeremy, who admitted to groping women in an interview with Rolling Stone. Several women accused him of unwanted touching, to which he responded, "As for the charges of groping, I say yes, I AM A GROPER. ... And by groper, I mean I get paid to show up to these shows, events, and photo shoots and touch the people and they touch me." Former porn star Jennifer Steele also accused him of rape, which he denied. Now, he's paying the consequences for these allegations: The porn industry's AVN Awards have banned him this year, The Blast reports.
The ban is part of a "Zero Tolerance Harassment Policy" on the ceremony's part. This year, the policy was expanded to include prohibitions on "unwelcome physical contact" and "photographs or recordings that violate privacy (e.g., upskirt shots, shooting in non-public spaces)," Page Six reports.
Once again, in an interview with The Blast, Jeremy admitted to groping but denied that there was anything wrong with it. "People grope me all the time, too," he said, adding that he'd attended the ceremony annually for the past 38 years and hoped "to be invited next year." 
"[The awards] are a lot more conservative than you would think they are. I would follow the rules, but I guess they thought I wouldn't," he elaborated to Page Six. "I'm not God's gift to women. I am not saying, 'Step back Brad Pitt and Tom Cruise, Ron Jeremy is here.' I am old, I am chunky. [But fans] want to see it."
With TV and film award season in full swing as well, people are calling on the Oscars to hold men accused of sexual misconduct accountable. James Franco, who won a Golden Globe for The Disaster Artist soon before an LA Times report detailed sexual misconduct allegations against him from five women, was not nominated for an Oscar. But Kobe Bryant, who was charged with rape in 2003, is nominated for Best Animated Short Film for Dear Basketball, leading critics to accuse the Academy of tacitly accepting sexual violence.