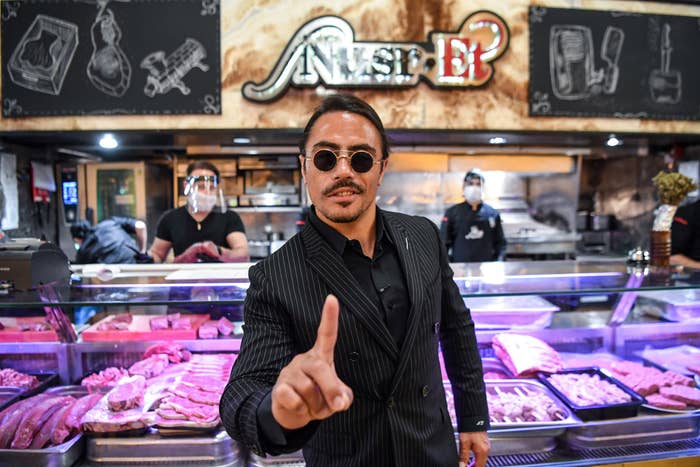 Salt Bae's Nusr-Et Steakhouse in London has been ranked as one of the worst places to dine in the capital, according to Tripadvisor. 
The infamous restaurant—which opened its doors in Knightsbridge just nine months ago—has been hit with a wave of shocking reviews online, where it is ranked 260th best steakhouse in London, only one place above the worst.
Nusr-Et currently holds a 2.5 star rating and has received 73 "terrible" traveller ratings along with 9 "poor", 5 "average", 3 "very good" and 28 "excellent" ratings on the site.
In between the most recent reviews, there was one that said: "The apparent speciality is the meat. Dry. Dry, dry, dry. Bland. Apparently Salt Bae is scrimping on salt – as well as every other type of flavour."
Another said in part: "Only a fool would eat at a place like this, or maybe a wannabe influencer. This is a fad shop with a guy riding a following of those who like watching him play with meat. He is not a chef, nor does his restaurant offer anything that exceeds expected and basic qualities of the food which is served."
But the bad reviews don't just stop at the food: visitors to the restaurant have also described the attitude of the staff as "short and blunt", with one diner explaining that they were told "there was only half an hour to eat up" after they had to chase their sides. 
Known by millions around the world as "Salt Bae", Turkish chef Nusret Gökçe became an internet sensation in 2017 when a video of his food seasoning technique went viral. Gökçe has opened more than ten Nusr-et branches around the world, including the United States, Greece, and the United Arab Emirates.