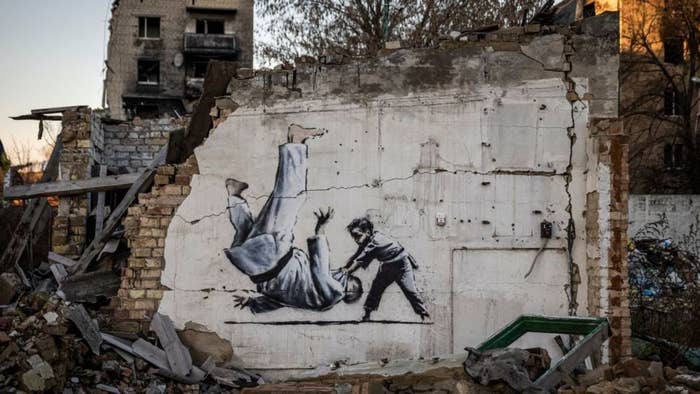 After unveiling a mural in the town of Borodyanka​​​, elusive graffiti artist Banksy has now confirmed seven new projects which have appeared throughout a war-torn Ukraine.
The series is the latest set of Banksy artworks to pop up since last summer's Great British Spraycation, which saw the UK phenom apply his stencilled commentary at sites across British seaside towns. As per The Art Newspaper, speculation that Banksy might be in Ukraine emerged after three similar works were spotted at the start of November.
Spread across a number of destroyed buildings, the unnamed projects include an image of a gymnast doing a handstand on a pile of rubble, ribbon in-hand. Another shows a man being thrown by a child—who some have likened to Vladimir Putin—to the ground in a judo match.
Other murals depict two children using a metal tank trap as a seesaw, as well as a woman holding a fire extinguisher while dressed in hair curlers and a gas mask. 
In an attempt to raise money for social and political causes, last year, Banksy—whose true identity is still cause for speculation—auctioned his painting Game Changer, which celebrates nurses as superheroes, for a astonishing £16.7 million at famed auction house Christie's in London.