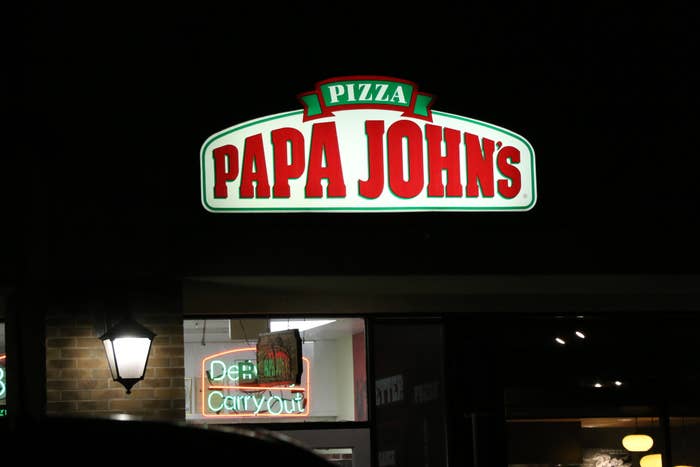 When Papa John's CEO John Schnatter bashed NFL Commissioner Roger Goodell and blamed his company's declining sales on NFL players' peaceful protests to highlight racial inequities, he essentially drew a line in the sand. The noted Trump-supporter not only made himself look like one of Dallas Cowboys owner Jerry Jones' hand puppets in a standoff with Goodell, but he seems to also have earned the dreaded white supremacist endorsement in the process.
"Papa John: Official pizza of the alt-right?" read a caption in a post full of racist vitriol by The Daily Stormer columnist Adrian Sol. The post featured a Papa John's pizza adorned with pepperoni slices in the shape of a swastika and such degenerative prose as Sol referring to the NFL as the "Negro Felon League." While directly quoting Schnatter's baseless linking of his tanking sales with NFL protests, Sol responded by writing, "This is great."
To be clear, being a noted financial supporter of Donald Trump and blaming his business performance on people looking to bring attention to a marginalized group in America doesn't make Schnatter an outright racist. Although, it does makes him an ignorant supporter of a white supremacist normalizing President. But as the self-proclaimed "alt right" proved by latching on to New Balance sneakers, Wendy's, Red Wing boots and Tiki brand bamboo torches, white supremacists don't exactly follow a routine of logical evaluation when throwing their support behind a brand.
Coincidentally, Papa John's began backpedaling on behalf of Schnatter much like an NFL cornerback after being informed that neo-Nazi's are endorsing their pies while they bro out and give each other "Sieg Heil" salutes.
"We condemn racism in all forms and any and all hate groups that support it," Papa John's senior director of public relations told The Huffington Post in an exclusive statement. "We do not want these individuals or groups to buy our pizza."
Perhaps a better move would've been for Schnatter to have kept his foot-in-mouth statements to himself, given the bashing Papa John's has taken in the wake of his comments.
To summarize, Papa John's stock took a 12% drop Wednesday, then Schnatter blamed the dip on declining NFL ratings, which he then linked to the protests. That unfounded link led to white supremacists embracing the pizza company. And just for good measure, Papa John's got dragged by Pizza Hut and again during a Twitter war with frozen pizza brand DiGiorno.