How Money, Law, and Religion Made Porn Your Enemy
Debunking the myths behind porn, sex, and masturbation. Complex Original
Image via Complex Original This past April, Utah Gov. Gary R. Herbert signed two new pieces of legislation declaring pornography "a public health crisis" in his state. Sponsored by Utah Sen. Todd Weiler (R-Salt Lake), the bill claims that watching porn increases "the demand for sex trafficking, prostitution, child sexual abuse images, and child pornography." Beyond equating porn consumption with a rise in sex-related crime, the bill further argues that porn is addictive, therefore constituting a health epidemic.
Emboldened by local supporters like anti-porn organization Fight the New Drug (which offers "facts" about the dangers of pornography like "porn hates families" and "porn leads to violence"), Utah's anti-porn movement reached a fever pitch when Herbert introduced these measures saying porn leads to "a broad spectrum of individual and public health impacts and societal harms."
Reverberations of this sentiment can be felt far beyond Utah.
A country-wide ban on pornography has been proposed in Iceland, and in the UK, Prime Minister David Cameron established online "porn filters," which the EU later deemed illegal. Elsewhere on the net, a Reddit-born, abstinence-based movement called No Fapping offers a "variety of tools and services to those affected by pornography." Members' testimonials include glimpses of life post-masturbation, and claims of higher libidos, healthier relationships, and more robust social lives.
With so much clashing information about porn and addiction, I sought to separate fact from fiction, and science from moralized mythology.
This led me to Trevor* and Buck*.
Meet the "Addicts" Trevor is a self-identified porn addict who stumbled upon pornography in a manner familiar to many who hit puberty in 90s suburbia: Skinemax. Things progressed quickly from there; Trevor said he was soon "stealing magazines from stores and barber shops, starting with softer core stuff like Playboy and Penthouse and quickly getting into Club and Hustler." After being introduced to a colossal game-changer (the internet), Trevor found porn on file-sharing sites like "LimeWire and Kazaa."
Buck discovered porn in a similar fashion, first coming across it by accident when "clicking a link online and being very excited by it, but also scared to watch, mainly out of fear of getting caught." Buck feared his mom would track his browsing history, leading him to seek out more nondescript websites that still hosted pornographic content, like New Grounds.
At the height of Trevor's self-diagnosed addiction, he watched porn three times a day, anywhere from 10 minutes to an hour per session. He says his habit impacted other aspects of his life, including sexual performance. "I was seeing a girl and I couldn't get it up when we tried to have sex, even [while] taking Cialis or Viagra," he said. She later left him "down and out."
While Buck "didn't start regularly masturbating to pornography until [he] was about 12," he said porn consumption became his full-fledged addiction by 18, when porn and masturbation occupied every minute of his free time.
Buck's addiction was fueled by discovering a particular fetish he was too embarrassed to share with anyone, including me. Because of his unusual preference, Buck said that "masturbating to pornography felt preferable to actual sex since I didn't have to worry about anyone judging for getting off to something weird." When he watched porn, Buck felt free of shame and pressure.



I would jerk off until my dick was chafed.
His behavior evolved into a kind of self-abuse. "I would jerk off until my dick was chafed," he said. His habit left him wincing during each session. Buck said that at the peak of his problem, he spent almost every hour of the day masturbating.
Both Buck and Trevor admitted that they have other compulsive habits. "I eat heavily; I used to smoke a ton of weed; I drink with some regularity," Trevor said, although he cited porn as his greatest addiction yet.
Buck admitted "problems with heroin and meth in the past" and blames his porn addiction for exacerbating his meth addiction. He also self-diagnosed himself as having Pure Obsessional OCD, a variant of Obsessive Compulsive Disorder which can include obsessions without observable compulsions or obsessions of committing acts they consider harmful, violent, or immoral.
Buck explained,"It's hard to distinguish between what is a consequence of the addiction and what is a consequence of the underlying issues that led up to the addiction."



It's hard to distinguish between what is a consequence of the addiction and what is a consequence of the underlying issues that led up to the addiction.
He sought help and his therapist swiftly prescribed Klonopin, which he'd take when having panic attacks that fueled his masturbation. However, he'd often "find [himself] blacking out and waking up masturbating again, thus triggering another panic attack."
Buck also attended several Sex Addicts Anonymous meetings but didn't find them helpful. He did, however, find one effective method when his therapist engaged him in talk therapy. Buck was able to accept his kinks and alleviate his anxiety "that there was something wrong" with him.
Trevor, on the other hand, took his treatment into his own hands. Panicked and depressed, he found solace on the website Your Brain On Porn, which seeks to educate consumers about porn's negative long-term effects and claims to provide studies about porn users' brains. Trevor hypothesized that his erectile dysfunction (ED) came from watching so much porn (although he experienced the problem years before his struggle with porn consumption), and felt the website's "huge amount of testimonials" gave him "some hope for the recovery process."
Attacking Porn to Attack Masturbation
In my search for answers, my attention was piqued by David Ley's Psychology Today article, "We Must Rely on Good Science in Porn Debate."
"Whenever we talk about pornography use, we're really talking about masturbation," Ley told Complex. "Ninety percent of pornography consumption goes along with masturbation." He explained how most people claiming that porn is addictive or dangerous are actually using coded language to talk about masturbation. Citing "public health" concerns is often a shield used to attack masturbation for moral and religious-based reasons.



Whenever we talk about pornography use, we're really talking about masturbation.
"Porn addiction is a label that has been used for nearly 40 years," Ley said, pointing to an incident in the early '80s when Focus on the Family and James Dobson successfully removed Playboy from 7-Eleven shelves under the guise of combatting "porn addiction."
But the real bombshell here is that, according to Ley, "There's no science behind this."
Sex addiction, pornography addiction, masturbation addiction—none are recognized as disorders by the American Psychiatric Association. But if they aren't disorders, why do we see narratives of this affliction again and again?
It's a multiplicitous problem, and two of its biggest constituents are God and money.
"First, there's this large, powerful, wealthy industry that provides sex and porn addiction treatment, and they do so for cash," Ley said. "Insurance doesn't cover these treatments because it is not a real disorder, and insurance won't pay for treatment of not-real disorders."
He explained that the first rehab center dedicated to sex and porn addiction was founded by Dt. Patrick Cannes in 1987 Mississippi and called "the Gentle Path." Methodology focused on a 30-task model, a variation on the popular 12-step model. Carnes recently moved his practice to Arizona, and claims the desert is known for its "healing effects." (David Duchovny also went to a sex addict treatment facility in Arizona, and paid about $1,000 a day for that privilege.)
Carnes, like NYC-based psychotherapists I interviewed, adopted or slightly modified Alcoholic Anonymous' 12-step program for addiction recovery. Ley claimed that there is no evidence of its effectiveness, and recent reports confirm that AA may have a staggeringly low success rate, estimated somewhere between 5 and 10 percent. Ley explained that the model "may, in fact, harm as many as 30 percent or 40 percent of people because it is a spiritually-based religious program."
Another propagator of porn addiction is religion; predominantly-Mormon Utah has the highest porn-addiction treatment programs per capita in the country. According to Ley, many of these organizations argue that exposure to pornography can turn people gay.
"Now, there's research that shows, number one, that's not true," he explained, adding "Number two, homosexual men and bisexual men, queer people, transgender people, are at tremendous risk of being stigmatized by these folks because LGBT folk use and watch more porn than heterosexual people—not because porn is addictive, but because porn is a safe place where they can find orientation-consistent stimulation material."
There have been several studies that concluded people who identify as porn addicts are more likely to be from religious backgrounds with strong moral prohibitions against porn.
"Groups like Fight the New Drug, The XXX Church, these are moral, religiously-based groups," Ley explained, adding that these organizations are "fighting a moral battle, but they're hiding behind the language of public health policy."
The Masculinity Dilemma
Ley estimated that in his own research and beyond, as much as 90 to 95 percent of porn addicts are men. "That is a significant reflection of the gendered nature of this discussion," he surmised, further explaining that male privilege plays a role in propagating the myth of porn addiction.
"Previously, powerful men in history have gotten away with all kinds of sexual dispensation," Ley explained. "They've had all kinds of privilege and ability to engage in lots of sexual misbehavior."  With advances in gender parity, Ley posited that men are now held more accountable for their sexual misbehavior, and can sometimes hide behind the defense that their misdeeds are the result of a disease.



Previously, powerful men in history have gotten away with all kinds of sexual dispensation. They've had all kinds of privilege and ability to engage in lots of sexual misbehavior.
New York City-based psychotherapist and sex-addiction counselor Gail Appel explained that most of her patients seek help when they're caught, in moments of crisis when "their partner has discovered them acting out in some way, chatting with someone online, watching porn, [finding porn] on phones, or maybe [their partner discovers that] they've gone to massage 'happy ending' parlors."
After telling Ley about Buck and Trevor, he agreed that they had serious problems which require outside help, but wouldn't blame their issues on porn, calling it a scapegoat.
"What I tell people is, when there are porn-related problems, they are a symptom of something else," he explained. "They're a symptom of a moral conflict, they're a symptom of sexually unmet needs in a relationship, they're a symptom of [inadequate] coping mechanisms to deal with stress or loneliness."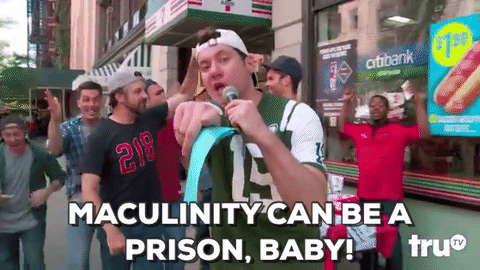 New York City-based sex researcher, writer, and educator Zhana Vrangalova PhD believes porn addiction might be a result of our outdated culture. There are people with high sex drives or a desire for novelty who, for various reasons including societal pressure and cultural norms, end up in monogamous long-term relationships.
Because it's not a good fit, they may cheat on their partners or turn to porn as a coping mechanism. Many of these men would benefit from an alternative or open relationship model, but may find it inaccessible or taboo. These stigmas, compounded by expectations of masculinity (like not being able to talk about your feelings or open up about your problems) can make men feel trapped with few options. 
"One of the things that we find in good research is that pornography goes up when men are feeling lonely, depressed, stressed, and angry," Ley said.
Masturbation Is Actually Chill AF
Vrangalova explained that some people watch so much porn that it becomes an unhealthy behavior, but maintains that the porn itself isn't to blame. She cites people who over-eat, over-exercise, gamble, or binge-watch TV and asked,"Any kind of activity that people engage in that give them some sort of pleasure can be done too much—is porn any different?"



Any kind of activity that people engage in that give them some sort of pleasure can be done too much—is porn any different?
She elaborated that you can't identify a problem based on quantity alone; you've also got to consider quality and intent. "For one person, the same number of sex acts or time spent watching porn or whatever is going to be normal, and for someone else is going to be perceived as too much," she said.
Vrangalova added, "It's not so much about how much you're doing it; it's more about how you are doing it and what your feelings are around that, and if your life is suffering because of that."
Your porn-viewing and masturbation habits shouldn't have a negative impact on your life; whether from your own feelings/internalized shame or from external pressures. Instead, your habits should be about finding a happy medium tailored to your own desires and lifestyle.
Jim Pfaus, Concordia University professor and researcher in the Center for Studies in Behavioral Neurobiology, and colleague Nicole Prause conducted an analysis of several studies and found that watching porn can actually have positive impacts. Participants who watched porn experienced an increased likelihood of being aroused by other erotic media, and an increase in desire for sex with a partner.
Attacking porn is treating the symptom—not the cause—of a societal ill.
Most psychological problems, especially ones stemming from guilt, have to do with depression, anxiety, or impulse control, and can manifest through sexual behavior. Addressing these issues would have huge societal implications: challenging gender roles and masculinity, debunking the taboos of sex, and undoing centuries-old moral arguments against pleasure.
Since those are big problems with no clear solution, people focus on the easy target of porn. But putting porn at the center of a moral and political argument only problematizes it further, making it more appealing, and ultimately enabling the "addiction."
"Feeling bad about something that you're not supposed to do makes you want to do it all the more," Pfaus said. "That's sort of a perfect way to create an obsession."
*Names have been changed to protect privacy.