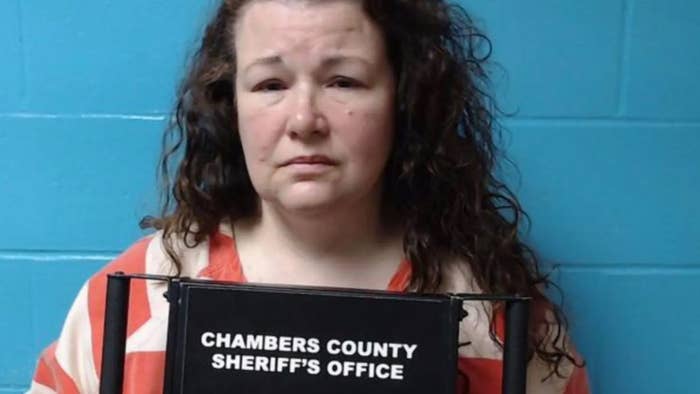 Sarah Hartsfield, a former US Army sergeant from Texas, is accused of murdering her fifth husband by injecting him with a large amount of insulin five years after she fatally shot her then ex-fiancé, allegedly in self-defense.
According to ABC13 Houston, Sarah gave her diabetic husband, Joseph Hartsfield, high levels of insulin four to six hours before calling 911 to administer aid. Officials stated Joseph's glucose monitor had sounded an alarm for quite some time before his wife took action and requested help.
Sarah Hartsfield is currently sitting behind bars in Chambers County Jail, and this latest incident has pushed investigators in Minnesota to re-open a probe into the death of her ex-fiancé David Bragg, whom she shot and killed in 2018 in an alleged case of self-defense.
This isn't the first domestic violence issue that Sarah Hartsfield found herself in. Back in 1996, Hartsfield — who went by the name Sarah Donahue — was arrested for allegedly assaulting her second husband, Michael Traxler, at their home in Rio Bonito.
She sat in jail for a week but saw her charges ultimately dropped with prosecutors explaining the reason as "other."
"I am glad she has finally been caught for who she is," Hartsfield's first husband, Titus Knoernschild, told ABC13 in February. "I'm just sorry another person had to die to get her caught."
He added: "I knew she'd end up in jail someday. So she cheated things. She would steal money from people. So I knew she would end up getting caught eventually. That was always my hope. But unfortunately, she's turned to [allegedly] murder. And that's what she's facing now."
Hartsfield's son from her third marriage, Ryan Donohue, told NBC that he knew his mother's poor judgment would lead to her demise. "It's unreal seeing my mom in that jumpsuit now," Donohue said. "I've waited for it my whole life."
ABC13 also obtained notes written by Hartsfield from her cell in Chambers County Jail where she explained to the judge that she had fired her attorney and asked for a new one. Hartsfield also asked to reduce her bond because she's illegally confined due to not being able to afford her $4.5 million bond.