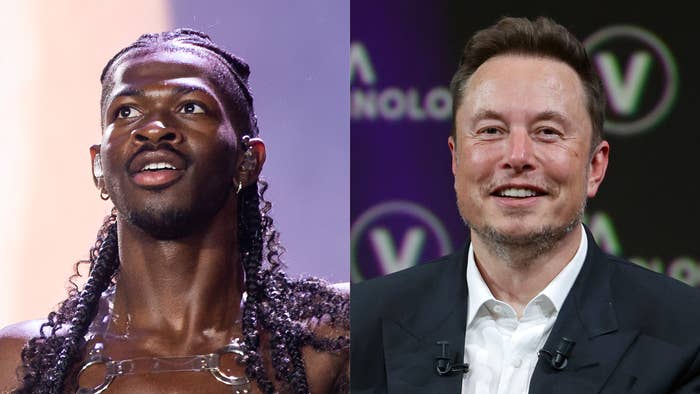 Lil Nas X is ecstatic over Elon Musk announcing that Twitter will be rebranding and changing its iconic bird logo to an X.
On Sunday, the billionaire took to his Twitter with a tweet announcing his future plans to change the logo, and he's ready to do it as soon as possible. According to Musk, it's time to say goodbye to the Twitter brand and "all the birds."
"And soon we shall bid adieu to the Twitter brand and, gradually, all the birds," he tweeted. "If a good enough X logo is posted tonight, we'll make (it) go live worldwide tomorrow."
The Tesla CEO then shared a video of an X logo and later revealed in a Twitter Spaces audio chat that the Twitter logo will change and stated that "it should have been done a long time ago."
Lil Nas X caught wind of the Twitter rebrand and wasted no time letting Musk know he approved of the switch despite having a slight beef with the business mogul. In April, the Montero singer called out the "Tesla Man" after he lost his blue verified check on the app.
"I appreciate Elon renaming the app after me, but this is honestly overwhelming," wrote Lil Nas X. "Since I haven't released music in 5 years, and Twitter pays you now. I am ready to accept my destiny as Twitter supreme again."
Musk changing the Twitter logo shouldn't come as a surprise as he already changed the platform's official business name to X Corp, inspired by Musk's desire to have a super app. Twitter officials may not be happy with the change as the platform's official website stated the blue bird logo is "our most recognizable asset. That's why we're so protective of it."
Musk also said an interim logo would go live on Sunday.
Running Twitter has been controversial at best for Elon Musk. He came under fire most recently after announcing that there will be a limit to how many tweets a person can view daily. Another issue over at Twitter was a lawsuit filed on Tuesday claiming the company owes at least $500 million in severance pay to former employees.
Since acquiring Twitter in 2022, Musk pulled a controversial move and laid off more than half of his employees to manage costs.