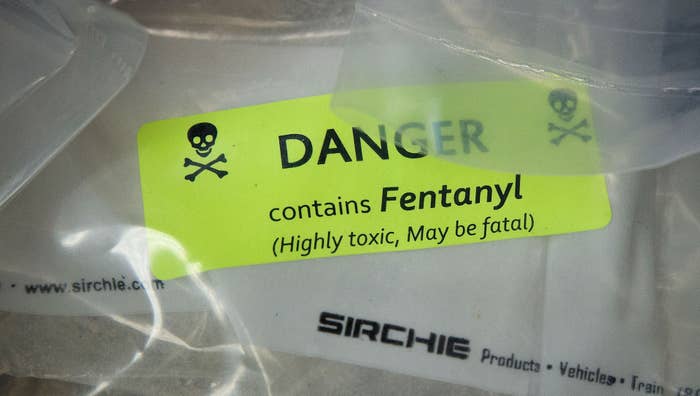 Police in Jacksonville, Florida announced on Monday that they had confiscated enough fentanyl to kill 1.5 million adults.
The Jacksonville Sheriff's Office took to Twitter to announce the drug bust alongside a photo of the drugs in question. 
"JSO Narcotics Unit seized 3 kilos of fentanyl, 1.26 kilos of cocaine & over 6,000 counterfeit pills containing fentanyl; enough fentanyl to kill 1.5 MILLION adults," the Sheriff's Office said on Twitter.
It's unclear where the bust took place, but the announcement comes days after Flagler County police detained 52-year-old Adrian Rivers 70 miles south of Jacksonville, who allegedly had enough fentanyl on his person to kill 100,000 people, as reported by Fox 35. Earlier this summer, Colorado State Patrol officers also seized a massive amount of the opiate as well, discovering 114 pounds of fentanyl in a vehicle driving to Denver on Interstate 70. Colorado authorities deemed it the largest seizure of the drug ever made on a highway.
Fentanyl is responsible for a majority of the overdose deaths in the United States, as it's 100 times more potent than morphine and can be lethal at just two milligrams. Police reported a 50-fold increase of seized Fentanyl-laced pills between 2018 and 2021, in part thanks to new technology that allows trucks crossing the border to be scanned for the opiate.
These stateside busts also come after Mexican authorities announced the "largest seizure" of fentanyl "in history" back in July.
Mexico's army and National Guard said that they had conducted a "historic" drug raid on a Culiacan warehouse, snagging a half-ton of fentanyl valued at around $230 million.