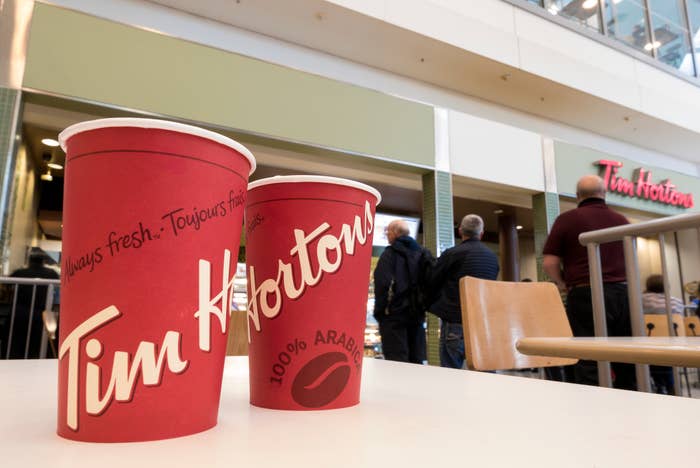 A glitch in the Tim Hortons app has been falsely telling users that they've won $10,000 as part of the coffeehouse's recurring Roll Up To Win contest.
According to CBC News, a Moncton man made a purchase at a Tim Hortons location, scanned his phone as part of the contest's instructions, and received a notification saying he had won a $10,000 American Express Prepaid Card.
Luc Massé, the man in question, wasn't the only one who experienced the glitch as CBC News confirmed an unknown number of other Tim Hortons customers had gone through the same thing.
Once he screenshot the message to send to his wife, the app crashed and the message disappeared. The manager came to help but ultimately referred him to Tim Hortons' customer service for further explanation.
CBC News added the screenshot to their article, proving that Massé had legitimately received the message stating he won.
"Mistake or not, it plainly says I won, and I was hoping they were going to at least honour it, but so far — nothing," Massé told CBC News.
Tim Hortons issued a statement saying their app experienced a glitch and that only one person should have received the message that they won the prepaid card.
"For a few hours on Monday morning, a technical error caused an issue for a small subset of Roll Up To Win players," said a spokesperson, according to CBC News. "We're already in contact with some of the impacted guests to express our regret for the disappointment caused by this error."
Jeremy McDougall, who lives in Tillsonburg, Ontario, told Global News that he had run into the same glitch and that Tim Hortons had offered him, as well as the other customers involved, a $50 gift card.
"Their compensation was half a per cent of what I was actually supposed to have won," McDougall told Global News. "I have no intentions of taking anything that isn't the $10,000 (gift card)."
Roll Up To Win goes from Mar 6 to Apr 2.