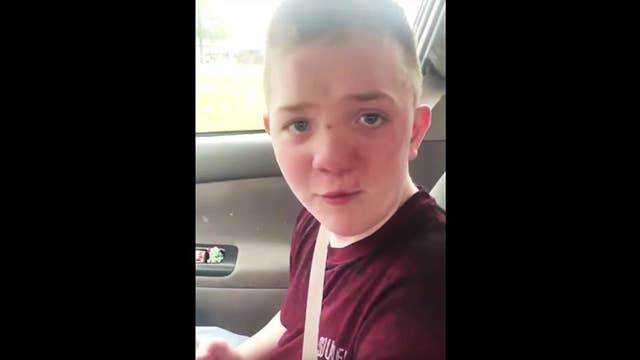 What a difference a day makes. On Friday of last week, a Tennessee woman by the name of Kimberly Jones shared a video of her son, sixth grader Keaton Jones, asking "why do they bully." It detailed what Keaton said were instances of being picked on at school, including having milk poured on him at lunch and being called ugly. The situation apparently got so bad that he'd have to leave school before lunch out of fear of being bullied.
Since the video hit the internet on Friday, there was a tremendous outpouring of support for Keaton, with the likes of Snoop Dogg, Millie Bobbie Brown, Chris Evans, Dana White, and countless others showing their support via social media. A GoFundMe for Keaton has already raised over $58,000, but it looks like the story is being scrutinized by many on the internet, who are calling both Keaton's rumored actions and the actions of his mother into question.
Initially, the talk focused on Kimberly herself. Posts that appear to attack black people, including multiple images of the Confederate flag (including one image that features Keaton and a pistol) have surfaced via her Facebook and Instagram accounts.
Keaton Jones MOM is a next level racist who's posted in many offensive and non remorseful comments towards black people, so how is she preaching about bullying when she herself is a bully 🤔🤔🤔 lmao people are funny

pic.twitter.com/bTnF7BFDGr
One report says Horace Maynard Middle School principal Greg Clay claims he's not heard of multiple bullying incidents against Keaton being shared. "It's not as rampant as the video would have you believe," Clay said. "I can't tell you what was done, but I can tell you action was taken with the children." Clay said the incident that Keaton spoke on in his mother's video had been resolved.
There's also an unconfirmed story going around that the incident started because Keaton used the n-word on multiple occasions and his schoolmates started getting on him to stop.
The person who revealed the photos of Keaton racists family last night also said that Keaton repeatedly call a kid in school ni**er on several different occasions. And that the kids got on Keaton's ass to make him stop. So is it really Bullying...

https://t.co/oXbAf6xHqs
On top of that, there are questions regarding Kimberly Jones' motives with the GoFundMe page. MMA fighter Joe Schilling decided to reach out to Kimberly after being "pretty moved" by the clip. He says he contacted Keaton's mom to have them come to Los Angeles for a Bellator event to meet fighters and "be his friend," and she responded by saying she "just wants money. She just wants me to share her GoFundMe account." When he asked her why she'd rather have him just share the GoFundMe account, she basically said Christmas was coming and she was a single mother.
Schilling also shared an alleged conversation between him and Kimberly Jones with her essentially saying, "I'm poor I'm not rich." When Schilling said he was "no longer interested in being involved what so ever," the response he got was, "What happened to us whites sticking together and helping one of another against the predator?"
Schilling does admit that this could be a fake account pretending to be Keaton's mom; the account posted that it's now being handled by Keaton's sister, and that Keaton was pulled out of school again.
At the end of the day, bullying truly sucks. We'd rather no one, especially kids, got bullied for whatever people consider to not be "normal" about them. That said, we also hope that parents aren't a) instilling racist thoughts into their kids and/or b) using a viral video to cash in. This situation is looking funny in the light.