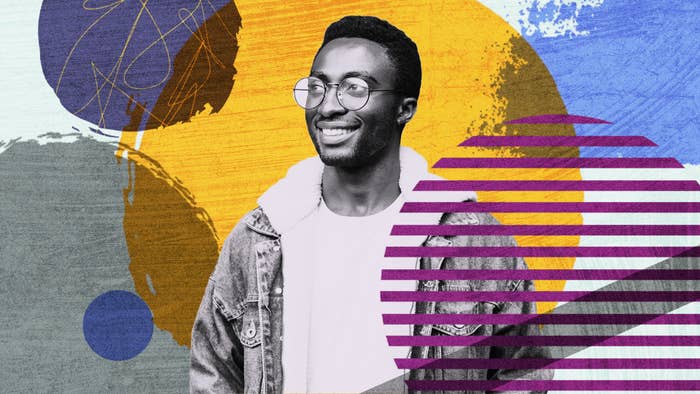 "Are you OK?"
Not to butcher a Stevie Wonder reference, but these three words can make the difference between someone overcoming a life obstacle or being unable to get past it. Let's face it, we are all going through some pretty serious and traumatic ish—in almost real time—and the beautiful thing is that we're open about facing it, not shying away from the work. 
But the same cannot be said for everyone in every situation.
Talking about really intimate subjects such as attempted suicide, sexual abuse and assault, or addiction to substances isn't easy for most. And when you weigh in other factors such as ethnicity and inclusivity, it can be made harder when most days feel like directed attacks at who you are and how you identify.
"How can I help?"
You don't need to have all of the degrees to be open with yourself, friends, and family about mental health. Thanks to the internet and the kindness of advocates all over the globe, we can access all the guides, toolkits, and websites that one needs to support themselves or a loved one.
This timely compendium is intended for Complex readers to share and use—especially if you are experiencing any mental or emotional anguish where this could aid you in finding the assistance you need. The list of resources below is by no means exhaustive, but it's a starting point for those in search of help.
Figuring out how to calm your mind and your body can be frustrating. Meditation apps, podcasts, tool kits, and more can help you learn to meditate and discover the techniques that work best for you.
Free Meditation Resources


Free Online Mental Health Resources
Streaming Mental Health Resources
Spotify

Podcasts such as Balanced Black Girl, Terrible, Thanks for Asking, and Self Care IRL aid in affirming light and love, as well as offer insights on proper resources for mental wellness. Spotify has lots of great resources, including the ones listed below.
Netflix

Documentaries and projects like Unrest and Heal are emotional and educational options for those in need. If you want more suggestions, check these films out.
YouTube

For those who cannot afford (or find) a therapist, hearing from voices like Anna Freud, Dr. Joy Harden Bradford, and the VlogBrothers can be a balm while waiting for health insurance to evolve. Here are some other YouTube channels that offer great mental health content.
Addressing the high cost of paying for therapy, these organizations know that the work comes in breaking through barriers to create quality mental health equity for all.
LGBTQ Resources
AAPI Resources
Black American Resources
Latinx Resources
Indigenous Resources
General Resources
You know just how good meditation is for you once you give it a try. Don't let high-cost subscriptions and outdoor memberships unsettle you before you can ground yourself. These self-care techniques are meant to bring calm to your daily routine.
Meditation Apps


Headspace: Being recommended by the Anxiety and Depression Association of America is a big claim, but when you add in that the app is designed to teach mindfulness and meditation techniques, you'll instantly start to feel better. (Note: Use the code COMPLEX2021 for one month free after signing in or registering.)


Mindful: A popular app for those just starting out in meditating, this will help you get familiar with the basics. It offers timed sessions of anywhere from three to 30 minutes and the ability to customize your meditations.


Moodfit: A free tool available in GooglePlay that provides you with insights meant to "shape up" your mood. If you're already about keeping your body tight, then getting a better understanding of your feelings is the way to keep your mood full of light.

 


Relaxation and Decompression Apps


TalkLife: The stigma surrounding therapy hasn't quite dissolved as mental health becomes a buzzword in certain circles. TalkLife is meant to be your safe space for talking openly about your issues with others who get it. A caring community of thousands means you'll have plenty of chances to listen, talk, and help yourself feel a bit more at ease.


Sanvello: A mindfulness app for the mind-consumed, Sanvello can help you identify your feelings or troubles, then move toward acceptance and peace. Techniques such as visualization, muscle relaxation, and more all nudge you closer to that calm and serene feeling.


Happify: Decompressing after dealing with stress is made a bit more fun with this app, which has an eye toward improving your mood and building resilience for later. Happify's evidence-based games borrow from positive psychology to add empowerment to your life.


If you're feeling too uptight and stressed to get a decent night's sleep, these YouTube channels and playlists are a great place to turn.
For the Sleepers


Channel Water: Led by Moses Klein and Trisha Paytas, this YouTube channel has caught people's attention because it is such a calming presence. Musings such as "You Are a Walking Tree" and "Coping With Grief and Loss" discuss what life really might be in a genuine and earnest way.


Karuna Satori: An ASMR staple, this YouTube channel is a full catalog of sounds that will help you relax, relate, and release.


Tiny Kitchen: Originally a Tastemade series, this is as satisfying to watch while awake as it is to dream about while asleep. If you're into relaxing things viewing, you should check this one out (but not on an empty stomach though).


We can all help prevent suicide by honestly being there for one another. These crisis resources and strategies are free, confidential, and available 24/7 to anyone in distress.
24-Hour Hotlines
General Support (Not 24 Hours) 
If you're interested in working in the field of mental health, consider a career in social work. Explore a full list of online BSW and online MSW programs.