Brooklyn Museum Criticized for Hiring White Woman as African Art Curator in a Post-Killmonger World
Has the Brooklyn Museum been living under a rock?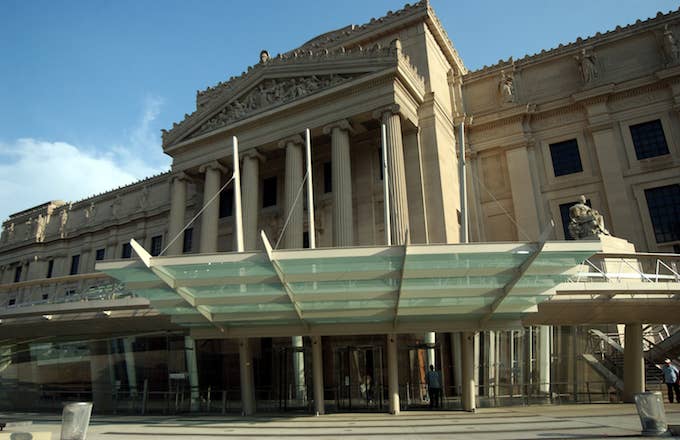 Getty
Image via Getty/Ramin Talaie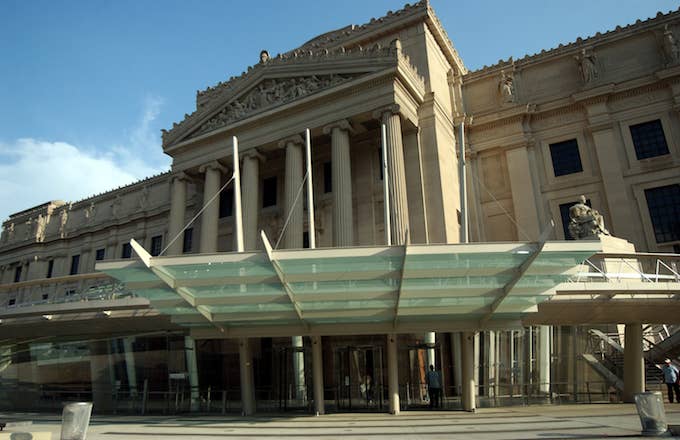 One of the most insightful parts of Black Panther is when Killmonger is first introduced to the audience in a London museum where he questions the white curator on a series of different African artifacts. While she's clearly highly knowledgeable on the subject, Killmonger makes the irrefutable point that none of those artifacts belong in a London museum since they never should have been stolen from their places of origin in the first place.
That scene serves as a useful framework for the outrage that people felt as the Brooklyn Museum, whichcounts Swizz Beats among its board members and has done a massive sneaker exhibition, just announced two new curators. The issue was with one of the two new hires, specifically Kristen Windmuller-Luna, who is described as "a curator and historian of African arts and architecture" and who is now the museum's Sills Family Consulting Curator of African Art.
A photo is included in the article and Kristen is white. The other new hire is Drew Sawyer, who has been appointed the Phillip Leonian and Edith Rosenbaum Leonian Curator of Photography. There was an initial misunderstanding online that both Kristen and Drew, who are both white, had been hired in curating positions for African art and photography, respectively, but Drew's job does not appear to encompass the African continent exclusively.
"We are thrilled to welcome Drew and Kristen to our fantastic curatorial team during this period of great momentum as we expand exhibitions, public programs and educational reach," said Anne Pasternak, Shelby White and Leon Levy Director at the Brooklyn Museum.
Kristen will be given the important responsibility to "rethink the Brooklyn Museum's extensive collection of African art" and "organize a freshly conceived temporary installation showcasing the depth of the collection." Brooklyn Museum has more than 6,000 African objects, and Kristen will be charged with creating "a dialogue between the African art collection and other works within the museum's holdings while also helping to develop educational programming."
Kristen has a Ph.D. and M.A. in art and archaeology from Princeton University; her Yale B.A. is in history of art. She is a curator and historian of African arts and architecture, with a focus on the early modern period and Christian Ethiopia. She works to "counter myths about African civilizations and artistic production by focusing on cultural specificity, artistic diversity and global historical context."
"Kristen's vision for a new permanent collection installation that transforms how viewers relate to the arts of Africa is tremendously exciting for us as we near the 100th anniversary of the Brooklyn Museum's pioneering exhibition of African art in 1923," said deputy director and chief curator Jennifer Chi. 
While Kristen's credentials are certainly impressive, the choice to hire a white woman, no matter how qualified she may be, as curator of African art is questionable at best. If she is truly the most qualified person to oversee the Brooklyn Museum's extensive collection of African art, then we should talk about why this is the case and if people of all colors are getting the same access to art education if they want it.
In a time when all of pop culture is pointing toward giving more power to marginalized voices and allowing them to tell their own stories, Brooklyn Museum's decision lands slightly tone-deaf. It's not that a white person can't study African art, but there are certain situations in which a more personalized and inclusive approach actually add to the job. It's also true that for the majority of modern history, white people have been controlling the narratives of Africans worldwide. As Twitter user Kimberly Selden wrote: "People from the African Diaspora are frustrated w/ white people being gatekeepers of our narrative."
People from the African Diaspora are frustrated w/ white people being gatekeepers of our narrative. We have yet to be afforded the same access & opportunities so it's hard to swallow the image of TWO white ppl in roles that curate OUR culture and contributions

@brooklynmuseum pic.twitter.com/apDv1Dc9lS
Need to see photos of the entire curating team of African Art at the Brooklyn Museum. I was very shocked at the press release to see a white woman as the new curator. Hoping the team is extremely diverse because really all I could think about was the beginning of "Black Panther."

pic.twitter.com/pVghd5wJj8
I'm guessing

@brooklynmuseum

didn't go see The Black Panther because they just hired two new white curators for Brooklyn Museum's extensive African art collection. Not to discredit their qualifications or whatever but y'all couldn't find a qualified Black/African curator in NYC?

pic.twitter.com/WQSt7nh092