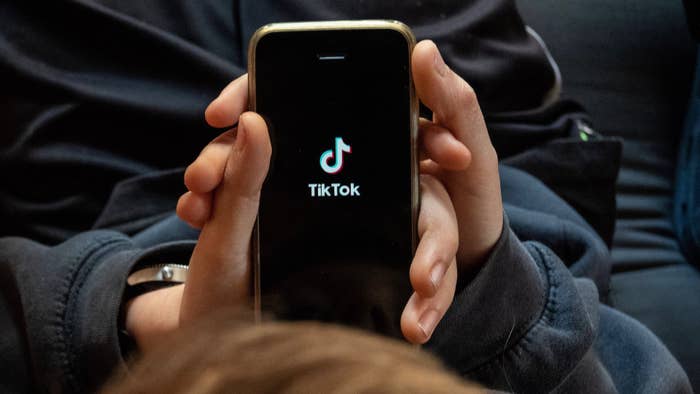 UPDATED 5/23, 12:30 a.m. ET: TikTok Inc announced on Monday that it is suing the state of Montana for banning the app.
The lawsuit argues that the banishment of TikTok is unconstitutional. The new law is accused of breaking the Commerce Clause of the U.S. Constitution, "which limits the authority of States to enact legislation that unduly burdens interstate and foreign commerce," per Reuters.
The social video platform released a statement saying, "We are challenging Montana's unconstitutional TikTok ban to protect our business and the hundreds of thousands of TikTok users in Montana. We believe our legal challenge will prevail based on an exceedingly strong set of precedents and facts."
UPDATED 5/17, 7:25 p.m. ET: Montana Gov. Greg Gianforte signed a bill Wednesday making it the first U.S. state to ban TikTok, as reported by HuffPost.
Gianforte tweeted that a TikTok ban is meant to "protect Montanans' personal and private data from the Chinese Communist Party."
"Governor Gianforte has signed a bill that infringes on the First Amendment rights of the people of Montana by unlawfully banning TikTok, a platform that empowers hundreds of thousands of people across the state," TikTok parent company ByteDance said in a statement, obtained by CNN Business. "We want to reassure Montanans that they can continue using TikTok to express themselves, earn a living, and find community as we continue working to defend the rights of our users inside and outside of Montana."
Under the Montana law, any "entity" that makes TikTok available to users will be fined $10,000 per day.
The bill will go into effect in January.
See original story below.
Montana is another step closer to implementing a complete TikTok ban.
According to Gizmodo, the state's House of Representatives approved legislation that would prohibit the social media company from operating within the Treasure State. The bill, SB 419, was passed by a vote of 54-43 on Friday, more than a month after Montana's state senate approved the measure on a 30-20 vote.
Proponents of the bill have expressed security concerns over TikTok and the way it could potentially be used to push misinformation or propaganda. Though U.S. officials have not provided any evidence to support this theory, a number of lawmakers say ByteDance—the Chinese tech company that owns TikTok—could harvest data from U.S. users and then give to the Chinese government for nefarious purposes.
"TikTok endangers the safety of Montanans and Americans at large," said Montana state Sen. Shelley Vance, one of the bill's primary co-authors. "We know that beyond a doubt that TikTok's parent company ByteDance is operating as a surveillance arm of the Chinese Communist Party and gathers information about Americans against their will."
The legislation will allow Montana to bar TikTok downloads in the state, as well as enforce hefty penalties for app stores and other entities that offer access to the video-sharing app. Companies that violate the law could be hit with a $10,000 fine for each violation. The penalties would not be applied to individual users.
TikTok has since responded to Friday's historic vote, saying the proposed law was a threat to Americans' constitutional rights.
"The bill's champions have admitted that they have no feasible plan for operationalizing this attempt to censor American voices and that the bill's constitutionality will be decided by the courts," a TikTok spokesperson said in a statement to Montana Right Now. "We will continue to fight for TikTok users and creators in Montana whose livelihoods and First Amendment rights are threatened by this egregious government overreach."
The bill must now be approved by Republican Gov. Greg Gianforte, who previously banned TikTok on all state government devices. If he signs the measure, Montana will become the first U.S. state to ban the popular social media app.